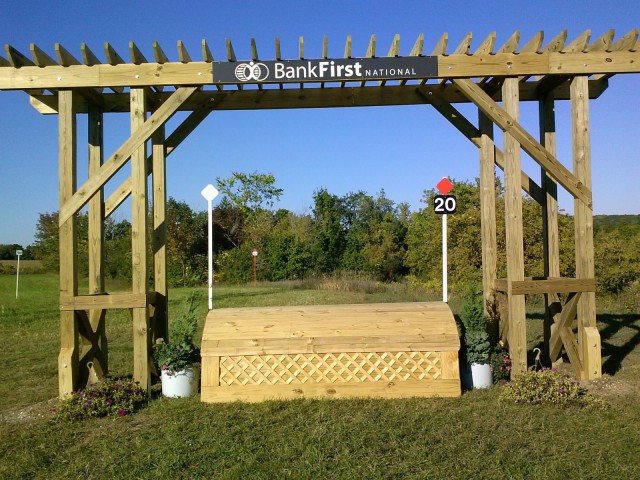 Last weekend my student and I made the five-hour trek to check out Area IV's newest recognized event at Sundance Farm in Plymouth, Wisc. For us, it was the last easily accessible event in our area before winter arrives.
Sundance Farm is owned by Kelly and Steve Mahloch, who, along with their daughters Whitney and Ali, have been active in Area IV eventing as a family for many years. Although Sundance has held non-recognized mini-events in the past, this year was their first recognized horse trial.
We arrived, EN-style, after a beautiful drive through southern Wisconsin's colorful farm country on Friday afternoon and were immediately welcomed to the stabling area by Leah, who made sure we knew where everything was situated and told us to ask her about any stabling questions we might have.
Stabling, as well as dressage and stadium (held on Saturday) were all taking place at the Sheboygan County fairgrounds, and the cross country action was over at the Mahloch farm on Sunday, about four miles away.
The sun came shining in on a bunch of gleaming, braided ponies on Saturday morning. With the start of the day came the vendors — a local tack shop, an equine artist, a saddle company, and (drumroll please …) a coffee shop on wheels!
I know I wasn't the only competitor excited by the prospect of a delicious latté to jumpstart sandbox day. When lunchtime rolled around there was also a local food truck making pulled pork and chicken sandwiches on homemade bread with in-house slaws and sauces.
Dressage was held in an awesome white sand arena with some lovely foliage for a backdrop. The show was small — just under 50 competitors — so dressage wrapped up around noon. Energy levels in the barn began to shift as riders buckled on breastplates, screwed in studs, velcroed open-front boots and carefully placed jump saddles on their mounts.
The stadium course was situated on a grassy space adjacent to the stabling area, and it was a fairly big but wonderfully rideable course. The footing, also used as parking space for the fairgrounds, was a little dry and slippery, which caused problems for a few riders, but overall the course rode well.
After Saturday's competition wrapped up (and after we all wrapped up our horses, as well!), the whole crew shifted to the Mahloch's farm for a cross country coursewalk and a wine-and-cheese competitor party (and so many divine desserts!). The Mahloch farm is situated next door to the Sargento cheese plant, so the food at the party was not your average cheese plate. Viva Wisconsin!
I had walked both the Beginner Novice and Training courses the night before with my student, and was impressed with the size and scope of the Training course. During a chat with Kelly, the course designer, on Saturday, she told me that while people thought the course would be 'soft' because it is the farm's first recognized event, that they were in for a surprise. Rather than the mandated half of the course being maximum height, Kelly said she had far more questions reaching max size. I gulped and told her that I had noticed!
All of the cross country courses are beautifully designed and wind through woods, pastures and through a central area with the water complex that is a fabulous spectator viewing area. The competitor party was full of people laughing, chatting, kids running around the course, and music blasting from the radio. With the setting sun casting reds, oranges and golds through the trees, there was no other place I could imagine wanting to be at that moment.
Sunday morning saw all the competitors in the barns before the sun, packing equipment and equines for the short trek to the Mahloch's farm. Once there, we were all directed to park in a large, flat field that was centrally located near the wash racks and vendors, and which had a convenient water truck parked smack in the middle.
Cross country day was, as always, full of adrenaline. The courses rode well, the footing was fabulous, the spectators cheered us on like we were at Rolex. I was pleased to find the footing was great throughout the terrain changes on course, between the shady wooded areas and the sunnier pasture areas.
My student and I gave Sundance's first recognized trial four thumbs up – the ponies approved with a rousing eight hooves firmly planted in front of their hay nets on the drive home after their cross country exertions.
The volunteers were friendly and helpful (and abundant!), the show ran incredibly smoothly, the Mahlochs were warm and welcoming, and many other competitors said what a great time they had.
Many thanks to the Mahloch's for giving Area IV eventers another fabulous horse trial destination! Walker Farms Eventing plans to come back next year to Sundance Farm's Fall Horse Trial on September 26-27, and we hope to see more Area IV'ers joining us!
 And here's a virtual tour of the Training level course at Sundance Farm HT: