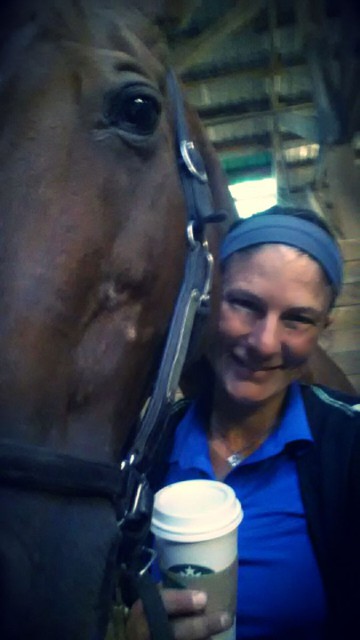 As a shoestring eventer, I'm always looking for ways to enhance my tiny competition budget, and I've found that braiding at shows is a fun way to earn a little extra cash. I get to know my fellow competitors and their ponies in the process, and many of them use me for braiding regularly.
One of the horses I've had the privilege of getting ot know is Ike. Ike is a 25-year-old Dutch warmblood who has been shown through Intermediare 1. He is currently leased and ridden by an adult amateur named Barbara, who has shown him PSG and I-1. To me, Ike is a sweet-faced old man who tolerates me early in the mornings on show weekeds. He stands patiently at 6 a.m. while I braid him up and never begs for his breakfast, which I feed him when we're done.
You don't have to hang out with Ike for very long to figure out that he knows more than the rest of us. He has been showing PSG and I-1 since 2001 with various riders; he is the consummate schoolmaster. Ike can pull out flying changes, pirouettes, collection and extension.
He understands what it means when I pull my braiding step up next to his neck and thread my yarn needle. Everybody who knows Ike has a special place in their heart for him, practically reveres him. The amount of respect people have for this horse is overwhelming.
There is a reason his owner will never sell him. In the words of Ike's current lessee, Barbara, "Ike is a true schoolmaster. His training is impeccable. He is very tolerant and forgiving of me, his older amateur rider (I am 64.) He is fun to ride and a great teacher. But best of all, he is a nice guy.  If he could be potty trained, I'd let him live in the house. Hanging out with Ike – just hand grazing or grooming – is pleasant and companionable. He loves his showers, and loves to have his face rubbed with a wet towel. He is a big fan of apples."
This is Ike. Yes, he is talented; yes, is is trained to a very high level in dressage. But Ike is like a gentleman in his later years of life — if you listen closely, he imparts his own kind of wisdom that has nothing to do with showing or scores or ribbons. My mornings with Ike are truly special.
I'm only one small person in his grand life, and my part in it is pretty insignificant. But even in those brief morning moments we share, Ike has had an impact on my life. I always take extra care with his braids to make sure the old man comes out as shining as possible.
I love coming to the show grounds before dawn, pulling in with the rising sun and a steaming latte, clicking the clasp on my braiding belt and threading a new strand of cord, and seeing Ike's curious eyes and floppy lip appear around the stall door. Ike's eyes reflect a younger self, mischevious and quizzical, and in the hour I spend with him while the sun comes over the horizon we talk about any topic that comes to mind.
He gets a lot of neck scratches and wither rubs. He gets a large piece of love from me, in addition to so many other people in his life. He deserves it.
These are my mornings with Ike.