California-based Tamie Smith put herself into the competitive position we've come to anticipate after the conclusion of dressage at Jersey Fresh International, presented by B.W. Furlong and Associates and Zoetis Equine. This one is a force to be reckoned with in the dressage ring, and that skillset showed itself once more as she overtook her Thursday ride, EnVogue, today with the fiery little chestnut, Danito (like, EnVogue, owned by Ruth Bley). After a "completely feral" weekend at Kentucky last month, Tamie and Danito (Dancier – Wie Musik, by Wolkenstein II) bested their score by earning a 23.9 today – good enough for the overnight lead heading into tomorrow's cross country test.
"Danito was just really amped up in Kentucky," Tamie recalled. "It was cold and windy and rainy, and so we've just been trying to get the lid back on a bit. He's just super fit and ready to go…everything sort of changes when you get close to a Long format. We had a couple of bobbles in the test, but overall I was really pleased."
Tamie has been working with dressage coach Johann Hinnemann virtually during her trip to the East coast as well as USEF Eventing High Performance Director Erik Duvander, both of whom have given her some more tools to use to coax the best out of the 12-year-old gelding. "I have just had to spend a little more time working him down – normally, I don't throw him on the lunge when I ride, so it's just been about trying to have the right prep," she said.
Generally speaking, Tamie's pleased with her rides and in reflection on yesterday's test with EnVogue, which earned her a 24.3 for second at the conclusion of dressage, said that there was much improvement particularly in the 16-year-old mare's canter work. "I knew I lost points in the canter work at Kentucky, and if you were going to compare that would be her weaker thing," Tamie said. "So I did try to push her more and have a bigger step, so I did get some better points on that. Everything was very smooth and she was super."
Morgan Rowsell's first crack at designing the CCI4*-L track here (he's been the "designer in residence" here since the event's inception, though, so it's safe to say he knows the lay of the land better than anyone) has set out much to do for the riders tomorrow. The optimum time of 10 minutes, Tamie says, will most likely be challenging to catch. "It's definitely a fitness test," she remarked. "There are a lot of things uphill – you're kind of always going uphill. There's lots of turning around on the track, so that will be taken into account as far as making the time. Anytime you're not galloping and you're turning, the time becomes more tricky. But everything looks reasonable and I think just like with any course you will have to go out and be focused and make sure your horses understand the questions."
As for her two CCI4*-L rides, they couldn't be more opposite in terms of style, Tamie says. While EnVogue is more of a go-getter ("she actually really thrives on that type of ride," Tamie explained), Danito needs a bit more focus to make sure he understands the questions. This is where Tamie says her job is to communicate – and to remember that the horse has only been going at this level for a year or so. "It comes so easy to him, I sometimes forget he's new-ish to the level," she said. "So I have to make sure that I do my job and focus and that he understands the job. He can do anything, it's just a matter of me being on my 'A' game."
The remainder of the CCI4*-L remains mostly unchanged after today's concluding rides, though we did see Sharon White and the talented Claus 63 pop in to ninth place after earning a score of 30.1. This 9-year-old Holsteiner gelding by Catoo is making his CCI4*-L debut this weekend and shaves nearly 10 points off his previous four-star mark of 40 earned in his last FEI prep at Pine Top last month. Canada's Dana Cooke and the FE Mississippi Syndicate's FE Mississippi, an 11-year-old Württemberger mare by Cassini II, also move into the top 10 on a score of 30.5.
Tamie Smith and Solaguayre California Lead CCI3*-L
Tamie Smith also put in another consistent and competitive test in the CCI3*-L with Julianne Guariglia's Solaguayre California to take the overnight lead on a score of 26.7. This 10-year-old Argentinian mare by Casparo started her career show jumping in Argentina before coming to the States and originally training with David Adamo. She's been with Tamie for about a year now, beginning her FEI eventing career under her tutelage, and she's been the picture of consistency: she's finished no worse than third in four international starts, save one withdrawal at Tryon last fall. Nationally, she's finished outside of the top three just once since beginning her eventing career.
Despite this consistency, Tamie says the partnership between her and the mare is still developing – perhaps the best is still yet to come from this pair. She's got all the pieces, Tamie says: super athleticism, a careful jumper, a good mover, a great hind leg – all of these key ingredients and the results they've been producing makes the fact that she once bucked Tamie off three times in a week easier to stomach! "It's definitely taken us some time," Tamie laughed. "I might have a green moment here or there on her because she is so careful, but she's just been super consistent and she loves the cross country."
Tamie's giving the field a run for their money in terms of busiest rider; she's also got two other rides – "really great Thoroughbreds" – this weekend, Linda and Terry Paine's Cheers in the CCI4*-S (28th – 36.0) and Tamie's own No App For That (48th – 38.7) in the CCI4*-L. "They maybe aren't going to be low-20s horses, but they sure are going to zip around some cross country easily!" she commented, noting that she was particularly pleased with Cheers' efforts despite the higher score than she anticipated.
The remainder of the CCI3*-L top 10 also remains relatively unchanged with one other pair – Liz Halliday-Sharp and Cooley HHS Calmaria, an 8-year-old Irish Sport Horse mare making her CCI3*-L debut – moving into position, taking a 31.2 and seventh place going into the next phase of competition.
Boyd Martin Back On Top with Long Island T in the CCI4*-S
After an unfortunate parting of ways at the Head of the Lake at Kentucky last month, Boyd Martin brought a fit and fresh Long Island T (Ludwig von Bayern – Highlight, by Heraldik) back to Pennsylvania, where he went for a cross country school and set about making a plan B. "I was actually really happy with him at Kentucky even though we had a fall," Boyd said. "He was being a good boy around the cross country, so I sort of held my head high knowing that we had sort of just tripped over the direct route on a forward distance. We came home and schooled and he was great, fit and confident."
He certainly came out ready to work today, earning a 23.8 for a personal best at the four-star level for this horse.
The truth with event horses is: you have to strike while the iron is hot. So, Boyd saw fit to bring "Ludwig", who is owned by the Long Island T Syndicate, here for a crack at the Short. Depending on how the weekend goes, maybe a trip to Germany for the Luhmühlen CCI5* in June might be in order, but first things first: "I'll see how he feels around the track tomorrow." The Short format horses will show jump first, a format that Boyd says he tends to prefer in terms of how it works for the horses.
"I generally much prefer to show jump first," he said. "The horses are happier and healthier and feeling good – often after cross country they're a bit sore and tired, so when possible I like to show jump first as I think they'll enjoy it a bit more." For Long Island T, show jumping first might also be useful in terms of containing energy: "He can be a bit strong and fast and furious at the beginning of cross country and so I'm hoping that doing show jumping before might take a bit of the zip out of him."
Sitting second in the CCI4*-S are Liz Halliday-Sharp and the Monster Partnership's Cooley Moonshine (Cobra – Kilpatrick Duchess, by Kings Master), who seriously impressed us all weekend at Kentucky where he finished third in tough and testing conditions in the CCI4*-S. Keeping with the trend of improving on Kentucky scores, this pair bested their score today by earning a 25.6, a 2.5 point improvement from their last start and a personal best at the level.
Third in the CCI4*-S are Holly Payne Caravella and CharmKing LLC's CharmKing, who earned a 28.4 in their third start together since Holly's return from maternity leave. CharmKing was kept busy by Lillian Heard while Holly was pregnant, and now they're reunited and got off to a rocking start with an Intermediate win at Carolina earlier this spring.
Dan Kreitl Best of Day One in CCI3*-S
If you haven't read the story Kate Samuels wrote on Dan Kreitl and his longtime supporter, Kay Dixon, earlier this year, you'll definitely want to have a look – trust me, you'll become a fan. Dan has focused on confidence in all of his horses, and he says both his CCI3*-S rides, Carmango and Horales, have great attitudes and blooming confidence as they look ahead to tomorrow's test.
But the morning started off with a bit of frustration: Dan's first ride, Horales, didn't really go to plan, he said (they scored a 38.7 for a tie in 21st). "I just didn't have a great warm-up so I was a bit frustrated," he said. "He's a super horse if I ride him well and he's just much tougher to get through."
Lucky for Dan, he's got Ms. Miyagi Sharon White in his corner as the coach, and after a pep talk she sent Dan several of her go-to meditations to ponder before he got on Carmango (Chirivell – Taramanga, by Templer GL xx). Meditation, it seems, is a bit of a "try it once and you'll see" type of practice, and that's exactly what happened when Dan did his first session. Afterward, he texted Sharon and said it was time to go and win – and win the dressage he did, scoring a 26.7 to take the overnight lead.
"He felt awesome," Dan told me after his ride. "He's eight and has the best mind. He gives 100 percent every single day. My other horses try hard too, but this one is just easy and gives it all he's got. I was super proud."
Mastering the mind might be something we don't talk about a lot (or, really, nearly enough), but it's indeed half the battle when it comes to competition, and that's a lesson Dan really began to embrace today. "I was way more focused (after the meditation session)," Dan said. "Sharon is all about the details and the horses being trained well, and so I have to show up on competition day. I think the horses are ready to do well and now it's the mental part about showing up to deliver."
Meditation is sometimes met with skepticism but, as Dan puts it, "I'm willing to try anything if it works!"
Dan says his personal weak phase is show jumping, so he's keen to get a clean round under his belt before tackling the cross country track, which he says he's feeling confident about for both of his rides. "They're both fit and ready and if I can do well in show jumping I'll feel pretty good about going around cross country."
Elizabeth Bortuzzo and John Witte's Belongs To Teufer will be second placed in the CCI3*-S after earning a three-star personal best score of 27.5. Belongs To Teufer is a 12-year-old Thoroughbred gelding by Teuflesberg who began his FEI career in 2018 with Elizabeth in the irons. This is the third season at the level for this pair, who capped off 2020 with a second place finish in the CCI2*-L at Tryon after completing the season at the Intermediate and three-star level.
Third in the CCI3*-S are Cosby Green and Edie Green's Copper Beach, who won the then-CCI3* here at Jersey Fresh in 2014 with former rider Buck Davidson. Cosby acquired the ride in 2020 and moved up to the Intermediate and three-star level with Copper Beach this year. Their dressage mark of 28.0 is the best they've earned in their blooming partnership, putting them into excellent position ahead of the jumping phases.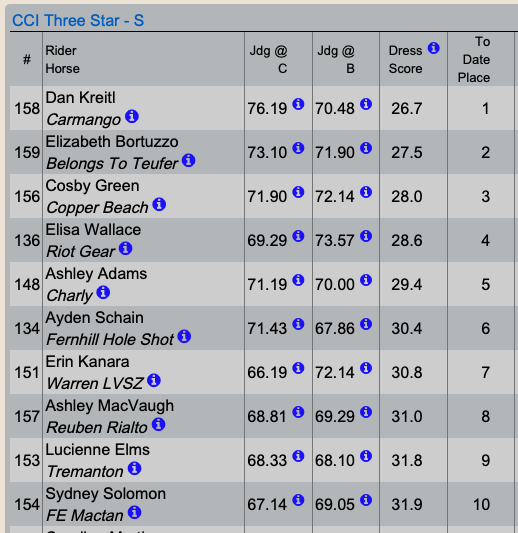 Tomorrow, we'll see the CCI3*-L on cross country first at 8 a.m. EST, followed by the CCI4*-L at 11:15 a.m. The CCI4*-S/CCI3*-S will show jump first beginning at 9:30 a.m. EST, followed by cross country in the afternoon. You can view the full schedule here. And, if you're in the area, Jersey Fresh is pleased to welcome spectators this weekend! To view the USEF's current Covid-19 regulations concerning spectator capacity, click here.
Many thanks to those on the ground at Jersey helping us keep up with the action. We sorely miss being there in person but hope to be there again soon. Enjoy a few more social media tidbits from the day – and Go Eventing!
Jersey Fresh International: [Website] [Entries] [XC Ride Times/Order of Go] [Schedule] [Live Scores] [Volunteer] [Show Photographer]