When they build championship tracks, they really don't mess around – and true to form, Mike Etherington-Smith has provided us with something truly special this week.
"I was quite nervous to get feedback from the riders," he admits. "The world's best are here, and there are plenty of people stepping up to championship level too, so I wanted to create a mix that would challenge and support. There are lots of long routes to get people out of jail, but they'll take up a lot of time."
The time, which is set at 10:10 for the 5790m-length track, is something that Mike hopes will be influential.
"The good guys now are so good that it's becoming a challenge to design for them," he says, citing his myriad tricky combinations and direct routes as having been designed for medal contenders. "You can't just build for the top ten – you have to build for everyone. We'll all certainly be wiser come Saturday night!"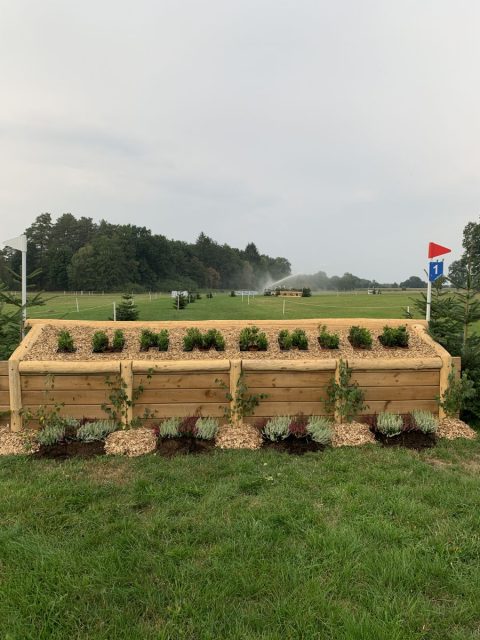 The track runs in the opposite direction to that used at June's CCI4*-S and CCI5*-L, which is significant for one major reason: that long pull up the hill after the final water is now a downhill sprint to the first major combination on course. And while that might sound like it makes the job easier, it certainly won't. The first three fences on course – simple, but maxed out single fences, designed to get horses up in the air and riders thinking forward – come up in the first 30 seconds, there's then a yawning gap of over a minute before 4, which serves as a wake-up call before the major question at 5abcd, the first water on course. That minute-and-a-bit meanders through the woods, with few significant landmarks, so riders will have several jobs to do: they'll need to keep a militant eye on the time, and they'll need to keep their horses thinking, focused, and rideable. After making their way through the trees, they'll need to maintain control without killing impulsion down the hill, popping the house with its colossal drop on landing side. Getting the right jump here is imperative – too big a leap, and they'll struggle to set their horses up for 5abcd.
The first water is also the first combination on course, and as we'll see throughout the track, it offers a tough direct route designed for the top-tier combinations as well as a friendlier, but much slower, long route designed to support less experienced combinations. This also means that there's a plan B if something goes wrong – or if team orders change.
The direct route consists of a brush into the water (5a), after which they'll power forward on four strides to an angled boat in the water (5b) and out to a narrow brush, which sits at the peak of a small slope (5cd). The longer route consists of four efforts, situation on a circuitous route around and through the water complex – and it's guaranteed to be a time-sucker.
After popping the maximum-dimension table – complete with oversized wooden goblets – at 6, we head into the main arena. Two major challenges await our riders here: first, they'll have to contend with a packed and vocal house, which shouldn't be an issue for more experienced championship and five-star horses, but which could back off more inexperienced ones. There's also a change of footing to bear in mind, as they gallop from grass and dirt tracks onto sand, but that'll be but a blip on the radar in comparison to the question contained within.
Fence 7 – a maximum-dimension table fitted with MIM devices – is a single fence, but it's set on a related to 8abcd, a corner-spread-corner combination on a curving right-handed line. The final corner (8cd) becomes almost unjumpable if the line and the approach to 8a and 8b aren't correct, but if a rider gets into trouble here, they can reroute to the alternative 8c and 8d – two corners on a curving line at the other end of the arena.
Fence 9 is a let-up fence, and it's a Luhmühlen classic – this steeplechase-style hedge has bright rail in front of it, which makes it more visible. But it's meant to be respected – as 5* winner Tim Price pointed out to us earlier this summer, it doesn't usually inspire a fantastic effort from horses.
After that, there's another combination at 10ab, although it shouldn't be one of the influential ones – although the questions are both upright gates fitted with MIM clips, so we could see one or two pick up 11 penalties here. Once again, there are options – there's a direct two strides on a slight downhill slope from the first gate to the second, or a slightly longer three strides for those who need the extra space to compensate for a scrappier first effort.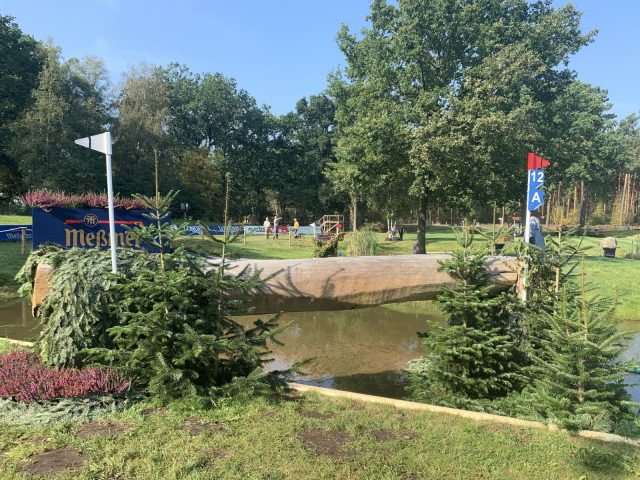 There's scarcely time to breathe – although there's half a minute or so of galloping to help efforts – before we head to the second water complex. Fence 11 is yet another maximum-dimension table, and it's designed to set our competitors up for 12abc, which will likely be the architect of several fortunes – both good and bad. The straight route takes horses and riders down over an angled hanging log and drop. Then, it's a forward four strides to a triple brush in the water, and on to another triple brush on the slope out. Or, for those who don't fancy their chances against those skinnies – and that inarguably terrifying drop in – there's another option, which requires them to make their way all the way around from one side of the water to the other. Not only is this option incredibly slow, it also pops them out at the wrong end of the water – so they'll need to get themselves back around to the other side to jump 13. Anyone who opts for this route will likely be found weeks later, still circling the water like a lost, confused shark.
You'd be forgiven for thinking that fence 13 might be a little bit of a let-up after the technical test of the Meßmer water, but it's not – yes, it's a single fence, and yes, it should jump well, and yes, these are experienced horses and riders so they're much braver than your faithful EN reporter, but this angled table over a water-filled ditch looks truly frightening. It'll be a good test of riders' ability to pick and hold their line, but we aren't likely to witness any heartbreak here.
14abc is a different story. The fischer Wellenbahn is an old Luhmühlen standby that's been revitalised and revisited for this championship – and visually, it's probably the most impressive combination on course. The first element is an airy birch rail upright, followed by three strides downhill to an imposing – read: colossal – drop topped with brush. On landing, riders will have just three strides to get organised before the corner at 14c, which has both a left- and right-handed option. The left provides the more obvious line, but the right has a slightly wider jumping area. Commitment will be key.
After popping the yawning ditch-and-hedge at 15, there's a clever coffin question at 16abc. Once again, we find two options here: the straight route is a one-and-one line over the upright frangible rails at 16a, over an angled ditch, and finally, over a reasonably skinny angled log at 16c. The angle of the final fence is the most significant factor in this question – riders will need to make sure their horses don't overjump or drift over the ditch, otherwise they risk a runout. If they foresee this being an issue, though, they can pop the first two elements and then swing around to the left to pop another log, wasting precious seconds.
The rathaus at 17 is another big table, which acts as a 'gimme' fence before we head to the final water, which contains two separate questions. The quick route at 18abc takes our riders over two offset brushes on a one-stride line – and the second of these drops them into the water, where they'll need to regather the knitting quickly for a left-handed turn to a skinny arrowhead. At this stage, we'll see horses and riders hitting the fringes of fatigue, so they'll need to assess their situation honestly: are they committed, confident, and able to make the forward lines, or do they need to take the long route and avoid an expensive 20?
Once they're clear of the final element, they need to embark on a big swing around the field that will bring them back for 19 and 20a – a related distance of two boathouses – and then 20b, a brightly-coloured bird on a nest in the water. The long option here is a different choice for 20a, which takes out the related distance and allows for a longer, straighter approach to the bird.
Following this, there's a single fence – but this, too, has an option. The straight route over 21 involves a gaping dip, at the upper lip of which is a not insignificant brush corner. Or, they can drop into the dip, nip around to the right, and pop over a friendly house.
While the trakehner at 22 might look scary, it'll be a small mercy to our hard-working horses and riders, who should get a great shot over it as they gallop out of the woods. Then, there's one more big question before they head for home: the enormous oxer at 23, which is followed by two offset brushes at 24 and 25. Though they're separately numbered, these two brushes are designed to be tackle on a direct line, but they'll require a really positive ride – expect to see more than a couple of side-door escape manoeuvres here.
After that, there's just one more fence to go, and the Longines Final Jump, shaped like an enormous rosette, should allow them to sail home and chase that final half a second or so en route to the finish line.
What do the riders say?
A star (*) by a rider's name denotes a team rider.
Michael Jung* (GER, first): It's a nice, tough course – it's a very nice build, with many different questions, but it's very clear, very fair, and with super conditions. The water jumps are always spectacular and interesting at Luhmühlen, and the questions at the end will be interesting – if you're riding for the time, you can have a runout.
At a championship you're not just riding for yourself, so you have to be prepared for anything so you don't get a 20. You have to know all the ways to go at each of the fences in case the trainer tells you that you can't go one way, you have to go another.
An hour before the cross-country starts the atmosphere is growing – but I don't do anything special, I just try to concentrate. Sometimes you can get stressed or nervous, but if the warm-up goes to plan and feels good, then you can feel good.
Ingrid Klimke* (GER, second): There are plenty of questions, particularly at the water complexes, but the ground is perfect, the jumps are beautiful, and you have nice galloping tracks where you can really go for it and have fun.
 I've walked it four times already, and I'll walk it again in the morning on my own or with one friend or rider. Then, I'll watch as much as I can, but thirty minutes before I get on I'll go to my lorry to be alone and think about my plan. Then, I'll go to the box and spend a bit of time with Bobby.
Laura Collett (GBR, third): It's clever to have the first three fences come up quickly and then a long gallop – you'll feel like you've gone hacking. All the waters are very serious; there's no let-up. We had a bit of a joke with Tina after she fell after the last fence at Hartpury, thinking she was about to win – you're not finished until you've crossed the line.
It's a massive ask for [London 52] as he's so inexperienced – he only started eventing three years ago – but he's super talented, so hopefully I can show him the way and he'll come up with the answers. For me, at the moment, it's about going direct everywhere – obviously plans can change when you've seen a few go, but I don't think you can be in with a shout if you go long.
Tim Lips* (NED, sixth): I think it's really important to read it very well, because I think the whole course is designed to make you think between all the combinations. As you approach each fence, you always have to be thinking ahead to the next.
Oliver Townend* (GBR, seventh): It's a proper job – the course is beautifully designed and built. I'm a big fan of Mike Etherington-Smith's courses; you get a lot of gimmicky courses where they try to catch horses out, but here, if you're on the line and your horse is 100% switched on, they'll do their job and it should look nice.
Kitty King (GBR, eighth): I'm glad I came here last year [with Ceylor LAN] so I have a feel for the place – it helps to know where you are with all the twists and turns, otherwise you can lose your bearings. There are plenty of accuracy questions out there; it's a true championship test but it's fair and not there to trick horses. If you ride good lines, it'll be clear – but you have to keep riding all the way to the last fence. 
Tina Cook* (GBR, ninth): It's a different course, with lots of different questions. I've ridden at lots of Europeans, but I think this could be one of the toughest. It'll take a proper gold medal performance to go clear in the time. The terrain will come into play, and team orders, too.
Karin Donckers* (BEL, =eleventh): It's a beautiful course as always. The fences are very clear, but you have to respect them. It's very fair to horses, and if you have problems, there's always a plan B or C. You'll still have to use your brain to ride it, though – but that's just what we want.
Cathal Daniels* (IRE, thirteenth): It's a brilliant course. There are lots of combinations and places you can go wrong, but the track is very fair and a good horse will find it very jumpable. Now that dressage is over, I can get excited about it!
Sam Watson* (IRE, sixteenth): There are more than ten proper championship questions out there, which means there's a lot of cumulative risk, so it'll be about precision and consistency. The time isn't going to be easy. It'll be a big test for anyone – you could isolate any of the questions and lose sleep over them, but we'll have to deal with them all and all the factors. Hats off to Mike Etherington-Smith – we can always talk about courses after the fact, but he's designed a track that's a brave, very fair championship course. And that's what we want – we want to see the very best being tested.
Piggy French* (GBR, seventeenth): It's tough – it's a proper championship track. There'll be plenty of problems everywhere, and it certainly won't be a dressage competition. You'll have to think – it's quite a quick track, and you have to keep your foot to the metal the whole way round. The waters are very decent. We'll have to fight for it.
 Pippa Funnell* (GBR, forty-second): You have a long gallop after the first three and then an intense first water – it's more of a question because you haven't got going yet. It's very technical the whole way around, with plenty of narrow fences that you need to have gone on a diet to get through. The time will be tight – we'll have to be switched on and crack on. The distances are fair – I hate when they're open and it's a bit of a 'is it, or isn't it?' question.
Want more insight? Here's a full run-down of the course, with audio notes from Mike Etherington-Smith:
 #FEIEuros2019: Website, Entries, Form Guide, Live Scoring, Live-Stream Guide, EN's Coverage, EN's Twitter, EN's Instagram