Friends, Romans, countrymen, lend me your ears: I come to bury the competition under savage commentary, not to praise it. (Kidding. At this point in the week I am nought but a shell of a person, like all my innards and intelligent contributions have been scooped out and replaced with feelings. I am everyone's biggest cheerleader today.)
Anywho, folks, the minutes are ticking down until the CCI5* showjumping commences in a soggy, chilly Bluegrass State, and what an afternoon of action we have lined up for us. Let's take a look at how the top twenty stands after the shock removal of two-time champion Cooley Master Class from the competition at this morning's final horse inspection: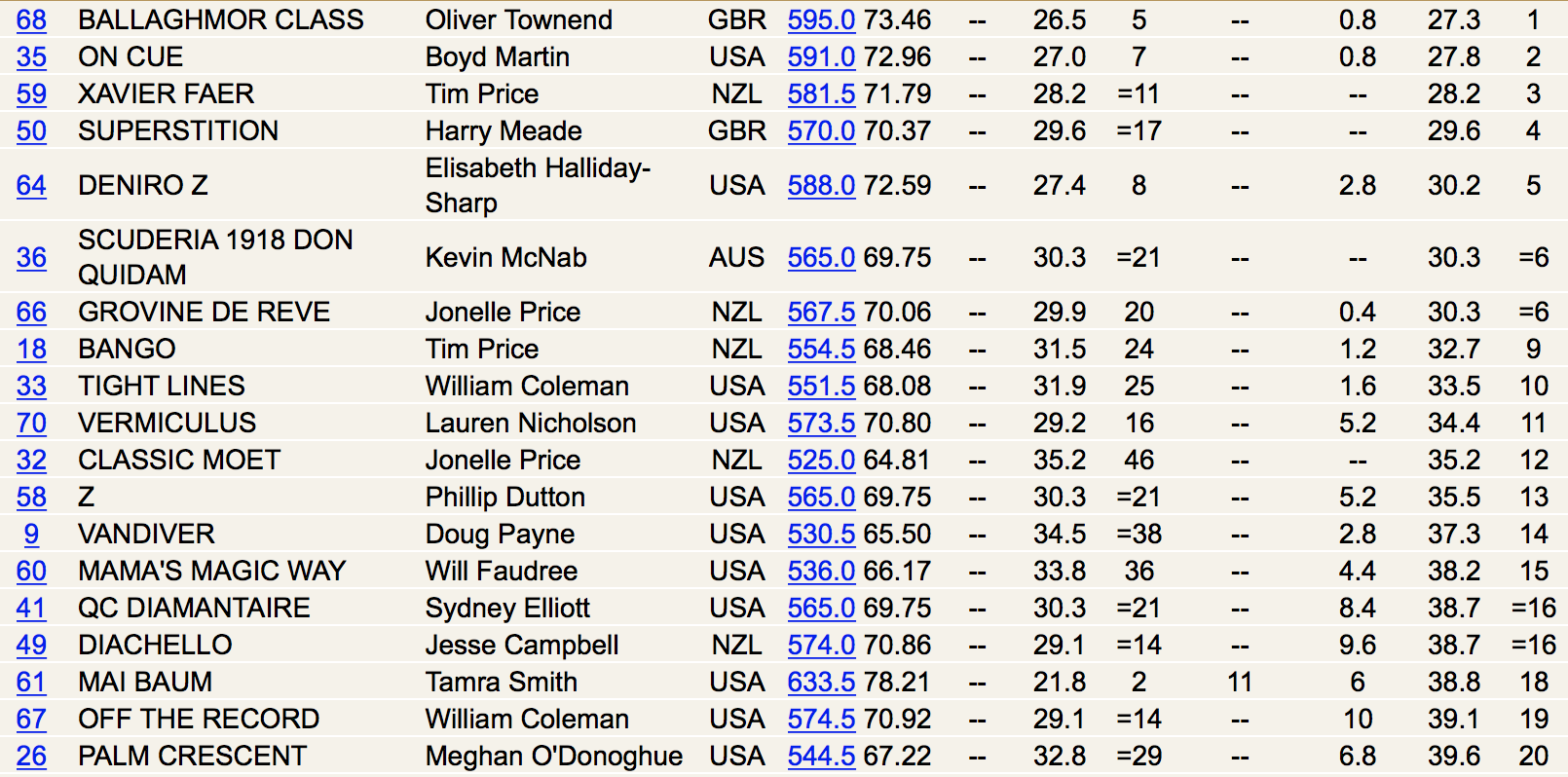 Phew. The eagle-eyed among you will see that there's just 3 penalties covering the top seven; that's less than a pole, or seven seconds on the clock, covering that swathe of competitors. Oliver Townend leads the way with a second in hand over second-placed Boyd Martin and On Cue – but while Ballaghmor Class is experienced at this level, and likely to pull one rail, On Cue has a similar projection but no prior experience at the level to use as a solid indicator. Our stats queen Maggie Deatrick crunched the numbers for our Ultimate Form Guide, which puts three of the top ten up as projected clear rounds — nab your copy if you want to see who they are.
Here's a look at the course plan:
#LRK3DE21: Website, EN's Ultimate Form Guide, CCI4*-S Live Scores, CCI5* Live Scores, 5* Dressage Ride Times, 4* Dressage Ride Times, Schedule, North America Live Stream, Worldwide Live Stream, EN's Coverage, EN's Instagram, EN's Twitter
4.06 p.m. EST: We'll be back soon with a full report and image gallery (and more!) – stay tuned and definitely, definitely have a beer. You deserve it.
4.01 p.m. EST: "I'm never good in these situations because I'm extremely emotional, but to be here is just so special. It's such a huge team effort, both on your side and our side, but to come here and enjoy this result in the best venue in the world is so, so special to me," says a tearful Oliver. "He's incredible; basically everything's gone against him this week — but it's incredible horses who can have everything go against them and still come out on top. Thank god he's got me on his back to enjoy these moments. This wasn't the way I believed he would do it, but we got there in the end! Hopefully we'll come out of this event and see you at the Olympics."
3.57 p.m. EST: Here's your final top twenty after an enormously exciting showjumping day:
3.56 p.m. EST: Boyd Martin will once again be our USEF National Champion — he and On Cue finish fourth.
3.55 p.m. EST: He does it! Oliver Townend is your Kentucky champion for the third year running and will remain World Number One as well!
3.54 p.m. EST: Plays it safe and goes the straighter route at seven.
3.53 p.m. EST: Can he hold his domination at this event on a different horse to two-time winner Cooley Master Class? Or is this Tim's day? Clear so far through the treble.
3.52 p.m. EST: Oliver Townend in now and jumping for the win with Ballaghmor Class.
3.51 p.m EST: The first part of the double goes — no US winner for 2021. It's between Tim and Oliver now.
3.50 p.m. EST: Boyd in now on debutant On Cue. He has to do a quick clear — there are no options to play with here.
3.49 p.m. EST: YES! Tim adds nothing — he and Jonelle are the only two riders to finish on their dressage scores this week!
3.48 p.m. EST: If Tim beats Oliver, he'll become World Number One. Clear so far, but loud. A FLYER at the water.
3.47 p.m. EST: Forgive me any typos; my hands are officially shaking.
3.46 p.m. EST: Tim Price back in now with third-placed Xavier Faer. They finished on that placing in 2019 — can Tim go clear and stay ahead of Jonelle?
3.45 p.m. EST: Harry goes direct at both options. It pays off; he's quick and those fences stay up. The water is rattled but doesn't fall. Just that one down for him and Superstition — he loses just one spot on the leaderboard.
3.44 p.m. EST: An early rail down for Harry. What a heartbreaker this course is proving to be.
3.43 p.m. EST: Come on, Harry Meade! What an extraordinary story it would be if he came back from his horrendous injury to take his first five-star win.
3.42 p.m. EST: Another down for Liz. 8.8 to add in total puts them in 10th, and ensures Phillip Dutton will at least be reserve national champion.
3.41 p.m. EST: NO! The first falls for Liz Halliday-Sharp and Deniro Z. Time to regroup and make the rest of the course happen.
3.40 p.m. EST: SUPER clear for Jonelle and Grovine de Reve — just like yesterday, they add just 0.4 and will finish at least sixth.
3.39 p.m. EST: We're in the bit of the leaderboard where there's not a pole to spare. This is going to be a nailbiter. Jonelle clear so far on the former Dan Jocelyn ride, who went to the 2018 WEG with his previous rider.
3.38 p.m. EST: Jonelle Price in the ring for the last time now, this time with Grovine de Reve. He starts one place up the leaderboard, as Kevin slots into seventh behind him.
3.37 p.m. EST: A serious knock at the Rolex oxer at 11 but it stays up — just four to add for the Australian pair.
3.36 p.m. EST: The Nutrena upright comes down for Kevin. Don on springs after that.
3.35 p.m. EST: Kevin McNab and Scuderia 1918 Don Quidam in now. They're 50/50 for 5* clears in this phase.
3.34 p.m. EST: The first part of the treble falls for Will and Phish. They add eight penalties and let Tamie and Mai Baum into the top ten.
3.33 p.m. EST: Will Coleman and Tight Lines are our next gladiators in the ring. They've taken out the Land Rover oxer. Come on, Phish, pick up those flippers.
3.32 p.m. EST: Into the meat of the top ten now. I 'ave, 'ow you say? Ze big quease.
3.31 p.m. EST: So quiet in here that you can hear every last 'good boy' — and Lauren says it a lot to little Bug. They finish with 8.8 penalties to add.
3.30 p.m. EST: An early rail comes down, and the first part of the treble follows it. This'll prove expensive for Lauren.
3.29 p.m. EST: Lauren Nicholson and Vermiculus were let into the top ten this morning after Cooley Master Class was spun at the final horse inspection — and now they jump to try to hold that spot. And we've got a melodious car alarm again.
3.28 p.m. EST: They stumble slightly on landing but Phillip and Z are fault-free — they'll finish no lower than 11th, but they're well-positioned to fight for a top ten finish now.
3.27 p.m. EST: A nailbiter there as Z kills the engine just before the treble and comes in crooked — but they get the job done. Clear so far.
3.26 p.m. EST: Phillip Dutton back in now, this time with Z. This horse had a tricky round here a couple of years ago.
3.25 p.m. EST: Doug plays it safe and goes straight at 7 — but a rail comes down later in the course. That'll be 4 penalties to add; they slip down two places and sit behind Jesse Campbell.
3.24 p.m. EST: Doug Payne put our first double-clear on the board today with Quantum Leap — now he's back with Vandiver, jumping for 12th place.
3.23 p.m. EST: Argh — the water goes as well. 12 faults to add but inside the time for Tim and Bango. That's going to move them to 19th for now, giving Buck and Carlevo another boost.
3.22 p.m. EST: Another Price up now! This time it's Tim and the enormously experienced Bango. They tip two early rails.
3.20 p.m. EST: One down for Will and Mama's Magic Way loses them four places on the leaderboard.
3.19 p.m. EST: Will Faudree and Mama's Magic Way only have a second in hand if they want to keep their spot on the leaderboard.
3.18 p.m. EST: Jesse adds 0.8 time — he goes behind Tamie but makes a seriously strong bid for a spot at Tokyo after three exceptional phases this week.
3.17 p.m. EST: Fellow Kiwi Jesse Campbell and Diachello in now and looking classy so far around the horse's debut 5*.
3.16 p.m. EST: Wow! Classic Moet adds NOTHING in the final phase to become our first combination to finish on their dressage score here. They'll finish no lower than 11th.
3.15 p.m. EST: Jumping out of order now is 11th placed Classic Moet and Jonelle Price. Clear so far for this slightly unreliable jumper, whose Badminton win in 2018 marked her first international showjumping clear in four years.
3.13 p.m. EST: Two rails down and no time to add for Sydney and QC Diamantaire moves Tamie up a placing.
"He was so amazing — he jumped out of his skin. I couldn't have asked him to be better. That was really nerve-wracking in there," says Tamie. "It was important for me to have a double-clear round today, and so it was a lot more pressure than i've ever experienced — and I kind of liked it!"
3.12 p.m. EST: Sydney Elliott and QC Diamantaire in now. An early rail goes but the horse is generally looking a bit more rideable today; Sydney spent the early part of yesterday's round figuring out how to readjust his rollicking stride.
3.10 p.m. EST: Clear without time penalties. Beautiful round. Without that frangible, they'd have been less than a time penalty behind our leaders Oliver Townend and Ballaghmor Class now. God, this is a tough old sport — but Tamie has made her Tokyo bid loud and clear here and should be taken very, very seriously indeed.
3.09 p.m. EST: Tamie Smith and Mai Baum in now. They had a heartbreaking frangible pin yesterday that put them out of contention for the win; a clear round today is very possible but would be so bittersweet.
3.08 p.m. EST: One down for Will and Timmy — they stay in at least eighteenth place and are the clubhouse leaders.
3.07 p.m. EST: The Nutrena upright falls for Will Coleman and Off The Record too as, somewhere in the distance, Land Rover demonstrates the volume of its inbuilt security alarms.
3.05 p.m. EST: Two rails and two time penalties for Meghan and Palmer means that Sharon slips back into the top twenty.
3.04 p.m. EST: Meghan O'Donoghue and Palm Crescent next up to bat, and a top twenty finish would be really exciting for this combo. Palmer's looking fresh and very well — it's super to see these horses looking so great after yesterday's exertions.
3.02 p.m. EST: The Nutrena upright topples for Sharon, and they finish a second over the time — they drop one place, allowing Buck and Carlevo into the top twenty.
3.01 p.m. EST: And we're back! Sharon White and Cooley On Show get us started in provisional 20th place. Here's an interesting bit of info from our friends at EquiRatings:
2.37 p.m. EST: "The time is difficult enough . On both my horses I made the inside turn, which is very doable, but the time is tight, which is one thing people learned," says Buck. "It's going to be exciting — I hope everyone's enjoying watching around the world. I'm going for the American — I think Boyd's going to win it."
2.35 p.m. EST: We'll be back at 3.00 p.m. to watch the top twenty jump. This'll be a nailbiter, folks — just four faultless rounds in the first session suggests that everything could be about to change.
2.34 p.m. EST: The last falls as well, and they add 1.2 time penalties — 9.2 in total to add, which is out of character for this ordinarily great-jumping pair. But what an exceptional experience to add to their CV.
2.33 p.m. EST: Six goes down but they manage the direct option to the skinny at 7 without an issue.
2.32 p.m. EST: Last up for this session is Germany's Anna Siemer and FRH Butt's Avondale, who was exceptionally good in both phases thus far, but dropped out of contention with time penalties yesterday when Anna opted for some long routes to preserve her 5* debutant in the tough weather.
2.31 p.m. EST: "My name's Buck, and I came here to…add no penalties in the showjumping." That's how it goes, right? In any case, Buck and Carlevo add nothing.
2.30 p.m. EST: They clobber the first but it stays up — and Buck and Carlevo are clear through the treble so far.
2.29 p.m. EST: Busy boy, Buck Davidson — he's back in the ring now with his second horse, Carlevo.
2.28 p.m. EST: Four jumping and two time penalties for Jennie, who gets a wee bit lucky with one of those fences.
2.26 p.m. EST: Two down and two seconds over for Jonelle and 'Grape.' Next in Jennie Brannigan and FE Lifestyle.
2.25 p.m. EST: Lots of family ties between the Price horses — this is a paternal half-sibling to Tim's 5* winner Wesko, while Tim's Xavier Faer is a maternal half-sibling to Jonelle's 5* winner Faerie Dianimo.
2.24 p.m. EST: The first of three rides in the ring now for Jonelle Price — it's yesterday's trailblazer Grappa Nera, tackling her first 5* this week.
2.23 p.m. EST: They're clear with just 1.6 time penalties — someone was smiling down on them after that sticky run through the treble!
2.22 p.m. EST: Corvett really does go into orbit over these fences! They're still clear with some very loud rattles.
2.21 p.m. EST: Our next rookie pair in now: Emily Hamel and Corvett were great fun to watch yesterday and they're clear so far through the treble. A HUGE cheer from their supporters after that effort!
2.19 p.m. EST: Matt Flynn and Wizzerd give us clear round number three!
2.17 p.m. EST: Three down and two seconds over gives Dom and Boly 12.8 to add. Man, this horse looks seriously fit and fresh — would love to know what their fitness plan has looked like.
2.16 p.m. EST: Dom Schramm and Bolytair B in now, and they tip a couple of early rails so far.
2.14 p.m. EST: Colleen Loach and Qorry Blue d'Argouges in now for Canada – but it's a disaster for this pair. Colleen opts for the direct route to the skinny option at seven, gets in too deep, and Colleen hits the floor. What an enormous shame.
2.12 p.m. EST: 4.4 time to add and 8 jumping penalties — one for taking out the first part of the treble, and one for running out of the second element — but that's a completion in the books for Ema, and a regrouping she should be enormously proud of.
2.11 p.m. EST: Through the treble really well after that rebuild. Looking really good after that blip —  what a cool-headed horse and rider.
2.10 p.m. EST: Our gal Ema Klugman in now — she's the youngest rider in the field at 23, riding the eldest horse at 19, and she jumped clear yesterday. This pair tend to be solid show jumpers but they have a really tricky time at the first part of the treble — Ben crashes through it and goes out to the right, nearly unseating Ema after they disagree on whether or not to add a stride.
2.09 p.m. EST: 0.8 to add for Marilyn despite committing to those inside lines — but she stays ahead of Leslie and Voltaire de Tre.
2.08 p.m. EST: Marilyn Little and RF Scandalous led the dressage on Thursday, but lost that lead when adding 28.4 time penalties yesterday. They're in now and clear so far through the treble — no surprise, considering the rider used to be a Grand Prix showjumper.
2.07 p.m. EST: These rare clears and tight margins are making this phase seriously influential even in this first group. Buck drops behind Leslie.
2.06 p.m. EST: Buck Davidson in now, jumping out of order with Jak My Style. He's riding economically here — with one down already, he's choosing inside lines to stay under the time. Comes home a second inside.
2.05 p.m. EST: "He doesn't need much of a warm-up; he's such a good jumper and so the less I do with him and the less I interfere with him, the better," says Leslie Law of Voltaire de Tre. That's such a huge piece of the puzzle — knowing your horse and exactly how much or how little he needs, while considering their previous day's effort.
2.03 p.m. EST: This doesn't look like the easiest horse to showjump; he tends to travel high-headed and slightly inverted, and he looks keen on the approach — but Phillip is very good at managing both horse and course. They come home clear with 1.2 time penalties!
2.02 p.m. EST: The last American winner of this event is up now with Fernhill Singapore — it's Phillip Dutton, of course, who was victorious in 2008. He's clear through the treble so far.
2.01 p.m. EST: 0.4 to add for Kurt and DeLux Z as they just squeak over that optimum time of 89 seconds.
2.00 p.m. EST: Kurt opts for the left-handed, skinny and direct option at seven and makes it happen. This horse really, really jumps — he has one of the best showjumping records in the field.
1.59 p.m. EST: Running out of order now is Kurt Martin and DeLux Z, who were likely delayed by a shoeing issue or similar. Clear through the treble, which is jumping super today.
1.58 p.m. EST: Our second faultless round of the day goes to Leslie and Voltaire de Tre! This cool horse really does try his heart out, even if he can be a bit of a 'bull in a china shop' according to his rider.
1.55 p.m. EST: Next up is Ocala-based British gold medalist Leslie Law, who somehow found his way around the course yesterday despite the tough combination of pouring rain and glasses. He and Voltaire de Tre finished clear with 18 time penalties, and they're clear through the treble despite a slightly twisting effort from 'Splash'.
1.54 p.m. EST: Lauren opts to go the longer route at 7 to the wider option. They finish clear but four seconds over to add 1.6 time penalties.
1.53 p.m. EST: Lauren Nicholson now up with Paramount importance, who's clear through the treble.
1.52 p.m. EST: Three down for Caroline gives them 12 to add, but they're inside the time with some economical lines.
1.51 p.m. EST: The second falls for Caroline Martin and Islandwood Captain Jack, and then the Mars oxer at six goes as well.
1.50 p.m. EST: 20 penalties to add ultimately for Dan and 'Frank the Tank', who will take away a huge amount of experience from this week. This is a big fitness test for these debutant horses and this course isn't playing around — Doug and Quantum Leap remain our only fault-free round.
1.49 p.m. EST: Ooof, this is a tough round so far for Dan Clasing and MW Gangster's Game – they've pulled four so far.
1.48 p.m. EST: Four come down and they add 2.8 time penalties – but Fylicia and Galloway Sunrise have got a Kentucky completion in their books!
1.46 p.m. EST: The first of our rookies: Fylicia Barr and Galloway Sunrise have an early rail. This horse looks seriously fit and strong after yesterday's exertions.
1.45 p.m. EST: Leah and AP Prime give it all they've got out there and come home with six penalties to add — just one rail down and two time penalties. They'll be pleased with that.
1.43 p.m. EST: Leah Lang-Gluscic and AP Prime are jumping a bit by Braille so far, and understandably so – they had a tough, gritty ride around the course yesterday and were stopped briefly on course to check the horse's stifle after a big knock.
1.42 p.m. EST: The Mississippi Steamboat drops as well for Lisa Marie. We should have seen Kurt Martin before Doug — no word on what's holding him up. Two rails and 0.4 on the clock to add for Lisa Marie and Honor Me.
1.41 p.m. EST: "I couldn't be happier with Quantum Leap — he was awesome," says Doug. "He has a huge, huge future ahead of him." Lisa Marie Fergusson and Honor Me in now and with an early rail down.
1.39 p.m. EST: A rail goes at the water, and then Emilee goes for a brave inside line to the next — but that stays in its cups! It's just 4 faults to add for them.
1.38 p.m. EST: Jakobi was jumping out of his skin for Emilee Libby yesterday and he's doing the same today — a real flyer at the first, but they get it together after that and are clear so far.
1.37 p.m. EST: And what lines they were! Doug and Quantum Leap add nothing to their post-cross-country score. He's just shown a lot of riders to come how it's done.
1.36 p.m. EST: A first ride for Doug Payne in the form of Quantum Leap — this'll be a good chance for him to test out his lines ahead of his ride on Vandiver later on.
1.34 p.m. EST: A tough day in the office for Joe Meyer and Johnny Royale, who take 29.6 penalties – that's 1.6 time and seven rails.
1.31 p.m. EST: 'Monster' takes out the first part of the treble combination and picks up a bit of time, but it's a great first experience for this exciting youngster.
1.30 p.m. EST: Liz Halliday-Sharp will be first in the ring in our first session riding Cooley Quicksilver, who makes his 5* debut this week. He put up a game, gutsy showing yesterday, just picking up an educational 20 penalties with a genuine drive-by at the last element of the influential Hollow.
Comments