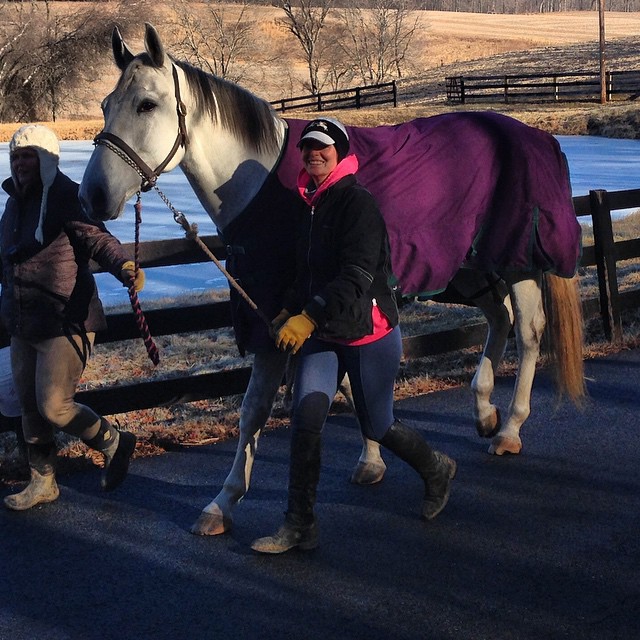 The gray gelding Iron League is now the most famous horse in Maryland after a harrowing week for Courtney Sendak and owner Juliana Whittenburg. On Monday morning, the day after the Oldenburg gelding arrived at An Otherwise Perfect Farm from Florida, Iron League hopped a four-foot pasture fence and took off on a self-imposed tour of his new home state. His disappearance launched a massive search involving hundreds of volunteers on horseback, foot and ATVs, as well as in the air and on the roads.
After some encouragement from her dressage coach, Phoebe Devoe, Courtney had begun looking for a horse to take her back to the upper levels of eventing. Operating a training and sales operation, Defying Gravity Eventing, Courtney had mainly focused on sales horses, selling her nice prospects once they reached Novice and Training level.
"Phoebe is good friends with Juliana, who breeds a lot of warmbloods and racing Thoroughbreds," Courtney said. "Phoebe had been a big cheerleader for me to start looking for something for myself, and I just never thought I'd be able to put myself in that position."
Juliana takes a strong interest in the well-being of her horses, focusing on finding them good homes, and encouraged Courtney to come and try a few horses at her farm in Tampa. Courtney flew down to Tampa for a day and tried multiple horses, finally sitting on Iron League, who came with the tag that he was a bit more difficult than the average amateur or young rider may want to have.
"Juliana thought he'd make a nice event horse," Courtney said. "He'd win the flat and had a nice jump, he was just very sensitive and more of a 'feminine' ride in that he requires a lot of tact and patience; you can't bully him with any aid. I really liked him, and arrangements were made for him to come to Maryland for me to train and compete with Juliana as the owner."
As it happened, Iron League was able to hitch a ride north this past weekend, and after a nearly 24 hour trailer ride was settled into his new home in Maryland. His arrival was not to be without incident, however. "We just wanted him to settle in, so we didn't ride him or even really groom him the first day, we just let him eat and gave him electrolytes and left him alone," Courtney said.
Monday
In turnout the next day, there was nothing that startled Iron League into hopping the fence. "He was grazing, and then he took a couple of canter strides and just hopped right over the fence," Courtney recalled. "I saw it all happen, and I looked down to grab a lead rope and when I looked up he was just gone. I couldn't tell you which direction he went."
Courtney's property is about 85% fenced, with the unfenced portion backing up to a wooded area. She still doesn't know how he disappeared so fast, as he would have had to pass other paddocks with horses and evidently didn't stop to socialize on his way off the property.
At first, Courtney hedged her bets on finding him wandering in the woods or a neighbor's yard. "We get postings in this area all the time about loose horses — it's horse country around here," she said. "Most of the time, they're found within an hour munching on a neighbor's yard or at the next farm over. It's winter, there's no forage, and he's a white horse with a bright purple blanket on — I figured it would be easy to find him."
Courtney soon realized that Iron League's predicament was more serious than she'd initially thought, after he was not found even with the help of multiple people driving the roads and hacking out. After two sightings, with a heavy downpour threatening that evening, Iron League seemed to have vanished without a trace.
She'd called Juliana to make her aware of the situation, a call she did not want to have to make. "I hated that my second call to her — the first one being that he was happy and off the trailer — was to inform her that he was missing," she said. "Bless her, she apologized to me that he'd run off! She felt helpless being all the way down in Florida, but she was so supportive through the whole ordeal."
With the situation turning more dire, Courtney and her boyfriend, Jim Webb, began to organize a concentrated search effort for the following day. Thanks to the powers of social media, Iron League's predicament had nearly gone viral. "When I got home on Monday evening, I had 120 new Facebook messages, my voicemail was full, and I had about 40 new text messages," Courtney said. "All in the span of one day. It was a lot of horse people, but also quite a few non-horse people, all of whom wanted to know how they could help."
Tuesday
By the next day, radio and TV stations had picked up the story, generating an all-out search and rescue mission from hundreds of volunteers. "I had people who planned to take the day off work, who came from Virginia and Philadelphia with trailers full of good trail horses and extras for those who needed them. Others offered to bring ATVs and tracking dogs. We had animal communicators volunteering their time and we hired planes and helicopters to survey the area, which is heavily wooded."
Tuesday came and went with no sightings of the gray gelding, leading many to begin thinking the worst. "I never really let my mind go there," Courtney said. "But people were keeping track of Craigslist and the horse sale ads, as well as calling New Holland and just making sure he didn't pop up. We also had some retired large animal search and rescue members call and give us advice on searching the terrain and what protocol to follow. We monitored the police scanners, as with the heavy rain there were a lot of accidents, and we checked accident reports to make sure there were no reports of a horse getting hit."
Upon recommendation from search and rescue, a topography map of the area was printed off, and quadrants were marked to search in hopes of flushing the horse out of the woods. Grateful for the help, Courtney tried to remain positive although her world was spinning at a million miles an hour. "I was at a loss of what to tell the people who so generously offered to help," she said. "There's no book you can read on this, no protocol. It was good to have more organization so that we were more efficient with our search."
Wednesday
Wednesday morning dawned, and Courtney's driveway filled with trailers and people who had volunteered their time. As she was pulling into the driveway, Courtney's phone rang. It was a UPS driver who had a couple of hours before his shift started and had decided to drive around looking after reading about Iron League's plight in the paper.
"Are you still missing that horse?" he asked Courtney. "I think I see him." She asked for a description and, sure enough, he described a gray horse with a bright purple blanket, wandering nonchalantly up a driveway and grazing in the back yard. "I know it says not to approach him, I don't want to scare him," the driver told Courtney. She quickly told him to not let the horse out of his sight and drove over.
There he was, without a single scratch or even a speck of dirt on his brand new blanket. Clean from the previous night's downpour and completely unaware of the overnight celebrity status he'd gained, Iron League was caught and walked home by a beaming Courtney. Volunteers lined the roads and snapped photos, as if this horse were a movie star walking the red carpet.
Iron League was tucked away safely in his stall last night, and Courtney, Juliana, and their vast network of support took a deep breath (and perhaps a few sips of wine!) knowing their precious cargo had returned home.
"He's the most famous horse in Maryland," Courtney joked, sheer relief in her voice. "Now he's got a whole lot to live up to — we'd better go win Rolex or something now!"
As Iron League settles into his new home, his tour of the surrounding countryside complete, Courtney plans to do a lot of hand-grazing and turnout in the roundpen. She'll also be turning him out with his trailer buddy who made the trip from Florida with him, in hopes of keeping him from pulling another Homeward Bound in the future.
For now, though, Courtney has had enough excitement to last her a lifetime. Tomorrow, she'll start working on a new beginning with the horse who became an overnight celebrity.
Welcome home, Iron League.