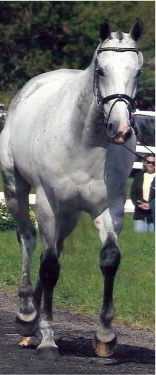 Do you ever stare in awe at the sleek shiny horses, the glistening brass, perfect braids, and dazzling white marks at a CCI trot up? Do you ever wonder how they get that way? (LOTS of hard work is the correct answer!) Each Sunday morning we will bring you a little insider info on how the big-time grooms manage an upper level event horse. Feel free to email or comment with specific grooming questions if you have a topic in mind!
Today's Topic: Get those white legs white!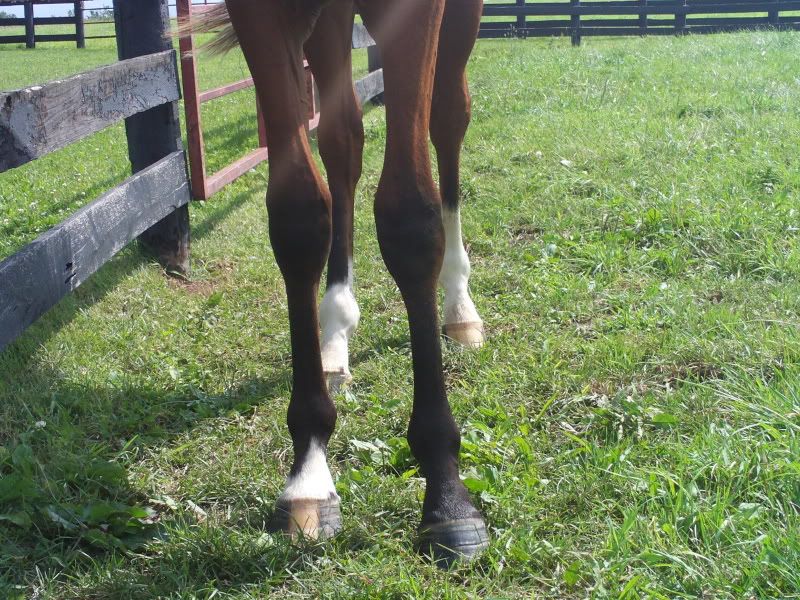 Some riders are fortunate enough to have horses with solid black or chestnut legs, reducing grooming time and allowing for an extra minute of sleep on show mornings. The rest of us must avoid the snooze button and get to the barn early, to combat the green spots and yellow stains that inevitably occur the day of a special occasion.
So how can you make those white legs sparkle?
It starts with regular attention. Wash legs weekly to remove everyday dirt and stains. You may use your favorite whitening shampoo, but I find that regular dish soap works just as well. Save your Quic Silver for show baths! Pink skin beneath the white hair is often sensitive, so take care to rinse thoroughly and avoid rough scrubbing if irritation occurs.
For your pre-show bath, slather on the Quic Silver (or purple-product of your choice) and let it sit while you wash the rest of the body, or about ten minutes. Rinse well. Apply Showsheen to the leg markings to resist any overnight discoloring. For one-day events, or when cross-country is imminent, I avoid the Showsheen step– it could cause boots to slip down.
The morning of the event, give those whites another quick scrub with Quic Silver. Use full-strength on dry hair for soiled spots. Rinse and rub the legs dry with a towel. For a final whitening effect, puff and pat on a little cornstarch on the socks. This works especially well to camouflage any "hind leg gunk" on the cannons. **Be sure to use cornSTARCH, not cornMEAL, as one friend of mine tried to do…but it was pretty funny! Baby powder, talc, and GoldBond also work too.
In some disciplines (hunter/jumper, breed shows) it is very common to shave white legs with clippers. This makes them very easy to keep clean, but can turn them pink and irritate skin (clip at least 7 days before competing). I generally avoid clipping legs altogether— event horses need hair for protection from bangs and nicks on xc. It also greatly increases the risk of boot rubs…a bright white sock doesn't look good anymore when the leg is painful and swollen! If you *do* choose to clip lower legs, use polos or fleece-lined boots during exercise for 7-10 days to be sure enough hair grows back, before you use standard Woof or Nunn Finer boots.
Nothing looks quite as sharp as a glistening white sock contrasted with dark hoof oil. Anyone who's had a white-legged horse knows how hard it is to achieve that sparkle, and your effort will surely be noticed!
Last week's tip: Hoofcare