The Thoroughbred has long been revered as the ultimate horse for the sport of three-day eventing, so it's no surprise that 12 entries in this year's Land Rover Kentucky Three-Day Event chose them as their competitive partners.
The Retired Racehorse Project is again teaming up with Eventing Nation to tell you all you need to know about the Thoroughbreds who will be galloping across the rolling terrain at the Kentucky Horse Park the last weekend in April!
Horses being horses, we expect the list of entrants to change right up until the competition starts. We'll indicate below when particular horses have scratched, and will keep this article up-to-date with the most current numbers we have.
Stats as of 4/16/19.

Of interest this year is that all 12 Thoroughbred starters were bred for racing, and seven of those horses did start on the track. Two were winners — Jessica Phoenix's mount Bogue Sound and Chris Talley's Unmarked Bills. In total, this year's Thoroughbreds combined ran a total of 78 starts with earnings of $91,783. Unmarked Bills was the most successful of these, earning $67,250 with three wins in 24 starts.
The oldest Thoroughbred competing is Sound Prospect at age 17. (Update: Sound Prospect has since been withdrawn.) The youngest Thoroughbred is Unmarked Bills at age 10.
If you'll be at the event, make sure to stop by the RRP booth #130 on the floor of the covered arena to pick up an order of go for the Thoroughbreds, and some logo wear to show your OTTB pride. You can find all of the Thoroughbred-centric activities going on throughout the weekend by clicking here.
If you'll be following the action from home, bookmark Eventing Nation's Land Rover Kentucky coverage for great photos and up to the minute coverage of everything going on at the Horse Park! We've also included links to the riders' social media pages at the end of their horses' bios below — just click on the Facebook, Instagram, or Twitter icons.
Read our previous years' summaries of the OTTBs competing in Kentucky (note that not all of the horses profiled in the articles actually started the event):
2012 / 2013 / 2014 / 2015 / 2016 / 2017 / 2018
THIS YEAR'S THOROUGHBRED ENTRIES
We'll have a downloadable order of go as soon as ride times are published.
Jessica Phoenix and Bogue Sound. Photo courtesy of Eventing Nation.

BOGUE SOUND (Jessica Phoenix, CAN)
Owner: Amara Hoppner
Breeding: 2007 gelding by Crafty Shaw (Crafty Prospector) out of Carolina Blue (Victory Gallop)
Racing name: Bogue Sound (KY)
Racing record: 7 starts (1-1-1), $11,358
Breeder: James M. Herbener Jr.
When Bogue Sound, or "Bogie" as he's called in the barn, sets foot back on the bluegrass at the Kentucky Horse Park, it'll be a full-circle journey for the gelding: one of the photos that Jessica Phoenix first saw of Bogue Sound was the horse hacking out in a group at the park. Bogue Sound was originally owned and restarted by Sharon Shepard, a trainer in the Lexington, Kentucky area; Shepard sold the horse to Dorothy Crowell.
Crowell, herself an international event rider, knows a thing or two about off-track Thoroughbreds: her partnership with the legendary Molokai (JC: Surf Scene) included top-10 finishes at Badminton, Burghley and Kentucky, plus an individual silver medal at the 1994 World Equestrian Games. Crowell was also accepted as a 2019 Thoroughbred Makeover trainer.
"Bogue is one of those rare horses who has a caretaker personality," Crowell details. "I would have thought he'd make an amazing horse for an amateur. And it wasn't until one of the last jump schools before I sold him, I felt what he had. I looked at my husband and said 'I think we're wrong … this horse can really jump!'"
Bogue Sound ran in the maiden claiming ranks for his entire race career, retiring upon finally breaking his maiden. Crowell acquired Bogue Sound when the horse's racing career was over and competed the horse through Training level. Amara Hoppner, who trained with Phoenix as a young rider, purchased the horse from Crowell and produced him to the 1* level. When Hoppner made a permanent switch to competing in the jumpers, Phoenix took over the ride on Bogue Sound.
"He has an insanely awesome jump," Phoenix shares. "His forte is definitely cross country: he has an easy gallop and a consistent performance. He's truly a joy to ride cross country; you cannot sit on a better jumping horse."
Bogue Sound will be contesting the first 5* of his career in Kentucky. So far in 2019, the pair placed seventh in the Intermediate at Ocala Winter I, sixth in the Advanced at Red Hills International, and twelfth in the CCI4*-S at Chattahoochee Hills. As the horse returns "home" to Kentucky, one thing's for sure — he'll have a big local cheering squad from the Shepard and Crowell barns!
Pinney number: 43
Dressage:
Cross-country:
Final score:
---
Daniela Moguel and Cecelia. Photo courtesy of Eventing Nation.

CECELIA (Daniela Moguel, MEX)
Owners: Esperaza Alzola Navarro and Laura Margarita Henriquez Ripoll
Breeding: 2003 mare by Connecticut (Ogygian) out of Penny Stock (Spend A Buck)
Racing name: Constock (IA)
Racing record: unraced
Breeder: Timber Creek Farm
Daniela Moguel and Cecelia are back for their third run at Kentucky; the pair's best finish to date was their Kentucky debut in 2016 where they finished 28th with no cross-country penalties. Moguel has the distinction of being the first rider to ever represent Mexico at Kentucky, which she's done without any financial support from her national federation.
Cecelia is an unraced Iowa-bred who was campaigned through the then-three-star level with Leslie Chelstrom Lamb when Moguel's supporters purchased the horse in 2014. Coached by Karen O'Connor (a poster of whom inspired Moguel at age 13 to be an eventer!), Moguel and Cecelia have enjoyed success at the upper levels, most recently at the CCI4*-S finishing 17th and 14th at Red Hills International and the Fork at Tryon, respectively. In addition to being the first pair to represent Mexico at Kentucky, they were also the first pair to represent Mexcio in eventing at a World Equestrian Games; the pair finished 44th in 2018 in Tryon.
Cecelia earned the Best Thoroughbred Mare award at Fair Hill 4* in 2017, and Moguel credits her blood with the partnership's success. "I can't count the number of times I've walked a cross-country course and said to myself, 'I'm so happy I have a Thoroughbred.' There's no better feeling on cross-country than being on a Thoroughbred."
Pinney number: 20
Dressage:
Cross-country:
Final score:
---
GLENFLY (Marcelo Tosi, BRA)
Owner: rider
Breeding: 2005 gelding by Presenting (Mtoto) out of Dorans Glen (Over the River)
Racing name: Glenfly (IRE)
Racing record: 9 starts (0-0-0), $0
Breeder: R. Ryan
Sired by Presenting, the Irish-based leading National Hunt stallion, Glenfly failed to live up to likely expectations of greatness in jump racing: given nine starts over three years, he never placed in the money. Less than 18 months years after retiring from England's hurdle tracks, however, Glenfly was making his CCI2*-S debut in 2013 under Marcelo Tosi, a professional originally from Brazil operating out of the UK.
Through the end of 2014, the partnership continued to compete at the CCI2* and 3* level; Tosi relocated back to his native Brazil by the start of the 2015 season. In August of 2015, they tackled the test event for the looming 2016 Olympic Games in Rio de Janeiro, finishing third overall with one of only two double-clear cross country rounds.
Named to Brazil's World Equestrian Games eventing team, Tosi and Glenfly took their first trip to the U.S. in 2018, where they completed the cross country with only time penalties; ultimately, the pair finished 53rd.
Tosi and Glenfly have won five events in Brazil at the 3* and 4* level. This will be their first attempt at a 5* track and first trip to Kentucky, representing the continued growth of Brazilian eventing.
Pinney number: 32
Dressage:
Cross-country:
Final score:
---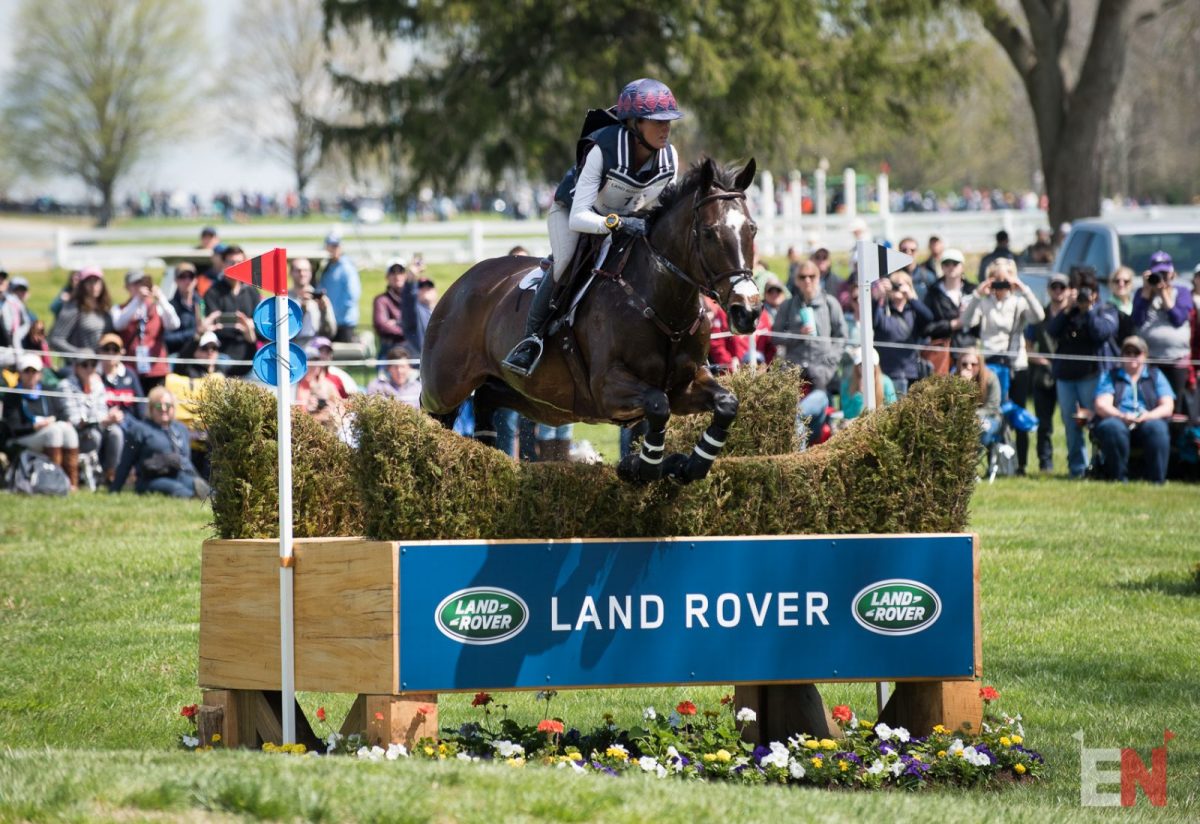 Andrea Baxter and Indy 500. Photo courtesy of Eventing Nation.

INDY 500 (Andrea Baxter, USA)
Owner: rider
Breeding: 2005 mare by Cromwell (A.P. Indy) out of Tensofthousands (Spend A Buck)
Racing name: My Gifted Indyanna (CA)
Racing record: unraced
Breeder: Clyde and Colleen Hunsaker
Some 5* stories have unlikely beginnings, and "Indy's" route to Kentucky is certainly a winding road: unraced, due to to the liquidation of her breeding farm when she was a weanling, Indy was purchased by Linda Miller and subsequently passed over as a retraining prospect by Andrea Baxter twice. The third time proved to be the charm: Baxter took Indy on as a resale project when the mare was four when her primary horse was sidelined with injury.
Baxter competed Indy 500 through Training, opting to breed her in 2010 to the Holsteiner stallion Linaro. (Baxter's family operates Twin Rivers Ranch in Paso Robles, CA, a competition venue and a training, lesson and breeding program: all of her horses have been either homebreds or off-track Thoroughbreds.) The resulting offspring, named Laguna Seca, has competed through Preliminary with Tamie Smith. While Laguna Seca is developing into a talented athlete, Indy didn't display a lot of love for motherhood, so she returned to the competition string. From that point on, it was onward and upward, moving through the levels on the West Coast.
Baxter and Indy have made the long haul from California to Kentucky twice: they finished 35th in 2017 and 31st in 2018. They also completed Burghley in 2018, finishing 36th. This year, the pair placed fifth at the CCI4*-S at Galway Downs.
Pinney number: 38
Dressage:
Cross-country:
Final score:
---
Buck Davidson and Jak My Style. Photo courtesy of Eventing Nation.

JAK MY STYLE (Buck Davidson, USA)
Owner: Kathleen Cuca
Breeding: 2005 Thoroughbred
Racing name: unregistered
Racing record: unraced
Breeder: unknown
If there was ever a rags-to-riches story of a horse with so many unknowns in his history making it to the upper levels of the sport, that story is embodied in Jak My Style.
What we do know about "Jak's" background is that he was bred to race: never tattooed or registered, the gelding did enter training but notoriously dumped most of his riders. An estate sale broke up the entire farm in New Jersey, and the 3-year-old Jak, without papers, was purchased by a local family with intentions of training him in hunters and jumpers.
Jak My Style with Matthew Bryner. Photo courtesy of Matthew Bryner.

"He was pretty naughty," laughs Matthew Bryner. "He was not cut out to be a hunter." Bryner, who operated out of a nearby farm to where Jak lived, took the horse on as a 7-year-old  — but Jak had other plans, regularly jumping the four-board fence to gallop back home. While the horse was clearly blessed with natural talent, it took a little bit of time for Bryner to work through his quirks.
But once he and Jak had reached an understanding — Bryner shares that at one point he whispered in the horse's ear "you could make it to Kentucky if you stop trying to dump me" — it was as though a switch had been flipped. The combination competed through Advanced and CCI3*-S before Bryner made the decision to offer the horse for sale. He was purchased by Kathleen Cuca, with Justine Dutton taking over the ride. Dutton and Jak competed through CCI4*-L before suffering a rotational fall: Jak was unhurt, but Dutton was sent to the ICU.
Buck Davidson then took over the ride and piloted Jak to top-10 finishes at CCI4*-S and CCI4*-L. An injury sidelined Jak for much of 2018, but the combination came back with a vengeance in 2019: they placed ninth in the Open Preliminary at Rocking Horse, 17th in the Open Intermediate at Ocala Winter Horse Trials, seventh in the Advanced at Carolina International and most recently won the Advanced at Chattahoochee Hills.
Buck Davidson has an appreciation for Thoroughbreds himself. "Thoroughbreds are so smart and willing and trainable. If you can explain things to them and encourage them, then they'll do anything for you."
Jak My Style may have no bigger fan in the crowd at Kentucky than Bryner, who credits the horse with opening many doors for him as a horseman. For a horse with such an obscure beginning, Jak's story is a fairy tale indeed.
Pinney number: 28
Dressage:
Cross-country:
Final score:
---
Joe Meyer and Johnny Royale. Photo courtesy of Eventing Nation.

JOHNNY ROYALE (Joe Meyer, NZL)
Owner: Team Johnny Syndicate
Breeding: 2008 gelding by the New Zealand stallion His Royal Highness (Grosvenor) out of the New Zealand mare Chivaney (Tights)
Racing name: Chivas Royale (NZ)
Racing record: 8 starts (0-0-0), $170
Breeder: John Wheeler
A minor injury and a little bad luck prevented this New Zealand-bred from competing last year, but one year later the Team Johnny Syndicate's Johnny Royale is poised to make his CCI5* debut at Kentucky. As a "New Zealand ten-year-old," Johnny Royale's career is really just beginning.
Originally purchased by investors as an Sdvanced prospect with the intent to resell, Johnny Royale quickly proved to Joe Meyer that he was the real deal; the investors provided the opportunity to syndicate and keep the horse. After withdrawing from Kentucky last April, the pair had an outstanding fall season, capped with a fourth-place finish at the Ocala Jockey Club in November. This spring, they've placed top ten in three of their four outings, including the Intermediate at Rocking Horse I &II H.T. and the CCI4*-S at Red Hills International.

Johnny Royale was originally brought to the UK by Lizzie Green after a racing career of eight starts and just $170 in earnings; the pair competed through Novice (the UK equivalent of Preliminary) before he was purchased by Meyer in 2015 and brought to the U.S. When asked what made Johnny Royale a special horse, Meyer quipped, "he's a New Zealander, and so am I!"
More seriously, Meyer describes Johnny as "comfortable": "I've ridden horses similar to him a lot. I knew he had weaknesses, of course, but I was comfortable on him, with his fast gallop and his scopey jump."
The Thoroughbred is the perfect horse for the job, as far as Meyer is concerned: "I'd rather ride a Thoroughbred than any of the other horses that are a bit more warmblooded. At the end of cross country, you can just shake the reins at a Thoroughbred and they'll find another gear."
Pinney number: 15
Dressage:
Cross-country:
Final score:
---
Erin Sylvester and Paddy the Caddy. Photo courtesy of Eventing Nation.

PADDY THE CADDY (Erin Sylvester, USA)
Owner: Frank McEntee
Breeding: 2007 gelding by the Irish stallion Azamour (Night Shift) out of Slamy (Grand Slam)
Racing name: Paddy the Caddy (IRE)
Racing record: unraced
Breeder: Frank McEntee & David O'Reilly
The stars never really aligned for Paddy the Caddy to become a racehorse: bred and started in Ireland, "Paddy" was too small to be a yearling sales prospect. Owner Frank McEntee shipped him to the U.S. to train under Graham Motion, but little things prevented the horse from ever making his first start — though he did mark four timed workouts in 2010 and 2011. McEntee finally took the horse home and turned him out. Coincidentally, McEntee's daughter was taking lessons from eventer Erin Sylvester, so after six months, he asked Sylvester if she could restart the horse and get him quiet enough to make a riding prospect for his daughter.
After two months, Sylvester called McEntee with a new plan: turn Paddy into an eventing horse. McEntee drove all the way to the horse's debut event just in time to see him drop the first three rails in show jumping — but fortunately, there was nowhere to go but up, and under careful and patient management by Sylvester with plenty of guidance from trainers including Boyd and Silva Martin, Phillip Dutton and Michael Matz, Paddy slowly worked his way up the levels.
2017 was a breakout year for Sylvester and Paddy, including a win at the CCI4*-L at Rebecca Farm in Kalispell, Montana, as well as a third place finish at the Fair Hill CCI4*-L in Maryland. In 2018, Paddy made his rookie debut at Kentucky, finishing clear and within the time on cross country despite losing a shoe partway through the course. That lost shoe would come back to haunt the pair the following morning when Paddy did not pass the final veterinary inspection prior to show jumping.
Sylvester and Paddy finished second at Bromont in the CCI3*-S and second in the Ocala Jockey Club International to wrap up 2018. This year, they've placed fourth in the Advanced at Pine Top H.T.
Pinney number: 34
Dressage:
Cross-country:
Final score:
---
Alexandra Knowles and Sound Prospect. Photo courtesy of Eventing Nation.

SOUND PROSPECT (Alexandra Knowles, USA) — WITHDRAWN
Owner: Sound Prospect LLC
Breeding: 2002 gelding by Eastern Echo (Damascus) out of Miners Girl (Miner's Mark)
Racing name: Sound Prospect (KY)
Racing record: 13 starts (0-2-1), $2,546
Breeder: Bradyleigh Farms Inc.
Auction: 2003 Keeneland January Horses of All Ages Sale: $10,000
From the first ride, Tessa Beckett knew Sound Prospect was special. Just a few days after his last race, Beckett — who was working as a gallop girl for a Washington trainer at the age of 13 — hopped on "Sounder" and fell in love with his personality, plus his good conformation. In the market for a new riding horse, she brought Sounder home and started training in eventing.
Sounder on the track. Photos courtesy of Tessa Beckett.
Beckett produced Sounder through the then 2* level, including a fourth place individual finish at the 2010 North American Junior/Young Rider Championships. In preparation for NAJYRC, Beckett had started training with Hawley Bennett, who immediately saw the horse's potential. When Beckett's interest in eventing waned in 2013, Allie Knowles — another connection through Bennett — put together a syndicate to purchase Sounder.
It took about two years for Knowles and Sounder to really click, but their list of top-ten finishes in 2015 really put them on the map — their performances earned them the 2015 Rood & Riddle Thoroughbred Sport Horse of the Year Award. 2015 was also the year that the pair contended their first trip to Kentucky, where Knowles elected to retire on cross country.
They returned to Kentucky in 2016 in top form after a second-place finish at the end of 2015 at Galway Downs; this Kentucky attempt culminated with a finish in 14th place and no cross-country penalties after a scrappy round in which Knowles really felt their partnership gel. She describes her relationship with Sounder: "The oneness that he and I have [on course], I haven't felt with any horse before or since. I just think something, and it translates through. So we're very fast and very efficient — there's no discussion. It's just the best adrenaline rush. He's very special."
Already in 2019, Knowles and Sounder won the Open Preliminary at Rocking Horse H.T. and placed second in the Open Preliminary at Ocala Winter H.T. They unfortunately had a TE in show jumping at Carolina International, and elected to retire at Chattahoochee Hills.
Pinney number: 19
Dressage:
Cross-country:
Final score:
---
Ashley Johnson and Tactical Maneuver. Photo courtesy of Eventing Nation.

TACTICAL MANEUVER (Ashley Johnson, USA)
Owner: rider
Breeding: 2005 gelding by Thunder Gulch (Gulch) out of Chelle Spendabuck (Dare and Go)
Racing name: Shykee's Thunder (FL)
Racing record: 12 starts (0-0-1), $4,588
Breeder: Les Steinger
Ciaran Thompson's loss was Ashley Johnson's gain: the Irish rider was working for Bruce Davidson and acquired "Gucci" from Katie Ruppel, who herself had acquired the horse off the track — his last start was at Penn National in May of 2009. Thompson didn't have time to work with the horse, so Johnson purchased him for herself.
Johnson has produced Tactical Maneuver from humble beginnings in Beginner Novice in 2011 all the way to the upper levels. Their Kentucky debut was in 2016, where they finished 45th: they incurred only time penalties on cross country. The pair was entered again in 2017, but a fall in a prep event led Johnson to withdraw and regroup. Time once again proved to be their nemesis in 2018 for their second trip to Kentucky: they again went without jumping penalties but their slow trip dropped them to 34th; after show jumping, they moved up to 30th.
This year, the pair has achieved top-ten finishes in the Rocking Horse Winter I H.T. in the Intermediate and Rocking Horse Winter II H.T. in the Advanced, followed by a 13th-place finish in the Advanced at Red Hills International. Most recently, Johnson and Tactical Maneuver finished 16th at the CCI4*-S at Chattahoochee Hills.
Pinney number: 10
Dressage:
Cross-country:
Final score:
---
Will Coleman and Tight Lines. Photo courtesy of Eventing Nation.

TIGHT LINES (Will Coleman, USA)
Owner: The Conair Syndicate
Breeding: 2007 gelding by Turgeon (Caro [IRE]) out of the French mare Merindole (Tel Quel [FR])
Racing name: Tight Lines (FR)
Racing record: 5 starts (0-1-0), $5,871
Breeder: Henri Devin
Tight Lines is a French Thoroughbred who had a brief and fairly uninspiring steeplechasing career in France. After retiring from the track, he headed to the barn of eventers Nicolas and Thierry Touzaint, where he was produced by Paul Gatien through CCI2*-L. In 2014, the horse was sold to Coleman's connections: Coleman has obtained several French Thoroughbreds through a friend of his wife Katie, French-based Canadian eventer Lindsay Traisnel and her husband Xavier.
Tight Lines made his Kentucky debut in 2017, finishing 34th with two stops on cross country. In 2018, Coleman and "Phish" delivered a strong performance in all three phases and finished 12th at Kentucky on their dressage score.
Coleman and Phish were selected for the U.S. team to compete at the World Equestrian Games in Tryon, North Carolina. The combination were the pathfinders for Team USA, eventually finishing six seconds over time with 40 jump penalties. Since then, however, the horse has had two successful outings in 2019, finishing 11th at Rocking Horse Winter II in the Intermediate and seventh at Red Hills International in the Advanced.
Pinney number: 33
Dressage:
Cross-country:
Final score:
---
Chris Talley and Unmarked Bills. Photo courtesy of Eventing Nation.

UNMARKED BILLS (Chris Talley, USA)
Owner: rider
Breeding: 2009 gelding by Posse (Silver Deputy) out of Kelli's Ransom (Red Ransom)
Racing name: Unmarked Bills (KY)
Racing record: 24 starts (3-6-2), $67,250
Breeder: Diamond A Racing Corp.
Unmarked Bills has the longest, most successful racing career out of all of this year's Thoroughbred starters in Kentucky: his racing career started in California and he ran through his 5-year-old season with his final start at Penn National. Incredibly, it's just five years after making the initial transition into second-career training that "Billy" is making his five-star debut under young professional Chris Talley, who will himself be a Land Rover rookie.
Unmarked Bills fresh off the track. Photo courtesy of Kate Samuels.
Billy came to Talley's barn via Kate Samuels, who was selling the horse for then-owner David Nuesch. Just four months later, Billy debuted at Training level; less than a year after his last start on the track, the horse was running Preliminary. The meteoric rise continued over the course of the next years, culminating in three CCI3*-S completions in 2016, a 15th-place finish at Carolina International CC3*-L and the USEF Reserve Champion Young Horse Award. "Nobody but Chris could have taken this horse and just gone up the levels," shares Samuels. "He's not a conventional horse, but he's brave and a good worker. I'm glad I could play a small part in this story."
Talley, who partnered with Antonio and Hannah Salazar to create a multi-disciplinary equestrian program out of the Salazar's Zaragoza Acres in Virginia, credits Billy for making this fast-track to the upper levels possible. The horse's Thoroughbred heart has made cross-country easy, and Talley has worked hard with Hannah to develop the horse's gaits and accuracy over fences to strengthen his dressage and show jumping.
Talley and Billy's 2018 season included top-ten finishes at Fair Hill in the CCI4*-S and Rebecca Farm in the CCI4*-L; so far in 2019 they've completed the Advanced and Advanced/Intermediate at Pine Top, and most recently placed 20th at the CCI4*-S at the Fork.
Pinney number: 25
Dressage:
Cross-country:
Final score:
---
Hazel Shannon and Willingapark Clifford. Photo courtesy of Willinga Park.

WILLINGAPARK CLIFFORD (Hazel Shannon, AUS)
Owner: Terry Snow
Breeding: 2005 gelding by Passing Shot (Quick Score) out of Twin Pearls (Double Income)
Racing name: Sidespin (AUS)
Racing record: unraced
Breeder: Ms. S Monks
Bred in Tasmania, Australia, Willingapark Clifford — under the racing name Sidespin — did run a trial: in Australian racing, horses run trials, or "mini-races," in which there is no purse money or permanent record. Trials are like schooling shows: they put a horse in a race-like situation, but without the pressure of winning; they're used as a tool to determine if a horse is ready for the rigors of entering an actual race. Clifford appeared to be too slow to continue training, and his trial was his last appearance on a track.
His owner Sue Devereux liked the horse, so she sent him to her sister Wendy Ward, who operated an equestrian center in Newcastle, New South Wales with her partner Allen Jennings, with the hopes that Ward would find the horse a good home. A working student for neighbor Heath Ryan, Hazel Shannon began riding Clifford for Ward; the horse was so quiet that he was often used as a school horse. Shannon and Clifford clicked to the point that Ward and Jennings decided to keep the horse for her to ride, but no one had any inkling at the time just how far the pair would go.
Shannon and Clifford worked their way steadily up the levels, but it wasn't until they reached the CCI4*-S level that Clifford truly began to show his colors: the pair racked up several wins in 2015 and 2016, including their first career win of the prestigious CCI5*-L at Adelaide — Australia's equivalent to Kentucky. For his efforts at the five-star level, Clifford was named 2016 Australian Domestic Horse of the Year.
The partnership was in danger of falling apart, however, when Allen Jennings passed away, and it appeared that Ward would need to sell Clifford for financial reasons. At the eleventh hour, Terry Snow of Willinga Park purchased the horse and Shannon was able to retain the ride; Clifford formally became Willingapark Clifford in 2017. In their fourth run of Adelaide at the CCI5*-L level in 2018, Shannon and Clifford made history by winning a second time — the only combination to ever do so in the event's history.
This will be the pair's first run in Kentucky but they've got plenty of experience at home under their belts: they have a remarkably clean cross country records in terms of jumping penalties, and have finished double clear on cross country three times at the four-star level.
Pinney number: 17
Dressage:
Cross-country:
Final score:
RRP Kentucky Schedule
Inaugural Horse Industry Safety Summit  
Tuesday, April 23rd, 7:30 am – 6:30 pm at Spindletop Hall, 3414 Iron Works Pike
The event focuses solely on ways to keep riders and handlers safe and will host researchers, equestrians and equine enthusiasts in a format that combines expert panels, individual speakers and poster presentations.

Retired Racehorse Project Booth 
April 25-28th, Booth #130 on floor of Covered Arena
Shop for everything OTTB and RRP and learn more about our programs!
Cross Country Course Walk with Elisa Wallace
Thursday, April 25, 3 pm, meet at Fence 1, presented by Buckeye Nutrition
Get the inside scoop on how riders tackle this big cross country course from top rider Elisa Wallace, who is also the 2018 Thoroughbred Makeover Champion.
Thoroughbreds of the KY 3-Day 
Lynn Symansky poster autograph session at RRP Booth: Saturday, April 27th after conclusion of cross-country (specific time TBA), presented by ProElite
This year's commemorative poster features Lynn Symansky and Donner. Get yours by completing our scavenger hunt or making a donation to RRP.
RRP Scavenger Hunt 
April 25th – 27th, Trade Fair
Stop by the RRP Booth to pick up your scavenger hunt clue card, solve the clues and collect stamps from participating vendors and turn in your card by 3PM Saturday. Complete the hunt and receive a raffle ticket for a chance to win one of three gift baskets and a free Thoroughbreds of the KY 3-Day poster.
Thoroughbred Makeover Previews 
Friday, April 26th, 4:00 pm, and Saturday, April 27th, 10:00 am, Walnut Ring
Riders at the top of their disciplines present their 2019 Thoroughbred Makeover hopefuls with commentary from eventer Dorothy Crowell.
New Vocations Open Barn and BBQ
Friday, April 26th, 5:30 – 8:30 pm, Mereworth Farm
A celebration of Thoroughbreds in second careers, enjoy tours, a meet-and-greet with the horses, demonstrations and a delicious BBQ meal. Four-star eventer Nick Larkin is the featured presenter for the evening, along with Jen Roytz as moderator.
RRP Meet-Up Breakfast at USHJA Offices 
Sponsored by Guardian Horse Bedding
Sunday, April 28th, 8:30 – 10:00 am
Join RRP staff, Makeover trainers, members, and volunteers for a social hour with light breakfast (and mimosas!).
Thoroughbreds in the Trade Fair
Visit all the great Thoroughbred Charities

New Vocations Racehorse Adoption Program (Booth #230)
Maker's Mark Secretariat Center (Booth #227)
KY Equine Adoption Center (Booth #228)
Horse Country Tours

Horse Country is an organization of thoroughbred stud farms, nurseries, clinics, a feed mill, and aftercare facilities united for the purpose of fan development and tourism experiences. At one of our twenty-five touring locations, guests can learn about the operations and day to day life of the people and athletes of the equine industry.  Click here for more information!