This weekend at the Ocala Jockey Club International Three-Day Event has rewarded cross country speed and final phase stamina, and so it's no wonder that a Thoroughbred — Campground, ridden by Erin Sylvester — finished on top in the CCI4*-L. Another Thoroughbred, Arden Wildasin's mount Il Vici, won the CCI3*-L. An impressive 30 Thoroughbreds total contested the event, which takes place in a working race facility and offered $16,500 in cash prizes across the four divisions to top-placed representatives of the breed.
Marilyn Little and RF Scandalous won the CCI4*-S from pillar to post in their comeback to international competition, with another OTTB, Jessica Phoenix's mount Bogue Sound, finishing 2nd. Will Coleman with Chin Tonic HS also enjoyed a wire-to-wire win in the CCI2*-L. Let's recap the day's action!
CCI4*-L
Erin Sylvester and Campground, a 12-year-old Thoroughbred gelding (Forest Camp x Kneel) owned by Marnie Kelly, were in 3nd heading into today's show jumping competition. The top two after cross country, Lauren Kieffer with Landmark's Monte Carlo and Phillip Dutton with Sea of Clouds, both had a tough day over the colored rails, relegating Lauren to 2nd and Phillip outside the top 10. Erin and "Gideon" picked up four faults but had enough of a margin to take the lead.
"He's a really special horse, but he is a Thoroughbred and every event isn't his special day — and this was his special day," Erin says. "He's got a heart of gold."
His big Thoroughbred heart and engine were evident yesterday when they clocked the second fastest round of the division, picking up just 0.4 time faults. Erin notes that he's never had a cross country jump penalty. She wasn't sure what she was going to have in the arena today, however, as she was trying a different bit and a different warm-up. Clearly the gamble paid off.
"He didn't get as nervous as he has in the past," she says. "I got a great feeling over the first few jumps and I thought, 'All right he's going to do this.' I tried to pilot him the whole way around and get him to the distances he wants to be in. He just really tried out there. We had one down that I could've ridden differently and given him more space. I'm just super happy for him. It's not in the bag for him to have a good show jumping — he has to try really hard and he did that today."
Erin and Gideon have a long history together. He's owned by her longtime client, Marnie Kelly, who bought him in Kentucky as a 3-year-old when she went to watch the World Equestrian Games in 2010. He was trained as a racehorse, though he never made it to the gate. Marnie rides Gideon regularly and he humors her with the occasional Training level event.
"His owner rides him a lot and does a lot with him," Erin says. "She loves to take him out grazing. I think that relationship he has beyond being a competition horse really keeps him relaxed and keeps him a bit of a pet which is nice. When they're like that and you let them have a personality, I think they really try harder for you when it comes to the pressure of the competition because they're trying for a person — and that's exactly what he does."
Marnie sadly missed being here for Gideon's big win, but she and her mother watched it all on the live stream and were cheering the pair on from Pennsylvania and Virginia. Go Thoroughbreds!
It was an exciting day of show jumping over Chris Barnard's turf course. There were only two double clear rounds in 22 CCI4*-L show jumping starters: Ema Klugman with Bendigo, who moved from 10th to 3rd, and Hallie Coon and Celien, who moved from 17th to 9th.
CCI4*-S
Two horses made the time in CCI4*-L cross country yesterday, and none caught the clock in today's CCI4*-S.
Marilyn Little and RF Scandalous, a 14-year-old Oldenburg mare (Carry Gold x Richardia, by Lario) owned by Ms. Jacqueline Mars and Phoebe and Michael Manders, had 16.8 time, but when the scoreboard shook out their final score was within the margin they needed to win.
After an injury sidelined "Kitty" in the lead-up to the 2018 World Equestrian Games, this pair has been MIA while the mare rested and, ultimately, recovered. Ocala Jockey Club marks their international comeback, and it's great to see the pair come roaring back to form.
Of Kitty's injury, Marilyn reflects, "Those kind of things really bring you to your knees. Every rider knows what it's like when your partner gets injured — it's terrible and you're gutted for the horse."
The mare did her rehab at Dr. Haynes Stevens Equine Service LTD, a clinic in Wellington. "He's a close friend," Marilyn says. "He knows the horse, he loves the horse and she's comfortable at his farm."
"Putting her on the truck to take her to the clinic in Florida, I felt so badly for her because she was ready (for WEG). She just loves it so much. The horses that we have out here that are good at it — they do it because they love it."
Not knowing if or when Kitty would recover, Marilyn says the period before WEG was "a dark time … I went home for a couple days to try to just pull things together then I realized I needed to come back to Tryon and support the team. I needed to see this through and do whatever I could do to help."
The time off had the unexpected silver lining of giving Marilyn, who has been going full-speed ahead since she shifted her focus from show jumping to eventing a few years ago, some space to reflect.
"It's been a quiet year, but sometimes those things aren't the worst," she says. "I've come to it this year very differently mentally. Nobody else would know that, but I do. Why I was so nervous today? I don't know. I have been trying to take a different approach for the sport. I'm here because I'm passionate and I like it. I'm not here because I'm earning a living here. I just love it and I love that horse. I've had to focus on making sure that the most important thing is that I love what I do here and I enjoy the time with her. I had to really get ahold of the question, 'why do I event?' The pendulum swings so hard. There are great days and then there are absolutely horrible painful days. Is it worth it?"
Marilyn has had a successful year in Grand Prix jumping but missed eventing. She came to Ocala with the caveat that they get the all-clear from Dr. Stevens: "He hasn't seen her in quite a while, so he flew up before this event. I said, 'I can't go cross country unless you put your eyes on her and I know she's ready."
"Really I came back to the fact that I do love the sport and I have an amazing horse to go back and do it with," Marilyn says. "She was well enough to go to an event in the summer, but the idea wasn't to just go compete and do events, but to say 'OK how can we showcase her the best so that she can have a shot at the big days?,' and save her for those. That's hard on me because I can't practice as much ,but I think if you do right by what the horse needs then you're making the best plan."
Jessica Phoenix and Bogue Sound steadily climbed the leaderboard throughout the week, from 8th after dressage to 7th after show jumping to 2nd after the final phase. They came closest to making the time in their division, picking up just 2.4 time penalties.
Amara Hoppner purchased the 12-year-old Kentucky-bred OTTB from Dorothy Crowell, who had bought him from the track. Amara produced him to the Young Riders level. When she switched over to jumpers Jessie took on the ride.
"He's such an exceptional cross country horse," Jessie says. "He's just so quick and efficient off the ground. He's really had a great season. He had a great Kentucky in the spring so he was qualified for the Olympics already, so we really wanted to give him a really good run and make sure we were in a good position for next year."
As for whether he would be her top pick for the 2020 Tokyo Games, to represent Canada as an individual, Jessie says, "That's a decision I think you have to make right before you leave and see how they're all going. Right now he's the most efficient cross country horse I have in the barn. He's all heart and he's just such a pleasure."
CCI3*-L
Arden Wildasin took the CCI3*-L win with yet another Thoroughbred, Il Vici. Arden and the 16-year-old gelding (Galileo x Ladyeri, by Salieri), owned by the rider and Sarah Wildasin, hopped from 8th to 5th to 1st throughout the competition.
"I still can't believe it. It's going to be a great ride home I can tell you that," Arden says. "The cross country was one of my best rounds on him. I was so in the moment. We were just speaking together. He saved me in there multiple times, but hard work and practice definitely pays off. I am so thrilled to have him. And this course, even with the rain the footing held up."
Arden and Il Vici started the Fair Hill CCI4*-L, but withdrew after dressage and rerouted to Ocala. "He saw the Jumbotron in dressage and he didn't like the horse in the sky," she says. "I said, let's end the year off strong and get our confidence back, and it paid off."
Getting the win at Ocala Jockey Club on a Thoroughbred made it even more special. "Every single day he wants to try," Arden says. "It's a partnership. I will say having a Thoroughbred that they can run and they have the thrill of running, but he's so careful and quick with his feet and agile."
Arden got the horse from Australia and has been developing him up the levels. "It's a partnership that's still coming," she says. "He's 16 now but he keeps on coming foot forward everyday — he wants to work. To wake up every single day and have the horses that I have in the barn, it's an honor."
Leslie Law and Zick Zack were 2nd; Lauren Lambert and Fantastique were 3rd.
CCI2*-L 
Will Coleman enjoyed a wire-to-wire win with Chin Tonic HS, a 7-year-old Holsteiner gelding (Chin Champ x Wildera, by Quinar) owned by Hyperion Stud LLC. The pair added nothing to their dressage score to 24.2 and jumped a class show jumping round today.  "He was great all weekend," Will says. "It's his first long format and we've taken a long time developing him, but I think he's got a bright future and I really couldn't be happier with him, he did everything we asked for."
Hyperion's Vicky Castegren watched her horse's win from afar — she's getting married (congrats, Vicky!) and having her dress fitted this weekend. "She really wanted to be here," Will says. "This event is hopefully just a stepping stone for this horse, though, and she'll be at a lot of other downs the road."
Will went into show jumping tied for second on his other ride, Steam Engine, but had an unfortunate few rails to fall down the leaderboard.
"They are two different horses and that was very uncharacteristic for the other horse," Will says. "I think he just froze, I really can't explain what happened in there. But I wasn't thinking about it at all on (Chin Tonic HS). I could light the jumps on fire and he would jump them — he's very brave and super quality and I knew he would jump a clear round."
Next stop for Chin Tonic HS: they're aiming for a CCI3*-L in the spring. But first, a well-deserved holiday. "He's earned it, he's had a long year and I think we'll give him a nice break. His shoes will come off and he'll have a little downtime into December. We give ours a good break; every horse is a little bit different, some of them don't really like it, but I think he'll enjoy it for at least a while."
Buck Davidson and Cooley Candyman finished 2nd on their dressage score of 27.9; Jacob Fletcher and 5o1 Wyly Girl finished 3rd. This was a division full of super jumpers, with 11 double clear rounds across show jumping and cross country.
Congrats to all. Go Eventing!
#OJC3DE: Website, Live Scores, Live Stream, EN's Coverage, EN's Twitter, EN's Instagram
CCI4*-L Final Top 10: 
CCI4*-S Final Top 10: 
CCI3*-L Final Top 10: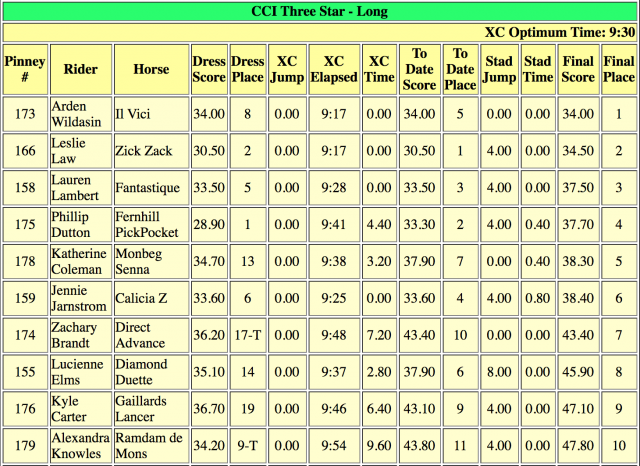 CCI2*-L Final Top 10: