It looks like the sun should come out today over Badminton House, but will the drizzly weather of the past couple days mean our competitors will be doing a little tough mudding across the country today? We're about to find out and we're going to take you along for the ride! Keep refreshing this page for by-the-minute updates on all of today's action.
We will kick things off at 11:30am BST/ 6:30am EDT/ 3:30am PDT as our first pair on course, Wills Oakden and Oughterard Cooley, leave the start box. Full order of go can be found right here and before we start you can also familiarize yourself with the course thanks to Tilly's walkthrough here and the course map here. Due to the previous days' weather a few changes to the course have been made.
If you're looking to tune into the action yourself you can do so via Badminton TV, which requires a subscription, or you can listen in via Radio Badminton.
Here's wishing safe and swift rides to everyone today!
Badminton Horse Trials: [Website] [Entries] [Schedule] [Live Stream – Badminton TV] [Radio Badminton] [Tickets] [EN's Coverage]
11:08 a.m. Thanks for joining us for our live updates today — in the sage words of my colleague and live-update partner today, Shelby Allen: "A lot happened." Stay tuned for a full post-phase report from Tilly later. As a special treat and parting gift I leave you with one of my personal favorite parts of Badminton cross country day, Labs In The Lake:
11:01 a.m. Well, that concludes an exceptionally exciting and perhaps unexpected cross country day at Badminton. We saw exactly no-one come even really close to coming inside the optimum time and Ros Canter and Lordships Graffalo will have nearly 10 whole penalty points in hand heading into show jumping tomorrow. Here's a look at the top 10 after cross country:
10:58 a.m. Oh no, Billy Walk On is just a little unsure today. He says 'No thanks, mum' at the log into the MARS Sustainability Bay — apparently where he stopped on course last year. Pippa puts her hand up and calls it a day.
10: 55 a.m. Blackthorn Cruise rattles the pin on the third to last fence. Dan looks over his shoulder, but it appears to have stayed up. They jump the last and what a thrill for Dan after this horse has come back from previous injury!
10:51 a.m. We're getting down to the last couple competitions of the day. Reigning Badminton champ Laura Collett, who sat 7th after dressage with Dacapo, withdrew before today's phase. We would have otherwise seen them in the order between Oliver and Izzy. New Zealand's Dan Jocelyn is cracking along on course and clear so far. Pippa Funnell and Billy Walk On are our most recent on course.
10:47 a.m. Oliver and Ballaghmor Class are home clear with 21.2 time! That bumps them up from 6th into 3rd. Oliver is absolutely pumped.
10:45 a.m. Izzy is up and walking off, she's smiled now and is looking alright — just had to catch her breath. Meanwhile Oliver is gunning for home.
10: 44 a.m. Oh no, Izzy! Izzy Taylor and Graf Cavalier both take a tumble at the KBIS brush, the same fence that caught her out earlier! Graf Cavalier is up quickly but Izzy is taking her time, just looking a little winded.
10:42 a.m. ROS!!! What a woman and what a horse!! They finished with 11.6 time penalties, to easily keep the lead!
10:41 a.m. Ros takes a (planned) long route through the quarry and has 30 seconds to get home. She'll be over time, but looks like she can still stay in he lead.
10:39 a.m. Ros makes the big question in the lake look like child's play. Oliver is clear through the owl hole and bank. Luc Chateau finishes a really nice round without jump penalties.
10:36 a.m. Oliver is saving seconds wherever he can and leaves a stride out to the Coronation Corral. Ros and Lordships Graffalo are clear through the MARS M.
10:35 a.m. A bit long on the takeoff through the owl hole — if Ros were any taller she'd have a face full of brush! — but clear so far for this pair and looking very good. We've now also got Oliver Townend and Ballaghmor Class on course. These are two big rounds happening at the same time right now.
10:32 a.m. Our dressage leaders Ros Canter and Lordships Graffalo are on course now. This isn't my math, but our commentators say Ros can be 51 seconds over and still stay in the lead.
10:31 a.m. We've completely missed Helen Martin and Andreas, but the scoreboard says she's been unseated at fence 18. Luc Chateau and Viewns du Mont are clear halfway through the course.
10:28 a.m. A problem for Wills Oakden as Arklow Puissance as the horse takes a big pop over the ditch in the coffin and then then Wills tries to jump the c element but Arklow Puissance doesn't. Arklow Puissance is now taking himself on a nice little tour of the course and quite enjoying himself.
10:26 a.m. Bubby is really pushing for home … sees a fantastic stride to the second to last … and she and Cola are home! Fantastic result for her with, I think, the third fastest round of the day which will shoot her into 6th for now.
10:21 a.m. Gah, Spano de Nazca gets a little deep to the first corner in the Huntsmans Close and goes out the side door instead. Georgia elects to retire there. Meanwhile, Bubby Upton are on course and clear through the first third or so.
10:16 a.m. More problems on course: Emily King very suddenly makes a decision to run past the big corner in the lake. Did she feel something off on landing from the drop? It's unclear, but she puts her hand up and she and Valmy Biats walk off course. Meanwhile Georgia Bartlett and Spano de Nazca have a runout at 13a.
10:15 a.m. A master class as usual from WFP. He finishes his mare about a minute and half over time with her ears pricked and looking for more. They'll retain their 8th place position not he leaderboard.
10:08 a.m. A hold-your-breath moment for William Fox Pitt at the up bank and owl hole as Graffennacht scrambles to get her feet under her. Look at how still in his body WFP stays to let the mare figure her legs out:
10:06 a.m. Harry Meade joins John Kyle in the commentary box and explains his decision to withdraw his second ride Tenareze, who sat 10th after dressage, saying that after his first run on the experienced Away Cruising he wants to save his less experienced horse for a day with better conditions. It looks like Tim Price may have made a similar decision with the young Maryland 5-Star winner, Coup De Coeur Dudevin, withdrawing even though they sat in 9th after dressage.
10:03 a.m. Arthur Duffort completes and William Fox Pitt and Graffennacht start out on course.
10:00 a.m. Ok, I've had to take a little minute to get my wits back about me after that swim, but we've got Arthur Duffort and Toronto D Aurois nearing the end of the course right now. Selena Milnes had a stop at fence 13 and we've just heard that she's now retired a couple fences later. Lauren Innes (sadly sans crown) and Global Vision M are the latest to join us on course. They're clear through the owl hole now.
9:57 a.m. NOOO, oh poor Tom, oh no. His great round so far all comes apart in the lake as he gets popped out of the saddle and then into the drink. What a good sport though, as he takes a little swim to much applause and laughter from the crowd.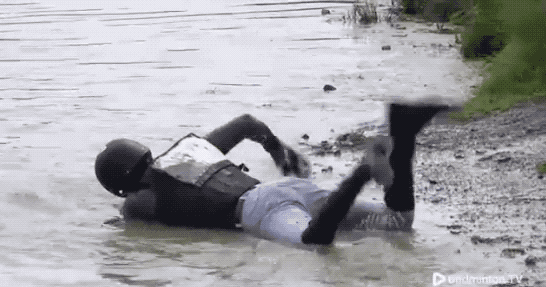 9:52 a.m. Tom Crisp and Liberty and Glory have been on course for a hot minute now and have looking accurate and also fairly fast at this point. Kristina continues on and is through Huntsman's Close now.
9:49 a.m. Another bummer for Kristina as Google just glances past the big corner in the lake. Bill also has a glance off late of course at fence 26 and elects to retire.
9:45 a.m. A bummer for Kristina Hall-Jackson and CMS Google — the horse doesn't quite get his eye on the C element of fence 8 and comes to a stop.
9:44 a.m. Bill looks like he's actually riding with a full airbag at this point. It either popped off at the end of that staircase or possibly through the up bank and owl hole — they had a bit of a scramble there as well.
9:42 a.m. Aw, we thought Alex and Quindiva were having what looked to be a pretty nice round, but he puts his hand up to retire at fence 18. Not sure why as of now.
9:40 a.m. Whooooaaaa… Huberthus AC takes a peak at the steps down and Bill Levett very nearly goes over his head, but rights himself in time to make it through in one piece.
9:39 a.m. Tom and Toledo complete a very stylish round and it moves them up from fifth to third at this point. Austin O'Connor still holds the fastest time of the day. Here they were at the ditch and brush late on course, still looking full of running:
9:36 a.m. Tom is continuing to have a very accurate round. Alex Bragg Quindiva also join us on course and are clear through the Coronation Corral.
9:33 a.m. OH NO! We've just caught sight of Kitty King and Vendredi Biats, who had sat in second place overnight, and they've fallen at the giant log pile. It looks like Vendredi Biats had either banked it or his hind end came down on the end of the jump, rolling them both over. They're both up and looking fine but Kitty will be so disappointed.
9:32 a.m. Tom can breathe a sign of relief as he and Toledo clear those solar panels which caught him out last year.
9:31 a.m. Lillian and Baraby are home clear and 2 minutes over time. She should be so thrilled!
9:29 a.m. One to watch, Tom McEwan and Toledo de Kerser are on course and clear through the Coronation Corral. Meanwhile Arthur Marx unfortunately ends up on the ground after his gelding takes a peek and a funny stride to fence 13.
9:26 a.m. France's Arthur Marx and Church'ile activate a pin at fence 6. Gorgeous job for Lillian and Barnaby through the big drop into the lake and over the corner.
9:24 a.m. We're got USA's own Lillian Heard Wood and the LCC Baranby on course now! So far so good and clear through the owl hole. Meanwhile Alexander Whewall opts to retire a couple fences after the lake.
9:19 a.m. Alexander Whewall takes the direct drop into the lake with Ellfield Voyager who just kind of loses steam in the water, thinks about taking the big corner at a trot and then says, 'maybe not…' They collect a runout there and meanwhile Aaron Millar and KEC Deakon don't quite get straight to the C element of the coffin. KEC Deakon twists his hind end and unseats Aaron — that's the end of their round.
9:16 a.m. Well done Katherine! She picks up 31 time penalties, but that was a fantastically classy round and Monbeg Senna comes home with her ears pricked.
9:15 a.m. Nearly home now for Katherine and Monbeg Senna …
9:11 a.m. Caroline Powell jumps the last and despite picking up 40 penalties, she's looking thrilled with Greenacres Special Cavalier, who, even more importantly is looking quite pleased with herself in her first Badminton effort. Also on course now are Gireg le Coz and Aisprit De La Loge.
9:09 a.m. What a save for Katherine!! Some balance lost of the A element at the solar panels but check out this riding:
9:07 a.m. Katherine is clean through the MARS Sustainability bay and looks like she's having the time of her life. Then a hugely positive effort through the bounce and owl hole! Nicely ridden!
9:05 a.m. USA! USA! Katherine Coleman and Monbeg Senna join us on course, and — oh — another stop for Caroline Powell unfortunately, this time Greenacres Special Cavalier just peters out ahead of fence 17.
9:03 a.m. Shoot – Caroline Powell was having a cracking round but Greenacres Special Cavalier second guesses the bank up to the owl hole, has a scramble up it and then a stop at the owl hold. They circle around to the option and continue on.
9:00 a.m. Oh nooooo, Cooley for Sure knocks a hind leg on the b element of fence 15, the second of the two solar panels. It bounces Greta Mason right out the saddle. She tried valiantly to hang on to her horse's neck but ends up on the ground.
8:53 a.m. New Zealand's Holly Swain was having a nice go, but Solo adds a stride to the MIM clipped table at fence 22 after the big M jump and they activate the frangible technology.
8:48 a.m. Impressive display of horsemanship here by Richard Jones: it looked to my eye like he and Alfies Clover were having a great go, but suddenly he slows and puts his hand up to retire after jumping the footbridge at 17. Clearly he knows his horse very, very well. Alfies Clover looks happy and has his ears pricked as he starts his hack back to the barn.
8:46 a.m. Alfies Clover gives Richard Jones a nice big jump over the big spread at Isuzu 4 bar.
8:42 a.m. Muzi Pottinger adds one stride too many in the early combination at 6ab the Joules Coronation Corral. Just Kidding catches a leg on the second upright gate and Muzi is out of the saddle.
8:40 a.m. Susie Berry has elected to retire after Ringwood LB has just seemed a little tired against the effort of today. She's pulled up to a trot between fences.
8:38 a.m. Felix Vogg has completed with Cartania. He's had a great round and finishes with a score of 61.5.
8:37 a.m. Caroline Clarke has fallen off at the Rolex T Bar at 11. It wasn't the takeoff spot she would've liked, and Touch Too Much just seemed to shy at the ditch underneath. He tripped on landing which had her out of the saddle. The horse is enjoying a nice canter around as grounds crew is trying to catch him.
8:35 a.m. Touch Too Much took a long hard look at the spread of Isuzu 4 Bar once he was already in the air. He came down slightly on the back bar, but they carry on.
8:33 a.m. RSH Contend OR did not seem to even pick up on the ditch at 26, the Jubilee Clump Brush. Felicity made an extra effort to bend their line out to get very straight, but the horse seemed to canter right into the ditch and deposited Felicity on the ground.
8:32 a.m. "I am so relieved. That was really hard. It was hard work and the horse tried her heart out over ever single fence," says Gemma Stevens after her cross country. She says the jumps feel even bigger than they are due to the sticky ground and warm conditions this afternoon. "She's a chestnut mare and she fought all the way."
8:30 a.m. The breastplate has broken for Possible Mission and Tom Rowland, but they won't pay that any mind as they come to the last two fences.
8:29 a.m. RSH Contend OR is showing just how careful they can be with Felicity Collins in the saddle. They didn't get anywhere near touching the frangible LeMieux Mound.
8:27 a.m. Tom Rowland goes the more direct route through the Lake, and gets it done with an extra step in the water.
8:27 a.m. Gemma finishes with her red hot Jalapeno for a current score of 55.7.
8:25 a.m. Gemma said before cross country that this wet ground wouldn't suit her mare, but she's got an expert rider helping her navigate this track.
8:23 a.m. Alice Casburn has finished with a minute and 10 seconds over the time after such a great round.
8:22 a.m. Gemma goes the long route at the Lake, and slips her reins with some gutsy cross country riding through the corner.
8:22 a.m. Francis Whittington finishes with over a minute of time penalties.
8:18 a.m. Alice Casburn is in the minority of riders to chose the direct route at the Lake, and she's done it beautifully. Meanwhile, Gemma Stevens is working quite hard this morning. She fights hard through the keyhole bounce, losing a stirrup, but getting the job done.
8:17 a.m. DHI Purple Rain is a big, rangy horse, who you might expect to struggle some in the deep footing, is just finding its well within his efforts.
8:15 a.m. The Ground Jury will definitely be reviewing Francis Whittington's effort through the corner in the Lake. The horse was just splashing through the water and it's unclear if he properly cleared the fence between the flags.
8:10 a.m. Dynasty has run out of gas at the corner before the Lake. He looked tired coming to this one, and just banks the wide corner before sliding onto the ground on landing, sending Hector out of the saddle.
8:07 a.m. Dynasty makes a massive effort for Hector Payne at the keyhole bounce. They got there just slightly off their line, and Dynasty really made the effort to lift himself off the ground through the keyhole.
8:05 a.m. Austin O'Connor and Colorado Blue finish as the fastest combination so far today. They're just 27 seconds over the time.
8:03 a.m. There's early trouble for Andrew James and Celtic Morning Star. The horse seemed to just shy at the big drop at the B element of the Lightsorce bp Hollow at 8. This caused them to take the pin of the first element before coming to a halt at that drop. Andrew choses to trot around and let the horse pop down the drop before putting his hand up to retire.
8:01 a.m. Colorado Blue is looking like the most fit horse we've seen today. He springs through the MARS M Tables and goes the direct route through the Lake successfully.
7:59 a.m. Mind your head Austin O'Connor! Colorado Blue nearly shoves his rider up through the brush in the keyhole bounce.
7:58 a.m. Commander VG looks like he's getting a little tired, and Aistis Vitkauskas makes the choice for the long route at The Lake.
7:56 a.m. We are hearing from Harry Meade at the finish. He says he didn't even bother with a watch today with Away Cruising, and decided to rather just ride off intuition.
7:53 a.m. What a shame, Rose Nesbitt did not get a good takeoff for the bounce owl hole with EG Michealangelo. The horse tries to skitter up the bank, but can't make the owl hole and goes sliding into it before making an effort. It looked like he scrambled onto his knees, but Rose didn't fall. Despite this, her airvest did deploy and we're guessing it may have been judged as a horse fall. They both look healthy walking off the course.
7:49 a.m. Anna-Katherina and DSP Quintana P peck across the Pedigree Dog Kennel table, and they're both on the ground on landing. Both horse and rider are quickly up.
7:47 a.m. Anna-Katherina is the first to go the long route at the Lightsource BP Pond. She gets an awkward jump out, but they're clear.
7:46 a.m. Germany's Anna-Katharina Vogel skips up the bounce to the keyhole. At this point, she's about 30 seconds down on her time, which is about the norm for today so far.
7:44 a.m. Tom Jackson finishes quite a bit over the time, but what great riding from Tom. While he did have time, so has everyone else, and he really had a masterful ride.
7:42 a.m. James Rushbrooke is giving Milchem Eclipse such a positive ride, especially through the Brush Boxes.
7:41 a.m. Tom is another rider who chooses the long route at the Lake, and they get a beautiful spot to the corner.
7:40 a.m. Ros Canter in her post ride interview calls Pencos Crown Jewel "a weapon." And that she was! Ros says the going is deep, but in hindsight says she could've even pushed a little more on the time. She had 26.8 time penalties.
7:39 a.m. We've got clarification on Izzy Taylor. She was eliminated for jumping the B element twice at the KBIS Brush Boxes.
7:38 a.m. Tom Jackson is putting forth a great effort this early in the going. Capels Hollow Drift is absolutely attacking.
7:35 a.m. Kirsty Chabert's Opposition Loire has a drive by at the Lightsource BP Hollow, which is very early in the course. She circles around but the horse again stops, so she's put her hand up to retire.
7:34 a.m. Harry Meade gets Away Cruising home with 37.2 time penalties.
7:32 a.m. Izzy has been pulled up. Officials on the ground allow her to get off to fix a martigale that's come undone during her course. It's unclear if that's the reason she's been pulled up or if she has been eliminated.
7:31 a.m. Izzy has a questionable jump through the KBIS Brush Boxes. At the A element, he just slightly drifted right — clambering over the fence and falling slightly on his rump on landing. She chooses to continue on, but I find it hard to believe that she will make it through here without 15 penalties.
7:30 a.m. Away Cruising also slightly crawls through the corner in The Lake for Harry Meade. He definitely won't be breaking any speed records as he helps the horse home.
7:30 a.m. Izzy Taylor is clear through the MARS Sustainability Bay. She bends her line out to choose five strides here.
7:25 a.m. Ros is another of the riders who choses to take the slightly longer route at the Lake. Pencos Crown Jewel doesn't quite catch on to the brush corner inside the water, but understands the assignment just in time. He does take out he flag with his hind leg, but should definitely be clear.
7:23 a.m. Tim Price finishes exactly a minute over the time — that will be 24 penalties, but he's still the fastest so far.
7:20 a.m. Pencos Crown Jewel gets to the log in the Mars Sustainability Bay water on a long three strides, but Ros Canter sits right up and gets it done.
7: 16 a.m. Pippa Funnell completes to a huge round of applause. They've got her with 24.8 time penalties as the fastest so far at this early stage.
7:12 a.m. World Number 1 Tim Price has joined us on course with Vitali.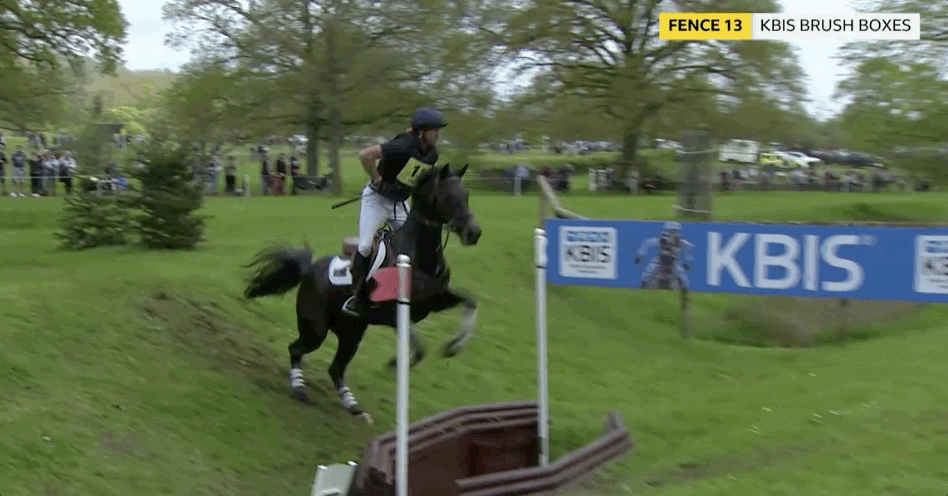 7:10 a.m. Majas Hope comes running out of his hold. He looks full of energy with a nice, big jump into the Lake. She's only the second to go the direct route, and the first to do it successfully.
7:09 a.m. Dan Jocelyn has been restarted at Huntsmans Close. He smartly chooses the long route and he's only got a few left to home.
7:08 a.m. Our only score update at the moment is that Wills did have 28 time penalties added at the finish.
7:06 a.m. We're still on a hold here. Stay tuned.
6:59 a.m. We've got confirmation that Oliver Townend was stopped by the Ground Jury and will not continue. Forced eliminations are within the discretion of the GJ. We've also got Dan Jocelyn and Pippa Funnell held on course as repairs continue to be made. Tim Price has been held at the start.
6:55 a.m. What a treat to watch Pippa Funnell around this track with Majas Hope. She's good on her time through the MARS Sustainability Bay so far.
6:52 a.m. Dan Jocelyn picks up 11 penalties at The Lake. He's activated the frangible pin on that drop in.
6:50 a.m. Fiona Kashel comes off of WSF Carthago at the Jubilee Clump Brush at 26. The horse looked a bit tired and when Fiona went to get into jumping position, WSF Carthago just put the landing gear back down before the ditch on the takeoff side.
6:47 a.m. Oliver will be awarded 11 penalties for activating the frangible table at 19b, The MARS M Tables. Swallow Springs seemed to come to these elements a little tired and put in a big effort over the 19a table, but despite Oliver's massive efforts to get to the b element in four strides, it's just too big an ask for the horse. He clears the table, but lands down on top of it, especially with the hind legs.
6:45 a.m. What an effort by Swallow Springs through the KBIS Brush Boxes! Oliver gives the horse a big pat for digging deep.
6:43 a.m. Oughterard Cooley is looking a bit tired for Wills. He clambers a bit through the Jubilee Clump Brush, and Wills is carefully navigating the horse over the last few fences.
6:42 a.m. Fiona Kashel and WSF Carthago scramble through the Holland Cooper Owl Hole, but thankfully the brush is forgiving.
6:40 a.m. Wills has decided to go the slightly longer route at the The Lake, and meanwhile Oliver Townend is through the first three fences with Swallow Springs — he will be a good indicator of how catchable the time will be today.
6:35 a.m. Great riding by Wills through the MARS Sustainability water. He gets to the big log drop just a little bit off the fence, but really supported the horse exactly right to get him through the log in the water.
6:33 a.m. Wills has settled right into the pathfinder role — tackling all the combinations so far quite beautifully.
6:30 a.m. Wills Oakden and Oughterard Cooley are the first pair out!
6:25 a.m. Grab your wellies, folks. First horse is out on course at 6:30 a.m. (eastern)/11:30 a.m. local