[via RFM Equine Photos]
Speaking of Cavalor, they re-posted this ADORABLE image on their Facebook page yesterday (if you don't already follow Cavalor, you can "like" them here). The photo is of 6-year-old Sally Featherstone competing at a jumping competition in the UK. I love the look on the faces of both horse and rider–so fierce!!!
It is also a reminder of the important role that young riders play in eventing. It's all of our responsibility to support and mentor them–they are, truly, the future of our sport. From volunteering at a Pony Club rally to taking a kid at the barn under your wing, every little bit helps.
For more ways to get involved, contact the United States Pony Club or your area Young Riders coordinator.
Events Opening Today:
Silverwood Farm Summer H.T. (Wisconsin, A-4), Millbrook H.T. (New York, A-1), Rocky Mountain H.T. (Colorado, A-9),  River Glen Summer H.T. (Tennessee, A-3),  Catalpa Corner Charity H.T. (Iowa, A-4)
Events Closing Today:
Genesee Valley Hunt H.T. (New York, A-1), ENYDCTA/Old Chatham H.T.  (New York, A-1), Huntington Farm H.T. (Vermont, A-1), The Maryland H.T. at Loch Moy Farm I (Maryland, A-2), Chattahoochee Hills H.T. (Georgia, A-3), South Farm H.T. (Ohio, A-8), Powder Basin H.T. (Wyoming, A-9)
News:
The 24th annual Cosequin Stuart Horse Trials is fast approaching! Taking place July 11-14 in Victor, NY, this year's event promises to be its best yet, with prizes (!!!), improvements to the footing, and special awards. Entries will be accepted through June 25 so get yours in today! [Stuart Horse Trials]
Barbury Horse Trials, taking place July 4-7, will feature two new fences on its cross-country course this year–but they might look familiar. The "Tower of London" and the "Cricket Jump" both came directly from the course at last year's London Olympic Games. [Gazette & Herald]
Andrew Nicholson is looking unstoppable at the head of the FEI Classics leaderboard following his Luhmuhlen win. His 55 points are followed by William Fox-Pitt's 36, and there are only 15 points left on the table for the winner of the sixth and final classic event, Burghley in September. If Nicholson wins, which now seems inevitable, he'll pocket $150,000. [New Zealand Herald]
Top British riders say that the British Eventing Open Championship CIC*** is one of the most prestigious titles to be won anywhere in the world. The event takes place at the Festival of British Eventing, running August 2-4 at Gatcombe Park. [British Eventing]
Kim Severson's Cooley Cross Border, winner of the 5-year-old division of the 2012 USEA Young Event Horse East Coast Championships, is having another bang-up year. Most recently, the 6-year-old Irish Sport Horse won the CCI* at Virginia Horse Trials at the end of May. [USEA]
Tweet of the Day: Just another day in the life of Phillip Dutton…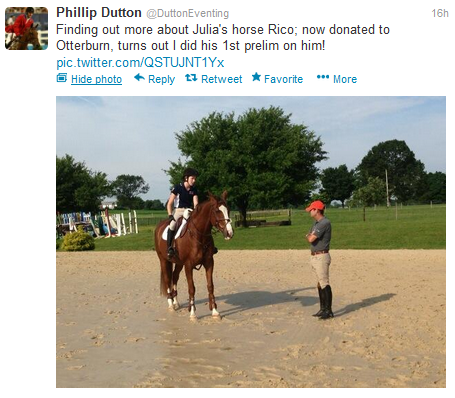 Congratulations to Andrea Balas from Lexington, KY who was chosen as this week's Cavalor Premium Feed & Supplement's Share & Win contest winner in the U.S.! You will be contacted by Cavalor shortly to redeem your 6 week supply of MyCavalor.com's suggested feeding program! 
Want to win a 6 week supply of Cavalor Premium Feed & Supplements?
You are only a few clicks away! Fill in your horse's details, click on "Design Feeding Program" and click the "Share" on Facebook button on the top right of your final personalized feeding program screen – That's it!
CONTEST DETAILS
Cavalor will announce one lucky winner per week (every Tuesday) on the Cavalor North America Facebook page and the Cavalor corporate website: www.cavalor.com
One lucky winner per week for four weeks from June 11-July 9, 2013
Prizes: A six week supply of Cavalor Premium Feed & Supplements suggested in your personalized feeding program