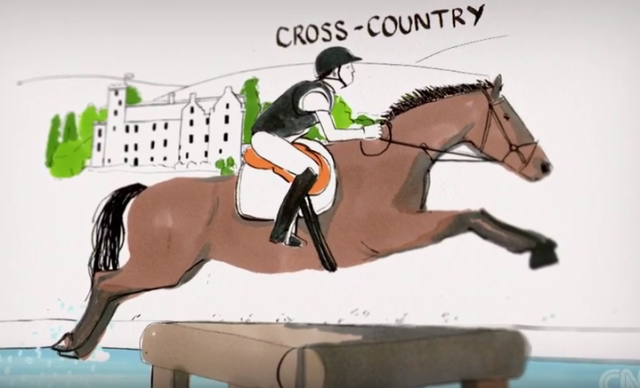 I don't know about you but there are definitely days when I'm at a loss when it comes to explaining the sport of eventing to non-horse people.
When people ask me what type of riding I do, my stock answer is "jumping," which seems to satisfy 97% of inquirers. For the remaining 3% who press me for details, I'll say "eventing," and for the small percentage who are still curious beyond that, I'll explain that it's a sort of "equine triathlon."
When I was a younger, more mentally spry and emotionally resilient human being, I would go above and beyond to try to explain what the different phases were, and how they were scored, and what was so cool about the sport, but it always seemed to turn into a five-minute blab-a-thon with me rambling on enthusiastically while their eyes glazed over in direct proportion. So eventually, I just gave up.
As ambassadors of our sport, however, it's our responsibility to spread the gospel. You never know when a conversation might spark a person to linger on some horse show programming on the rare occasion that is shows up on TV, instead of clicking on past, or even take up some riding lessons.
So when mainstream broadcast network CNN posted this 45-second synopsis of eventing on YouTube today, I gave it a go — and was pleasantly surprised! It's concise, accurate and dumbed down just enough to be accessible while still conveying the complexities of the sport.
(Unlike this wildly amusing but completely useless wikiHow article, "How to Become a Horse Eventer." My favorite step of their 10-step process:
Oh, OK. So THAT'S what I've been doing wrong all these years!
Anyhow, you know what eventing is, obviously, but it's good to keep in mind that not everybody does and if we don't put the good word out there, who will? Check out this video, take some notes, and go forth back into the world a better eventing missionary.
The horse that matters to you matters to us®.
Click here to sign up for KPP's nutritional minute: http://eepurl.com/cMPw.
You can count on Kentucky Performance Products to provide affordable, high-quality, research-proven products that carry a 100% satisfaction guarantee.
Not sure which horse supplement best meets your horse's needs? We are here to help.  Contact us at 859-873-2974 or visit our website at KPPusa.com.
Comments