World championship competition is not generally the time when riders let their fashion freak flag fly. But that didn't stop Finnish eventer Sanna Siltakorpi from donning a hot-pink coat, blinged out helmet and purple stirrups in the show jumping phase at WEG.
The 27-year-old and her Swedish Warmblood gelding, Lucky Accord, pulled one rail to finish in 27th place individually. I stalked her a little bit online and it appears that pink is a recurring theme in the girl's life — her cross-country helmet cover has big pink stars and a pink pompom, and a photo on the homepage of her website shows her rocking some fuchsia breeches. I guess since Finland did not field a team, she was like, "What the heck, I'm gonna do me."
Equestrian fashion is slowly liberating itself from the conservative, George Morris-approved dress code of yesteryear. Europe is leading the charge but hints of "self-expression" are starting to show up here in the States as well. Love Sanna's look? Here are a few items inspired by her look:
Top row: Animo Leon Jacket, $642 from Animo; Alexis Riding Top by SmartPak, $79.95 from SmartPak; Lorenzini Original Aluminum/Titanium Stirrups in Purple, $265.95 from SmartPak. Bottom Row: Sox Trot Socks in Rae, $8.95 from SmartPak; Tredstep Symphony No. 1 Argenta Full Seat Breech, $229.95 from SmartPak; Custom Samshield Helmet in Pink Flower Swarovski, $1,418 from Samshield.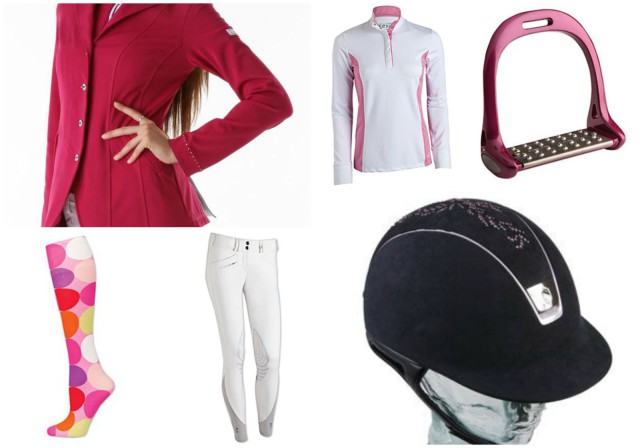 Or, if you really want to take it to the next level…
Go Sanna. Go Eventing.
Comments