There's plenty of FEI action to keep up with this week between Houghton International in Great Britain, Saumur in France and Baborówko in Poland. Let's catch up with the latest from each event, plus all the links you need to stay in-the-know.
Saracen Horse Feeds Houghton International & Nations Cup
EN's Tilly Berendt will be sending daily dispatches from Houghton beginning on Friday, so do check back on the regular for that. In the meantime, here's a quick report from day one dressage at the stately countryside manor that is Houghton Hall. Note to American eventing: need more castle-esque backdrops.
After the first of two CCI4*-L dressage days, German Nations Cup team rider Christoph Wahler with Carjatan S has the overnight lead on a score of 24.8, almost four penalties clear of the field. Swiss team member Robin Godel sits 2nd with Grandeur de Lully, followed by British individual rider Tom McEwen. Tom's mount is No Excuse, whom Tom is keeping up and running for the expectant Ros Canter.
The Netherlands have only fielded a team of three, so they complete today on a single score of 33.7. Of the teams with two scores posted, Germany lead on 55.0, with Sweden on 59.0, Switzerland on 60.5, Belgium on 66.6, Great Britain on 67.5, France on 68.8, Spain on 77.9 and Italy bringing up the rear on 81.7. The Netherlands have only fielded a team of three, and they complete today on a single score of 33.7.
Holly Woodhead and Scuderia 1918 Future lead the three-star, ahead of Selina Milnes on Vivendi Time with Harry Meade and Gideon in hot pursuit. Piggy French leads the two-star dressage with Lancer Stud's First Lancer; the pair is fresh off a win at Rockingham Horse Trials last weekend. Willa Newton on Cock A Doodle Doo and Zara Tindall with Gladstone are close behind in second and third places.
Dressage restarts at 9 a.m. local time tomorrow morning. All phases of the CCI4*-S will be live-streamed, via the Musketeer website. Live scoring is also available at http://srsresults.co.uk.
CCI4*-L Top 10 After Day 1 Dressage: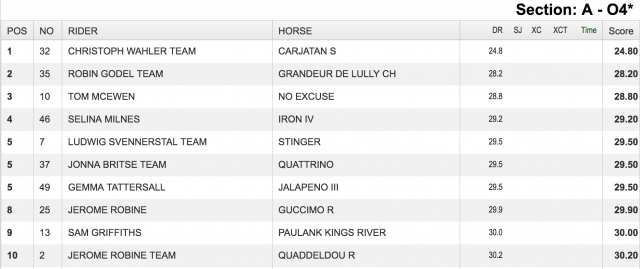 Baborówko Equestrian Festival
Baborówko, which is headlined by a CCIO4*-L qualifier for the 2020 Olympic Games in Tokyo, is underway in Poland. We previewed the event yesterday: to recap, three teams from the C group (Central and Eastern Europe and Central Asia) will compete for Olympic qualification: Poland, Russia and Belarus. Each country competing for the qualification can enter a team of four horse and rider pairs into the class, with the results of the three best pairs to count for the final ranking.
The CCIO4*-L gets underway tomorrow, but equally interesting is the star-studded CCI4*-S division, which began today. It's a stocked pond of top German eventers, with the Andreas(s) taking the early top two spots, plus Michael Jung who is 6th with Corazon and has his second ride on Highlighter tomorrow (as well as a start with fischerChipmunk FRH in the CCIO4*-L). Still to come also is Tim Price with  his accomplished five-star and 2014 WEG partner Wesko.
You can view the live stream here.
Baborówko Equestrian Festival: Website, Entries, Schedule, Live Scores
Baborówko CCI4*-S Top 10 After Day 1 Dressage:
Saumur Complet
Saumur's headline division, the CCI4*-L, gets underway tomorrow — check out start times for that here. Of note, Logan Duffort is representing the U.S. in the CCI4*-L with Voltage de la Nouee.
The CCIO3*-L is also of great interest, as it is serving as an FEI Olympic Qualification Event for Africa and the Middle East, as well as Southeast Asia and Oceania. China, Hong Kong and Thailand have all fielded teams, and the two best placed nations will take an Olympic slot. After day one, Japan leads on an 88.3, China is second on 89.2, Thailand is 4th on 108.2 and Hong Kong is 4th on 114.8.
View the live stream of the event here. Live stream schedule (in local time): dressage – Friday 12:45-2:10 p.m., cross country – Saturday 1-3:30 p.m., show jumping – Sunday 2:30-3:40 p.m.).
Saumur: Website, Entries, Results
Saumur CCIO3*-L Top 10 After Day 1 Dressage:
Go Eventing.
Comments