Welcome to the 2023 Badminton Horse Trials, presented by MARS Equestrian — the third CCI5* of the year, but for many folks, the most hotly anticipated. This year, it's got what course designer Eric Winter describes as a continental flair to it, featuring considerably fewer ditches and dimensionally enormous fences to last year and a lot more accuracy questions — and, pivotally, arguably the most deformable or collapsible fences we've ever seen at the venue, with over half the course set with safety devices or made of brush. We headed out for a walk with Eric to find out what's to come and how he went about pulling it all together.
Most of us probably imagine that the course designer's only job during the event itself is to watch, learn, and feel all-day butterflies, but it's actually one of the most pivotal working weeks of the year, because it's when the majority of the conceptual work for the following year is done.
"Each year's course is designed, at least in part, almost a year before," Eric explains. "At last year's event, I already had a definite thought process of what I wanted to do this year, before I even got on site for the week of the event. By the time I left the event, almost all of it was done and thought of. It's important to start that early, especially if you have big groundworks to do, and we did have those for this year's course — so we could just start those straight away."
"On Sunday I always do a walk around the course in the opposite direction of the way it was run, because I find it really interesting to walk the footprints. It shows us how horses landed, but it also gives us ideas for how to use that ground for the following year, when the event will swap directions and run in the way we're walking it."
While last year's course was best suited to a bold, galloping type of horse with a great jump — a Toledo de Kerser on paper, though not, as it happened, in practice — this year's has gone in a different direction, and Eric thinks his 2023 winner will be the one that's been trained to deal with accuracy questions, and, crucially, is ridden by a rider who can keep thinking the whole way around.
"I think it's a different horse to last year, because it's more technical and there's more opportunity to run out," he says. "I think they have to be a little bit better at staying on a line, but they don't have to be quite as brave as they were last year. That's my feeling at the moment, that it will be a horse that can really stay on the line and look for the flags. Your great horses can do everything, but if you have something that's a bit inclined to jink out to the left or jink out to the right, I think you could find it a long way round."
In one way, Eric has certainly continued on with one theme from last year: the addition of terrain to Badminton's historically relatively flat track. He and his crew have been hard at work, both unearthing new areas of the course and creating their own lumps and bumps in the ground, as well as re-siting fences to make best use of interesting divots and lips in the terrain, which he hopes will encourage riders to get out of the arena in training.
"They have quite a lot of terrain to contend with this year. I always said when I started here that I wanted to influence people hire a JCB for a week and plough up their schooling course and put lots of mounds and lumps and bumps in so they could practice over those things and teach their four year old horses to be quick on their feet. Years ago, that was a standard practice thing, whereas now it's not such a thing."
THE TECHNICAL DETAILS
Optimum Time: TBC – but probably around 11:50
Jumping Efforts: 45
Cross Country App Interactive Map: Available here!
Now let's check out the most significant parts of the 2023 course. After popping the first fence in the arena, and the second, a wide table over a ditch, outside it, our competitors will head on down to fence 3, the Tortworth Hotel Brush.
The terrain here is unique, with a number of not insignificant lumps and bumps on approach to the fence that are speculated to be the aftereffect of an ancient settlement that once rested on this site. (Amateur horror film directors, take note: we, for one, would be well up for watching Badminton: The Haunting, a film about an event horse that gets possessed by a peasant woman from 1100 AD en route around the course. You can have that idea for free.) This terrain can be helpful in a lot of ways: it'll certainly encourage riders to sit up and take notice, and it'll naturally engage the horses' hind ends, but it also takes a bit more riding than a free gallop down to a straightforward brush fence would do. That, though, makes it a really useful set-up for what's to come, as the first combination on course will appear quite swiftly thereafter.
Though Eric is always on the hunt for new and innovative ways to use the Badminton estate, this bit of unused ground actually ended up on the 2023 course by a happy accident.
"I initially laid out the track as I wanted it, but I found I finished up with much more distance, and a time that was over twelve and a half minutes, so I had to move a few things around," says Eric. "This fence ended up moving back, which shortened the distance down, but also gave it a completely different feel because of the ground it's now situated on."
That bit of terrain will set them up well for the first significant question on course: the Savills Staircase at 4ABC returns for 2023 and looks no less enormous than it did when we saw it in 2019. The first element is a chunky oxer table, followed by a variable stride pattern — it could be four, it could be five, it could be six, thanks to the undulations in the ground and the very viable option of a step or two of trot — to a bounce of steps down, then a bowl on to another of these capacious spreads.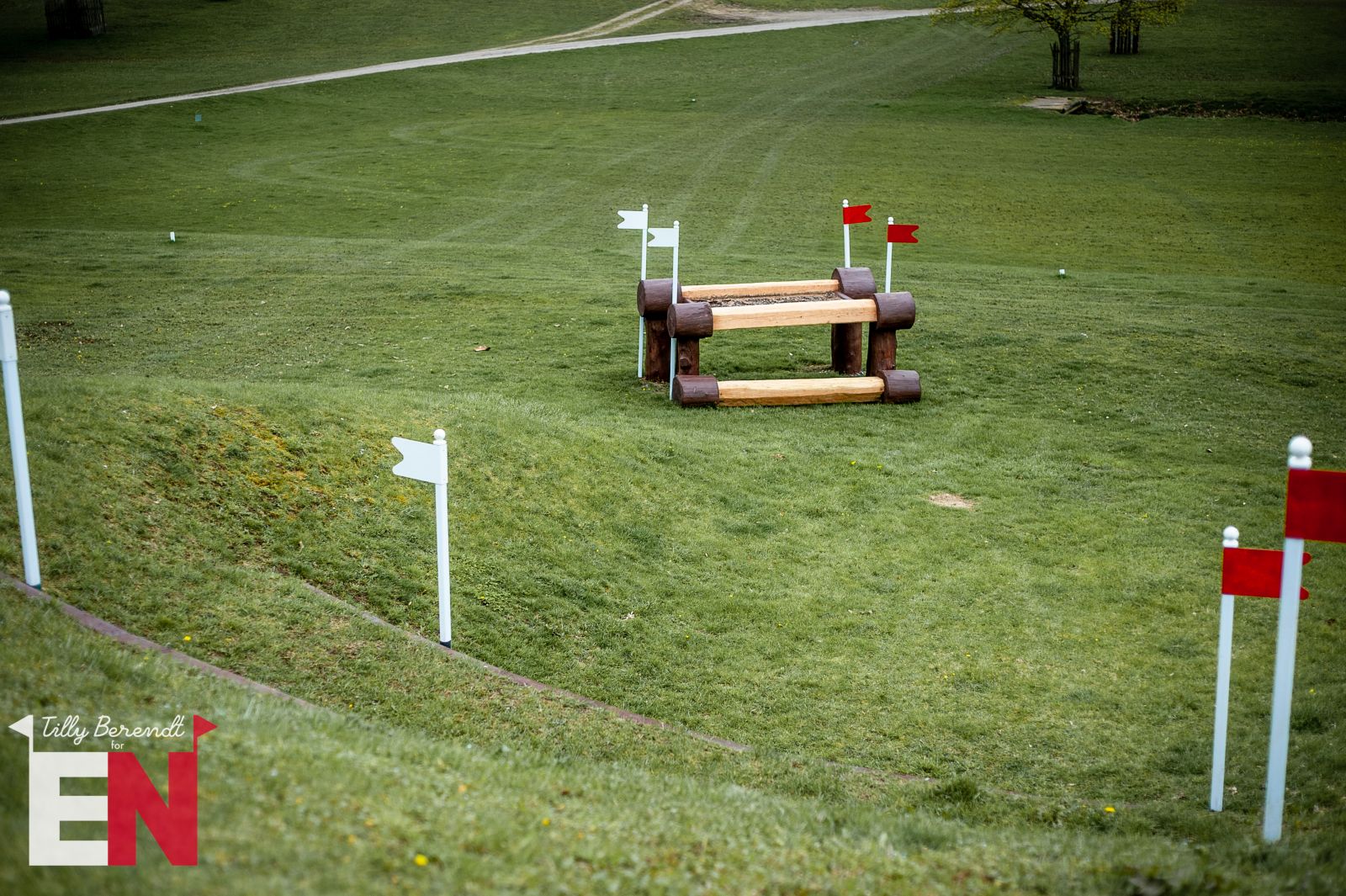 It's the first time we're really seeing Eric ask the competitors to make a plan A, B, and C, and commit to the stride pattern that their horse's landing style dictates in the moment, rather than sticking to their guns and valuing strides over all else. It's classic Eric, it's classic Badminton, and it'll help propel them into the course proper.
Then, it's time to open those strides back up as we head out to the beautiful facade of Badminton House, and the rather more frightening facade of the Countryside Alliance Stick Pile combination at 5AB.
There's a long route here, but most will opt to go straight, jumping the two beefy log piles on a left-handed turn. The first of these is visually enormous: with a 2m top spread, Eric reckons it's the biggest fence on this year's course.
Wide fences like these ones require a longer, flatter jump, which dictates the canter needed — competitors won't want to be pussyfooting on the approach to these, although a flat-out gallop isn't appropriate either, because they'll need to negotiate the turn in between. A positive, punchy, powerful canter that remains engaged and in control will be the key.
New this year is the Joules Coronation Corral at 6AB, which features routes for the CCI5* and the two Grassroots championships alike, all watched over by the impressive facade of Badminton House. The five-star route is a sweeping left-handed turn from white gate to white gate – both equipped with collapsible devices in case of a hung leg – and  with a route that's defined by a decorative pagoda in the centre of the 'corral', which the riders will aim to keep inside of, though they will have the option of going around the outside of it, too, which will add "just a couple of seconds," Eric predicts. But, he says, the most important thing is that riders take stock of their straightness and balance, riding considered, sensible turns rather than just trying to scrape through the gates on a wing and a prayer.
For Eric, putting a combination like this after the big, bold, wide fences just prior is an important part of the test he's aiming to set in this year's track.
"The early part of this course really asks you to lengthen, then shorten, then lengthen, and then shorten, and so I wanted to ask them to jump a very wide fence and then really throttle back for this question, before attacking the next, more forward question," he says. "It's all about testing the adjustability."
There are few things more modern than upright gates with safety devices and showjumping stride patterns, and there are few things more 'old school' than whopping great bullfinches, one of which we find on a very straightforward bit of ground as we head down towards the intense middle section of the course. Though the primary, thick segment of brush here falls within the usual dimensions for a brush fence on a five-star track, bullfinches are defined by their wispy top sections – and these twiggy bits, which are meant to be jumped through, can tickle seven feet tall. It makes for an imposing-looking jump, but the task at hand is actually a pretty simple one: find your line nice and early, add plenty of pace, stay positive, and enjoy the feeling of taking flight.
This isn't the first time we've seen a bullfinch on Eric's course here: he famously put one in coming out of the lake on his first course, back in 2017, which asked a very different question than this one does, purely by dint of being part of the water complex. There were some very mixed feelings about it upon its reveal then: some riders thought that this very vintage style of fence no longer had a place in the modern sport, while others were delighted to see a fence like this make a return. In any case, it's hard to imagine anyone running into any trouble with this one – the only question is whether we'll see one or two of the very careful jumpers treat it like a Puissance wall, rather than a brush fence.
Though I'm struck by how good the ground feels around the estate, it's at this gateway to the back fields that you can start to see some evidence of the record-breaking rainfall that England has experienced this year, wreaking havoc on the short spring season. For Eric, the risk of either a very wet or very dry spring is something he has to consider well in advance, and it can affect how much preparation time he and his team get, too.
"Before the rain came in March, we actually had a really good winter — so good, in fact, that we were able to start getting fences out in the middle of February, about a week earlier than we'd planned," he says. "It was glorious sunshine, so we said, 'stuff it, let's do it this week', and we put out the guts of everything that was really heavy — the tables and things — then. But you do have to have a contingency plan, and if we had consistent rain coming into Badminton week, we do have plans and ideas for how we can slightly alter some routes to accommodate that."
Once they've cleared the Bullfinch, riders will get to do some horsey tourism: the next expanse of the course is one that's never been used in the event's history. This includes a new stretch of field, with a question on the way in and another on the way out – but really, what's most interesting about this spot is the groundwork that's been done to create an entrance into the field. The natural perimeter of the new field is abutted by a ditch and stream, and Eric and his team have spent the last year digging a wide expanse of it out and refilling it to create a natural sunken road of sorts. This year, they've used it to create a combination that features a MIM-clipped upright rail, a big down bank, and then an angled brush fence atop an incline, but the beauty of the space is its nearly limitless potential going forward.
"We started digging the ditch out in November, with the idea in mind that there were so many different combinations we could place here, whichever direction we're running in," he says. But groundworks of this magnitude at Badminton always require a careful touch – not because of the rich history of the place, but because of what can be found underneath.
"Years ago, [course builder] Alan Willis was putting in some carved mushrooms," he recalls, and then gestures at a nearby sewage works. "That has a high pressure pipe that comes through the entire estate, and it really does run with an enormous amount of pressure. While they were putting the mushrooms in, they were driving the stump down, and there was suddenly a rumbling — and with that, the pole went forty feet into the air, followed by a column of eighty feet of high-pressure human shit!"
Woe betide Andrew Nicholson, who went on to fall from Jagermeister at that spot, and probably wondered why the ground had such a tang to it.
Fortunately, no sewage pipes were harmed in the creation of the new field, despite its proximity to the source of the material, but perhaps that'll be another good motivator for competitors to stay on as they navigate that three-part combination at 8ABC and gallop on down to a very imposing bit of firewood indeed: the Isuzu 4 Bar at 9. This is another very old-fashioned fence that demands a positive, forward, attacking ride — and those who get a bit backwards to it could pay the price in annoying frangible penalties, because a backwards horse will find the enormous jumpable width of the fence a big ask and could well clip it on the way over. In a way, it's this year's Broken Bridge — it certainly requires the same kind of approach, anyway, and shouldn't cause any real trouble.
"I think it's always the thing with five-star that your run-and-jump fences are rarely really just run-and-jump fences," says Eric. "They always have to lift you off the ground and require a bit of effort, whereas at four-star, the run-and-jump fences are more likely to be boxes with a nice shape to the front."
After clearing the 4 Bar and landing running, Eric will once again ask riders to shorten up — but here, at the first water question on course, he's done a classic Eric Winter: there's no telling, really, how a horse will land on the steep drop landing of the A element of 10AB, the MARS Equestrian Sustainability Bay, so there's no real guarantee of what your stride pattern will be to the log in the water.
The trick? Walk all the variables, whether your horse jumps up in the air and lands steep, or whether he's nearly launched himself into the water, and prepare to think quick and decide which plan you're committing to in that moment before touchdown, says Eric.
"I think they'll generally land a long way down," he predicts. "But they need to have variable stride patterns in mind, and not go too straight, either."
Though the log in the water at 10B is one of the smaller fences on the course, it also has a narrow jumpable area, so if a rider doesn't offer it enough respect, we could see a silly slip out the side door here, making those careful multitudes of walks all the more important.
Though Badminton is historically considered a flatter five-star — certainly in comparison with the likes of Burghley — Eric has been pleased to find and make best use of some considerable undulations between that new 'sunken road' of sorts and this water. That'll add in an extra mental and physical test, and it also lends an appealingly gutsy and old-fashioned feel to the back end of the course.
After that, it's down to a T-Bar fence with a ditch on the approach at 11, followed by a rollback turn to a step up to an owl hole at 12AB, which looks sparse enough at the moment but will be getting a serious dressing up with plenty of brush. This section, Eric says, is more like a CCI4*-S in its intensity and number of fences per 100m, so horses and riders alike are truly in the guts of the track now and will need to keep their wits about them.
All the intensity of the last couple of minutes will pay dividends as competitors get to 13ABCD, the KBIS Brush Boxes. Here, there's a couple of options — but the best, and fastest, is the direct route that hinges almost entirely on how well thought out the approach is that riders devise to the first element, a broad brush box. In order to get the best line to the small ditch, situated at the bottom of a little hollow and then back up over an angled brush box, they'll need to jump that first element on quite a steep left-to-right angle — one that'll be partially defined by an unjumpable element on the approach.
"That means that if you go the slow way, and jump the first element straight, you can't get to the ditch — so you're forced to take the long route, which takes you around to another brush box and then over a rolltop," says Eric. "It's a very long alternative — and it's a long way mentally, too — so I think you've got no choice, really, if you're going to try to go for the win. It's easy to think you can come to Badminton and just have a nice time and plan to take all the long routes, but I think this question really pushes you to make a decision."
Eric's looking forward to seeing how riders tackle the tricky direct route, which he thinks will be one of the most interesting combinations of the day.
"How the distance works up that bank [to the final element] will be very interesting," he says. "The more you put an arc on the line, the more likely it is to get you there on the two-and-a-half or maybe the three, but if you ride it straighter, you get there in two — but in doing so, you need to accept and prepare for a more extreme angle of fence, which makes it harder."
Though Badminton purists will be sad to see that this is one of those years sans Vicarage Vee, its infamous ditch line does get put to use by the faintly terrifying Footbridge at 14, which features a wide, MIM-clipped oxer set at a steep angle over the ditch. It's a mainstay of the Badminton track, and it never looks any smaller year on year — but, Eric says, of the two directions you can approach it from, this clockwise run down to it is actually the slightly easier of the two.
"It's probably as good as it gets," he says with a laugh. "The terrain picks up slightly on the approach, so you're coming to it on a slight arc, and you're set up to gallop to it easily. There's a certain way to get to a fence that'll make even a moderate horse look classy, and this is it. When you come from the other way, you have to make a turn, and you're in charge of making it yourself, whereas this year it does a lot of the set-up for you."
Last year, the Lightsource BP Solar Panels made an auspicious debut when their tough open distance-to-a-bounce combination saw hot favourites Tom McEwen and Toledo de Kerser end their day early, and a whole spate of experienced horses and riders make a bit of a scrambling effort through the question. This year, the bounce is no more — but they'll still demand plenty of respect at 15AB, where they now feature a bit of variable terrain and another small water to cross en route to the second element.
For Eric, one of the great responsibilities of a course designer — and especially the designer of arguably the world's premier three-day event — is to impact how riders train at home, particularly in a sport where safety is constantly under scrutiny and education can't reliably be standardised.
"The bounce [from 2022] was a good learning experience for the riders," says Eric. "They don't do a lot of bounces in training, generally — everyone jumps plenty of skinny fences, but I think there's less of an emphasis on making horses quick off the ground [in training], so there was an element of wanting to encourage that sort of work that went into setting that question."
That's a responsibility he certainly doesn't take lightly. "I always think good course designers have something to say," he muses. "They aren't just putting a fence down in a field. There are some courses you see where it's just boxes around the edge of a field — just dotted around as best they can to get a couple of days of sport. But actually, you need to really think about the skills that riders might be neglecting in training, then you can start to look at how you build question to encourage them to revisit those skills. The best thing about having the Badminton job is being able to affect riders' training — so you start to educate course designers, and you influence riders in what they do at home, which starts to work on the process wherein they train horses to be quicker and sharper. That, on a fundamental level, makes the sport safer than anything else. No amount of deformable clips will make up for the horses not being trained to be quick with their feet and able to get out of trouble."
Last year's bounce, and its subsequent impact on training, might not be in evidence here — but there are still bounces on this course, at both the Savills Staircase and the Owlhole, which Eric is looking forward to seeing in action.
At this question this year, there's a choice of three A elements and four B elements, lending a Choose-Your-Own-Adventure feel to this question. The most direct route can be seen in the photo above: that's the A element of choice just visible in the foreground, where it's situated atop an incline, and from there, they can head out over either of those B elements, each on an angle. There's plenty of different lines available to them just from that A to those two Bs, or, if they want a slightly more straightforward journey, they can do a wide arc back to one of the two other Bs, not visible to the right of the photo, which will require them to then turn themselves back around to head down the galloping lane. The other A elements, to the left of the one pictured, also create a slightly longer, but slightly easier, trajectory.
Then, they'll head on down to fence 16, a let-up fence in the form of the wide, solid Pedigree Dog Kennel table, which puts them right on their line for…
…fence 17AB, the LeMieux Mound, which begins with an upright rail atop a fairly sizeable mound. That'll get them sitting and popping neatly — in theory, anyway — before they free-wheel back down the hill and into a shallow quarry of sorts, at which point they'll need to be very sure which of the B elements they're aiming for on their way out.
The B elements were last seen in action in 2022, where one was the final element of the Quarry – and the site of that slightly contentious whoopsy for Oliver Townend and Swallow Springs, which ultimately resulted in no penalties. If they don't look familiar now, it's because they've not yet been dressed in the thick, green layers of larch brush that will slightly beef up their dimensions come competition week.
So how to ride them for maximum efficiency? Go left, for one thing, says Eric. While the angle of this box is much steeper, when he walks me through the line, it all begins to make a lot more sense: if you ride pretty well straight up the lip, there's a point at its apex where the left-handed turn presents itself to you, and that line suddenly looks much more doable.
"The more you hang right, the more time you waste, but there's a reasonable distance from the top of the incline to the flat ground on the approach to the mound," he says. "But I think it'll be interesting, because in my experience, horses always go to the top of these banks — but if you walk the line from the lip of the incline to the fence, you'll find yourself way off the take-off spot and in No Man's Land, as it's eight yards."
Riders will need, then, to plan the spot on the bank meticulously, giving themselves a nice one-stride distance to get over this steeply angled B element. If they want to take some of the difficulty out, they can plan to go right instead — but this adds time on the clock, as it requires turning back afterwards to get back to the track and on to the next section of the course.
Now, the really intense bit of the course in the back field is behind them — but riders mustn't fall asleep at the wheel, as there's still plenty to come, including Badminton's iconic lake. First, though, they'll pop fence 18 — the MARS M — and then bowl over 19AB, a pair of tables fitted with new and novel collapsible technology.
It's impossible to talk about this year's course without reflecting on last year, in which we saw this question comprise the M followed by two flower boxes, one of which was subsequently removed from the course after several high-profile horse falls — including that of Nicola Wilson's JL Dublin. Though Eric and his team scrutinised the line intensely both before and after the event, he still isn't quite sure what went wrong — but this year, he's doubled down on safety and introduced these deformable tables, which are still relatively new technology, as a way to ensure that history doesn't repeat itself.
For Eric, too, taking the fence out in last year's track was a no-brainer.
"If you have a course that relies almost entirely on one fence to exert influence, you don't have a good course," he says. "You have nothing to lose from discarding one fence if there's a balance of influence around the course. But you stand to lose so much if you leave it in and you have another serious accident."
One of the major takeaways from last year that Eric wants to impress upon competitors is that if they're not happy with a combination, they must feel able to speak to the course designer or another official about their thoughts, because the course — even once it's been signed off by the ground jury — can still be altered if there's compelling reason to do so.
"After the event, I had several people come up to me and say, 'oh, I knew it wouldn't jump well for this reason or that reason'," he says. "But not one single person approached me before cross-country to say anything at all about it."
After clearing the tables, competitors will canter perpendicular along the side of the lake, jumping the World Horse Welfare Jetty at 20 — a table with flowing water over its top face that has become a staple of the course in recent years — before heading to a major question at 21ABC and 22. This year, it looks set to be a much more influential part of the track than last year, when it was fairly straightforward. The key here for Eric is to build both a suitable question for competitors, and something that'll be exciting for spectators — because this is the most crowd-heavy part of the track.
"You're under some pressure, as a course designer, when it comes to the lake — because how on earth do you do something innovative on a spot that's been designed on since the 1940s?" he says. "It's really tricky to do something new. When I was very first here, I walked with Hugh Thomas and he said, 'this is the lake; you fancy yourself as a bit of a designer, don't you, so any suggestions are welcome!' I was actually here as a technical delegate, but I did want to design courses, and I thought, 'how could you do that?!' But actually, he was dead right: when you remember all the old courses, we've seen so much built through here that the options feel limited. It's not the longest stretch of water; you can't really build a mound in the middle of it. They tried building a bridge in the middle one year and it was a complete disaster area. It's difficult to know what to do with it, but I think we've got something really different this year."
Last year, he felt his question here was "formulaic", but this year, it's an interesting marriage between old- and new-school eventing. The first element is a broad, brush-topped corner, followed by a left-handed turn to a MIM-clipped rails. The faster route is to the left, which is a drop directly into water but with a very clear line down to the final element, another left-handed corner, this time in the water. Because of the lettering of the fences, once riders have opted for that left-handed corner at the first element, they need to commit to going straight the whole way through — it's an AB, whereas its right-handed alternative is simply an A, and the left-handed rails are a C, while the right, which pops you onto a stride of dry land before hitting the water, is a BC. The corner in the water is separately numbered and is 22, whether you jump it on the left or the right. There's also an alternative 22 on dry land for those who need an easier escape route.
The use of rails dropping into the lake isn't new: we've seen it several times before, particularly in the 60s, when a very similar jump was built and reused a few times. The difference, of course, is those safety devices, which have raised some questions about whether horses' natural instinct to drag their hind ends over a drop fence to slow their trajectory will be punished with penalties here. Eric, though, believes that riders who really manufacture the correct canter to this fence will have very little to worry about.
"If you just float to it and let go of your reins, you're going to lean all over it and probably take that clip. When I had a big log here without brush on top of it, a few people came to it and dropped their reins and chased and missed. They ended up all over it and then ended up in the water — and I don't want that. I thought this would be a good place to exhibit the new technology we have working, and to encourage riders to really make a proper job of it and ride it straight and balanced."
Next, they'll gallop back around the edge of the lake and then splash back through it at the end closest to the house, popping over one of two identical brush-topped skinnies on dry land at 23, which is an easy enough question after the intensities of the previous few minutes.
Of course, that mental breather isn't going to last for long — this is Badminton, after all. After jumping a wide brush-topped table at 24, the Beaufort Brush Box, they come to Huntsman's Close, which feels a bit lighter and brighter (and visually clearer, too) this year after the removal of a few more trees. This year, the question they'll meet is a duo of MIM-clipped, open timber corners at 25AB. The first is right-handed and the second is left-handed, which means that a one-sided horse won't be favoured here — but those who need a bit of extra wiggle room will have a long option to hand.
"It's a very different place from how it was in the 70s," says Eric. "I wanted to create a slow route here near the end of the course in case it's very wet, so that it could still flow and not pull the horses off their rhythm too much or doubling them back on themselves too much. That's tough on them when they're tired."
The Jubilee Clump Brush at 26, with its open ditch and 1.45m brush, is another mental breather before…
…they pop through the HorseQuest Quarry at 27AB, which is a familiar wall-to-wall combination without any added extras this year. Its dip and rise between the jumps does increase the intensity of the question somewhat, but also, it'll serve to help a tired horse re-engage the hind end, so although it's a combination fence, in a way it's almost a bit of a let-up in itself, because it's so clear. The only real risk comes if riders try to cut corners and jump on an angle with too much forethought, because the grounds flows away so quickly upon landing from that first element, and it wouldn't be a real reach to expect a horse to hang a leg at this stage.
Then, as they head back towards the safe enclave of the main arena, there's one last combination to tackle: the wide Wiltshire Brewers' Drays at 28AB. Though they're visually imposing — especially without any dressing on them yet — they're well equipped with safety technology in case a horse doesn't quite get off the ground enough here.
Last year, Eric explains, he saw some riders pick up too much speed in this final minute, taking risks as a result — this, he hopes, will slow them down and force them to respect the fences and look after their horses on the way home.
"There's four frangible fences in the final six or so fences," he says. "They're not enormous, but that just serves to slow them up for the final distance."
The familiar Rolex Pheasant Log reappears at 29 as the penultimate fence, while the final fence, the Coronation Finale at 30, has been moved back to the entrance of the arena.
"We're just playing with the location to see if it's better. Several riders said that when they came into the main arena and had to make the turn, their horses sort of switched off a little bit — so this is different."
Though the job of the course designer certainly doesn't end when the jumps are laid out and decorated, Eric's looking forward to the incomparable education that he, and the riders, will get on Saturday. Even now, he tells me, the course designing game never ceases to surprise him.
"Last year was confusing, because several very good horses were eliminated, but then a lot of much less experienced horses and riders flew around without issues," he says, referring to 2022's high percentage of clear completions.
But, he says with a wry laugh, "I started last year thinking I knew a bit about course design, and finished last year realising I knew f*&%-all! I designed the courses at Hartpury for the Junior and Young Rider European Championships, which are held at CCI2*-L and CCI3*-L, and then we re-used the same courses – no changes at all – for the main international event there, two weeks later. The ground remained the same; the weather remained the same. You'd think the statistics of which fences caused trouble would be the same – but it wasn't at all. The most influential question one week didn't see a single issue the other week, and vice versa. I sat down afterwards and looked at the statistics and thought, "well, I can't explain that – maybe I know nothing!"
Somehow, we doubt that. Go Eventing!
Badminton Horse Trials Links: [Website] [EN's Form Guide] [Live Scores] [Badminton TV] [The Ultimate Guide] [EN's Coverage]