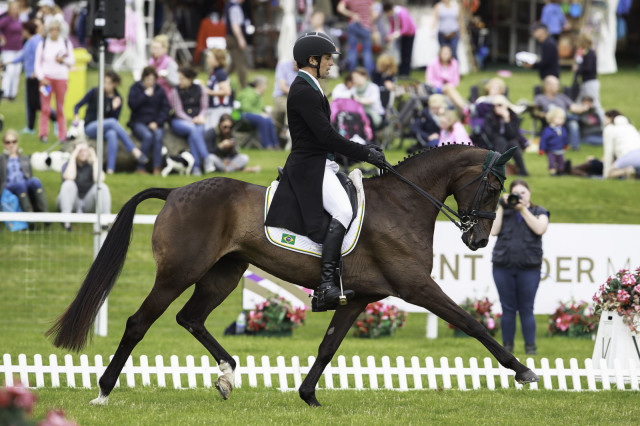 Thirty-nine horse and rider combinations are competing in the third leg of the Event Rider Masters Series this weekend at the St. James Place Barbury International Horse Trials in the United Kingdom. It's a big event for the new series as the production will unveil new graphics and camera technology for its television debut.
Four pairs from four different nations scored under 40 today in the first phase. Brazil's Marcio C Jorge and Lissy Mac Wayer scored a 32.5, less than 2 penalty points shy of Lucinda Fredericks and Headley Brittania's record Barbury dressage score of 30.8. Marcio and the 13-year-old Westphalian mare are nominated for the Brazilian Olympic team, which has yet to be officially announced. Today was a good day to put in a personal best at the level!
"She is very good and this means a lot. She's sensitive to ride, but we always knew she could perform a very good test," Marcio said. "The big atmosphere in the arena today has been a good preparation for Rio and she tried so hard. It's great to have her feeling on song ahead of the Olympics."
Twenty-three-year-old Hedvig Wik (SWE) and Chippieh, a 14-year-old Holsteiner gelding owned by Sara Sjöborg Wik, scored a 35.9 for second. "Chip is an absolute star. He can do a really smart test now. I'm shaking! It's incredible. But it's really just preparation and good luck," Hedvig said.
Andrew Nicholson (NZL), who has won Barbury four times with the remarkable Avebury, is competing this weekend with his 2012 London Olympics and 2014 World Equestrian Games mount Nereo, a 16-year-old Caballo de Deporte Espanol owned by Deborah Sellar. They scored 37.6 for third after dressage.
Izzy Taylor, who has was named to her first British Olympic team with Allercombe Ellie, scored 38.0 for fourth place with Be Touchable. Soon to be eight-time Olympian Sir Mark Todd (NZL) and his Rio nominated horse Leonidas II were close to cracking into the 30s, but scored a 40.1 for fifth. Paul Tapner and Yogi Bear VIII are sixth on 40.2. Paul, who is on Australia's Olympic long list, is only 12 points shy of the top of the Series leaderboard and could potentially take over the top spot with three solid phases at Barbury.
Rio bound Alex Hua Tian of China and the 9-year-old Hanoverian gelding Don Geniro, owned by Alex, Pip and Sarah Higgins and Pam Dews, made history at the second leg of the series as the winner of the ERM CIC3* at the Equi-Trek Bramham International Horse Trials. After coming 30th at Chatsworth, the pair put all three phases together and finished on their dressage score for the first time in their FEI career. They are currently fifth on the Series leaderboard and certainly within striking distance of the top having scored a 41.5 in dressage for seventh so far this weekend.
Canada's Rebecca Howard and her longtime partner Riddle Master, a 15-year-old Canadian Sport Horse owned by Blithe Hill Farm, produced a score of 42.2, their best three-star score since a 41 at Tattersalls in 2015, putting them eighth after dressage. Rebecca's countryman Kathryn Robinson and her own 15-year-old Let It Bee are competing in the CIC3*. They are currently 17th after dressage and show jumping.
Britain's Oliver Townend and Sally-Anne Egginton's 10-year-old Cillnabradden Evo scored 42.7 for ninth after dressage, while New Zealand Olympic team rider Jonelle Price rounds out the top ten on a 43.4 with Jonelle and Trisha Rickards' 13-year-old Classic Moet.
The sole American in the ERM division is Tiana Coudray and Sambuca F, a 10-year-old Wesphalian mare owned by Jatial, Inc. They scored a 69.9 in the first phase. Tiana also competed Under the Clocks, a 13-year-old Thoroughbred owned by Jade Wishart, in the CIC2* Section C. Under the Clocks, who was previously campaigned to the CCI4* level by Murray Lamperd, is a new ride for Tiana. They finished on a 59.8 for 16th place.
Liz Halliday-Sharp (USA) competed Deborah Halliday's 13-year-old Irish Sport Horse Fernhill By Night in the CIC2* Section E. We're delighted to see the pair was in excellent form, coming in second place in a massive class with 92 starters. Finishing on a 42.3, they were one of only a handful of combinations to finish on their dressage score. In the equally large CIC2* Section E, Liz and HHS Cooley, a 12-year-old Irish Sport Horse also owned by Deborah, finished 19th, adding only 1.2 time penalties to their dressage score of 53.7.
Also today at Barbury was the return of the JCB Champions Challenge run in support of the Injured Jockeys Fund. It's a competition of event riders versus jump jockeys and the jockeys have won the race for the last two years. The eventing team of New Zealanders Mark Todd and Tim and Jonelle Price and Australia's Paul Tapner, seamlessly passed off their batons to gain the advantage over jump jockeys Richard Johnson, Wayne Hutchinson, Tom Scudamore and Tom Bellamy, who were unable to recover from a fumbled pass.
"That was great," said Mark. "But where are the jump jockeys – are they still going!?"
Show jumping for the ERM CIC3* will run in reverse order of go and starts at 8:30 a.m. local time on Sunday morning followed by cross country with the top 20 in reverse order. You can watch the whole event live on eventridermasters.tv!
Event Rider Masters: Website, Rankings, Start Times, Results, Live Stream
Barbury Horse Trials: Website, Start List, Results
[Brazilian rider seizes ERM dressage lead]
Comments