Buck Davidson dominated the CIC3* in Georgia this weekend, never giving up his first and second placings aboard Copper Beach and Carlevo to become the eventual winner of the division after cross country today.
Buck added just a bit of time — and told EN yesterday that time was not of the utmost importance — on Hugh Lochore's course to cement his win on Rolex-bound Copper Beach, who added 4.8 time penalties to his dressage score to finish on 43.5.
He finished second on Tattersalls-bound Carlevo with a clear round and 8.8 time penalties for a final score of 51.3. Buck told us yesterday that his ultimate goal was to come out of the weekend feeling that his horses were confident, and he certainly achieved his goals today in style.
From there, the leaderboard shuffled just a bit as Lauren Kieffer picked up the third and fourth spots with Vermiculus and Veronica, respectively. Vermiculus added 13.2 time penalties to finish third on 61.5 and will next head to Kentucky to make his debut at the level. Veronica is going overseas to Badminton and completed her final prep run with 9.6 time penalties for fourth place on 64.7.
Cross country caused a few troubles throughout the division, with six pairs failing to complete and one other collecting refusals. Overall, though, the course seemed to do the trick of offering a solid run for horses heading on to their respective spring three-day goals.
We'll be adding to this report throughout the day as the remainder of the FEI scores as well as the Advanced continue to update, so check back for much more from Georgia.
Chattahoochee Hills H.T. [Website] [Entry Status] [Ride Times] [Live Scores]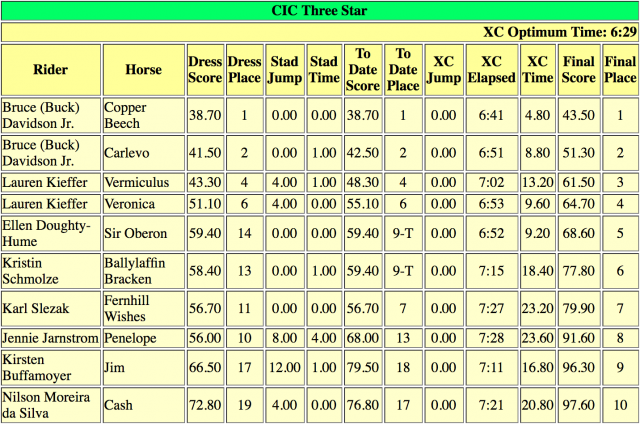 Comments