This week's coverage of Pau on EN is brought to you with the support of Kentucky Performance Products. We couldn't do much of what we've done these last few years without the support of sponsors such as KPP — which, by the way, is a horses-first, women owned and operated company based in, you guessed it, Kentucky — and without you, our readers! So as we head into this final hurrah of our season, too, we thank each and every one of you.
Every time someone refers to twisty, turn-y, tight-timed and atmospheric Pau, with all its skinnies and corners and accuracy questions (and the odd swimming rat in the water) as the 'soft' five-star, I can't help but laugh a bit — because never yet in the five years that I've been covered it for EN has it been anything close to an easy competition. Often, we see a leaderboard so tightly packed that even if the only influence comes from the tough-to-grab time, that's enough to see huge changes — but most years, including this one, it serves up wall-to-wall action. Though today's completion rate of 80.9% might look high on paper, its 62% clear rate is much more closely aligned with the historically 'tough' five-stars, and with just four of yesterday's top ten remaining at the business end of the leaderboard, the Pierre Michelet course certainly did the job it set out to.
Though, as predicted, the first combination — a sizeable log drop to a corner at 4AB — caused plenty of influence, with eleven competitors running out the side door at the B element, it was very nearly eclipsed by a particularly efficient set of MIM clips much later on in the course. They featured as the B element in the middle water at 21B, which was an open corner equipped with the more sensitive yellow clips, four strides after another hefty hanging log drop. Nine competitors in total picked up 11 penalties for activating those clips, including dressage leader Felix Vogg and Colero, as well as Mollie Summerland and Charly van ter Heiden, who had been fourth going into today's action.
The first of the nine to activate those clips was David Doel, who was fourth out of the box with his first ride, Ferro Point, and reached the B element on a half-stride, kicking out the rails. But sometimes, eventing's sense of kismet works in funny ways: having made that early mistake, he was well-prepared to nail the line, and that final stride, when he came back out as the last rider of the day with the Dutch-bred Galileo Nieuwmoed.
The eleven-year-old gelding (Carambole x Sjaloma, by Harcos) has been quietly proving himself as a serious talent for some time: he finished inside the time here last year, and was sixth at Badminton this year — but still, by the time David was counted down in the startbox, the pressure had been piled on. So much had changed through the course of the day — and particularly, in the final batch of riders, which saw Felix drop out of the lead, third-placed Tom McEwen and Bob Chaplin and second-placed Izzy Taylor and Monkeying Around both opt to retire after a duo apiece of refusals in the early stages of the course — that despite his fifteenth-place position at the end of the first phase, David was suddenly, keenly aware that a quick clear would give him the lead.
If he felt the pressure, though, he never showed it. His ride through that influential MIM-clipped water complex was one of those masterclasses of focus and commitment, and the four perfect, balanced, attacking strides he got were a clear indicator that David, like all his vocal supporters in the crowd, knew that his time had come.
And boy, had it. Just four riders made the 11:00 optimum time out of 47 starters — France's Luc Chateau was the first, with Viens du Mont, and fellow countrymen Karim Florent Laghouag and Maxime Livio each did it too, with Triton Fontaine and Carouzo Bois Marotin, respectively. But David's round didn't just squeak inside the time — he romped across the finish line a full nine seconds under, lodging the fastest round of the day, despite a serious technical hitch that could have made even catching it nearly impossible.
"I actually stuffed up my clock because as I left the start box, I hit it twice," he explains. "By the time I realised it wasn't running, I was about three or four seconds out on my clock, so I had to just sort of keep myself ahead of it a little bit, just to make sure that my stuff up at the start box didn't affect us. So I didn't actually realise [I'd made the time] until I was back and my mum told me!"
David, who stepped up to five-star here in 2018 and has since produced an enormously impressive six horses to the level, entered into a debate at today's press conference about whether luck plays a part in how a week of eventing can go — and the man who has suffered a fair share of rubbish luck, including a slipped saddle in the showjumping at Luhmühlen this year that resulted in a very late elimination, argued that it certainly does have a role.
"I think you need a little bit of luck," he says. "Sometimes you have a trip or a stumble on cross-country, and sometimes the horse falls over, and sometimes they stand up. So I think there's definitely a bit of luck involved, but the majority definitely comes down to preparation — to the days, weeks, months, and years in the process of getting horses to this level. The good horses are well-prepared, and you don't often see someone get lucky and win a five-star — so it's a bit of a mixture of both [luck and preparation]."
Certainly, though, those years of hard work, which have seen David run a yard alongside the family ice cream business, are the primary factor — and so the 29-year-old couldn't be more delighted to relish the moment for now.
"[Leading a five-star is] a huge goal, and it's been on the cards," he says. "He's a fantastic horse, and I'm very lucky to ride him. He's athletic, and he has the power. he should have gone to Burghley, and we did a lot of prep for that, but then he had a bit of man-flu before Burghley, so he's come here really fit and feeling fantastic. It's a massive team effort — it's not just my trainers that are out here, my granny's out here, and the owners, and my mum and dad, and [for all of us], it's been years and years of working to get him to this position. He's been close, and so it's lovely to be rewarded."
Though the gelding jumped a classy clear on the final day at Badminton this spring for sixth, last year, he tipped two rails here — and so David is remaining pragmatic ahead of tomorrow's competition and focusing on the variables he can control — namely, making sure his horse feels as good as he can do.
"Tomorrow's going to be another day," he says sagely, "but we've got great help, and the British team have been fantastic, so we'll hopefully get him feeling as fit as possible for tomorrow."
"I could have been [clear inside the time] number five," says Jonelle Price ruefully, reflecting on her 1.2 time penalties with Grappa Nera. "I'm afraid it's my fault — I could have been inside the time, but I had the three seconds, and that was my undoing today!"
But although those three seconds cost Jonelle the overnight lead, it's a scant loss: she sits second with the five-star sophomore on a score of 31.3, which puts her just 0.7 penalties, or less than two seconds on the clock tomorrow, behind David.
Grappa Nera, who has gone under the radar at one-days for her propensity for naughtiness in the first phase, has come out of a spate of time off for an injury as a real contender — and although her primary role this year was as a back-up horse for the World Championships at Pratoni, Jonelle had long earmarked Pau as an event that could suit her perfectly.
"All the five-stars have their own unique flavour, and Pau is certainly unique," she says. "It's not the biggest of the five-stars, but the time is always influential because the woods really slow you down in the first and last third of the course. You need a nimble, athletic horse, but some of the distances that appear aren't really suited to that type of horse, and you'd want something a bit bigger and scopier. I thought I had the perfect candidate in Grappa Nera: she's very nimble and athletic, but some of those distances were pretty good for me, and luckily there's another option there."
There's probably no man in France more popular than the ebullient, jovial Olympian Karim Florent Laghouag, and never more so than when he gives fans the chance to see his most recent Olympic partner, Triton Fontaine, in action. Those fans' enthusiastic support was rewarded in kind today (and truly, you could chart his progress around the course from their screams of encouragement alone) with a speedy clear two seconds inside the time, hoiking him right up the leaderboard from 19th to overnight third.
"He gave me an amazing ride, and when he's like that, he could do a six-star," says Karim with a smile.
Japan's Kazuma Tomoto is one of the sport's real stylists in this phase, and his efficiency and prowess — and that fourth-place individual finish at Tokyo last year — belie the fact that he only began eventing less than six years ago after a career in the showjumping arena. Just a smattering of weeks after a top-ten finish with Vinci de la Vigne at the World Championships, he journeyed to Pau with a very different horse in Brookpark Vikenti. Though we've not seen the gelding at this level since 2019, when he led the dressage at Luhmühlen but ran into trouble across the country, and though he sat out much of 2020 and all of 2021, he's been solidifying every skillset along the way, picking up a number of placings — and a win in his prep run in the CCI4*-S at Little Downham. That time and patience paid dividends today, and the pair go into the final day in a strong fourth place, just 1.4 penalties off the lead after adding 6.4 time.
Hector Payne sits fifth overnight after what felt like a coming-of-age round for the 14-year-old KWPN gelding Dynasty, who was campaigned in his early years by Hector's former employer Willian Fox-Pitt, and who Hector inherited the ride on after William's accident in 2015. This is the pair's fourth five-star start, and their second trip to Pau — but the first time that, in every phase so far, the gelding has felt like he's finally hitting the targets that they're able to set at home. Their week began with a personal best score at the level of 30.9, which put them into 16th place, and their round today, which was clear with just 1.2 time penalties, was a sea change from their educational 20 penalties here in 2020 and their slow, steady clears at Burghley in 2018 and Badminton this spring.
Their newfound competitive bent comes after a trick year or so for the rider, who suffered a crashing fall while riding at a one-day event last year, resulting in a badly broken femur that ostensibly healed quickly, but has left lingering longer-term muscular damage that Hector has been working hard on with a physio.
"The first 80% of healing happened quickly — it's the last 20% that's felt like it's taken a year," he says, adding wryly, "I'm only allowed to do one-leg exercises in the gym!"
We chatted to Hector after his dressage test about the course to come, which he laughingly described as "Chris Bartle's dream: he's always telling us to ride everything as though there's a corner three strides later, and here, there is!"
There are few riders as efficient across the country, regardless of which horse is beneath him, as Maxime Livio — and at Pau, which is always packed to the rafters with a vocally enthusiastic home crowd who effectively carry their riders home with cheers of 'Allez! Allez!', there's an even more noticeable buoyancy to the way he pilots his horses. That was evidenced today in his ride with the ten-year-old debutant Carouzo Bois Marotin, who came here with limited experience — though two top-ten finishes in as many CCI4*-L runs — but crossed the finish line looking like a truly established top level horse. They added nothing to their first-phase score of 35.1, catapulting themselves a remarkable 29 places up the leaderboard from 35th to sixth.
"He's only ten, but I did two four-star longs with him, and this year in Saumur when I crossed the finish line with him still pulling the reins I thought, 'shit, he's ready for bigger sport!'" says Maxime. "So I let him have a rest for a little bit in the middle of the season to let him prepare for here. I was a little bit disappointed with the dressage, but even if he has a great ability for the test, he's still very sensitive in his mind, so I can lose him a bit in a test. It's his worst test of the season, but the atmosphere is different [to what he's used to], and I'd really like to finish this competition well, because for me, if I do well today and tomorrow, then all I need to do is school him to learn that the dressage can be an easy job for him, too. Then, next year, I think I'll have a real five-star horse."
His ride today certainly buoyed his convictions in the gelding: "I didn't have to work hard, because he's really quick in the gallops, but also at the jumps. So on the twisty parts, I was quite fluent and up on time, and when I came back, I was still on my time. And I let him breathe a little bit for the last loop of the water which is quite twist and you can't go fast, so I use that moment to say, 'that's a good job'. But then even in the last minutes, he was asking me to go for more. He's quite an amazing horse."
When we spoke to Burghley winner and seasoned Olympian Caroline Powell after her dressage, she confessed that she'd initially wondered if she might be mad to bring her preternaturally talented nine-year-old, Greenacres Special Cavalier, to Pau, rather than waiting until next season for the step up. But, she reasoned, even if they couldn't be competitive this week, the exposure and experience would still serve as an important foundational and educational milestone for the mare, who has long looked set to be one of Paris 2024's major contenders.
As it happened, though, they went a few better than that. Despite her inexperience, the nine-year-old mare sunk her teeth into the Pierre Michelet track as though it was a particularly good meal, and along the way, the pair were able to take calculated risks and add a relatively scant 8 time penalties to their first-phase score of 27.7. That sees them go into the final day in seventh place — one spot higher than they were after the first phase.
After completing three-quarters of Badminton's exceptionally tough track this spring with her then-debutant Valmy Biats, Emily King knew she was sitting on a horse with the scope and guts to succeed at this level — even if he didn't quite have the mileage yet. And so it was particularly refreshing to see that the Selle Français gelding, who is owned by breeder Philippe Brivois and 'run' by the Event Horse Owners Syndicate micro-syndicate group, hadn't suffered any obvious loss of confidence after his unlucky late fall there — and that Emily, who enjoyed such extraordinary success on her own five-star debut here back in 2016, when she finished fourth, was able to repeat her fate of old today. They sit eighth overnight after an exuberant, bold round with 11.6 time penalties — a drop of three places from their first-phase fifth, but one that Emily isn't wasting a moment regretting.
"He was just foot-perfect," says a delighted Emily. "He was very strong and very brave — I nearly  could have had two gears left on the straight, and I could have gone for it, but I didn't want to overdo it and then him get tired and have a mistake. I really wanted to use it to see where he was at — and he just cantered home so easily. Every fence was perfect; he was just amazing."
In fact, as Emily explains, much of the time she accrued was actually intentional, with two eyes firmly set on the future.
"He was so quick with his legs and made all the distances I'd planned," she says. "I was planning to go one extra stride [in a combination] at the beginning, purely because he's so brave. He could have gone one or two strides less if I let him, but I didn't want to let that gain on him and then at the end have him be too keen, because that's what led to the only mistake he's had [previously]. I think like I could have gotten flat out and been a bit riskier, but actually, I wouldn't have really learned much from it."
So much has changed in a year for Bubby Upton, who made her five-star debut here last year with this week's ride Cannavaro and her Badminton partner Cola. Then, she had a storming clear on the latter but opted to retire Cannavaro on course after an early issue, and this year, her five-star campaigns have largely been something of an educational experience — an odd irony considering that over the last number of years, she's been successfully eventing alongside completing her degree, which she finished this spring. At Badminton, she picked up a frustrating run-out at the final fence with Cola after an exceptionally classy effort around the tough track, and at Luhmühlen in June, the former show jumper Cannavaro led the dressage, but showed his sporting roots across the country, jumping ever higher and more carefully until he effectively went into orbit over a drop combination, resulting in their elimination. A 14th place finish at Burghley with Cola marked a turning point — and Cannavaro's turn has felt inevitable.
But there's never been any doubt that Bubby would tick the boxes she did today at this level. The former Junior and Young Rider European Champion is a fierce competitor and, of course, a committed learner — and every frustrating moment she's had this year was channeled, today, into the round the pair have long deserved at five-star. She and 'Joey' made light work of the analytical track, delivering that coveted clear and adding just 4.2 time penalties to move from 25th after dressage to overnight ninth.
"It's probably one of my proudest rounds I've had, because I've let him down twice now and he so deserves to show everyone how classy he is," says an emotional Bubby. "Although I was very disappointed with his mark in the dressage, I wasn't disappointed with him — he's just incredible. Last year, I messed up; Luhmühlen, I messed up. And today, I feel like I did him justice, and we showed everyone what we can do."
Bubby, who now has valuable mileage over four of the world's seven five-star tracks, rated today's Pierre Michelet effort as among the most difficult she's ever tackled.
"It was so tough out there. It was one of the toughest I've ridden — Burghley was tough physically on me, because I was having to keep plugging Cola along, but the intensity of this track, I've never written anything like it. So I'm so proud of how we handled it."
"It was just one of those courses that you had to ride by the seat of your pants and by feel," she says. "I'm one that always goes out with a set plan; I'm like, I want to know if I'm doing it on three or four or five or six. But as soon as I get out there it all goes out the window and I ride by feel. I know that that's what works for me; having a plan mentally, knowing I have it, and then just going by feel. It paid dividends today."
One of the major boxes that Bubby ticked with Cannavaro today was that of speed — something that's not come naturally to the gelding.
"He's never gone the trip before. I've said it time and time again that I never knew if he was ever going to make the distance. And actually, he had 11 weeks off after Luhmühlen, just in the field, because he injured his knee when he fell — so he jumped for the first time on the 22nd of September. That's just a month ago, so for him to go around like that means more than anyone could know."
Though Switzerland's Felix Vogg attacked the course with the serious focus and gumption we'd expect from the Luhmühlen winner, he and Colero sacrificed their first-phase lead when they, too, were victims of those tender clips in the racecourse water. They added a further 3.2 time penalties for coming in eight seconds over the optimum time, but such was the influence of the day that even those 14.2 total additional penalties only dropped them as far as tenth overnight.
Our sole US representatives, Matt Flynn and Wizzerd, picked up twenty penalties at 10A, a skinny in the first water, but nailed a completion, which sees them sit 30th overnight on a two-phase score of 83.3.
Tomorrow's final day of competition kicks off at 12.30 local time (11.30 a.m. British/7.30 a.m. EST) with the final horse inspection, followed by showjumping from 15.15 (14.15/10.15 a.m. EST). Keep it locked on EN for all the news and updates, and until next time: Go Eventing!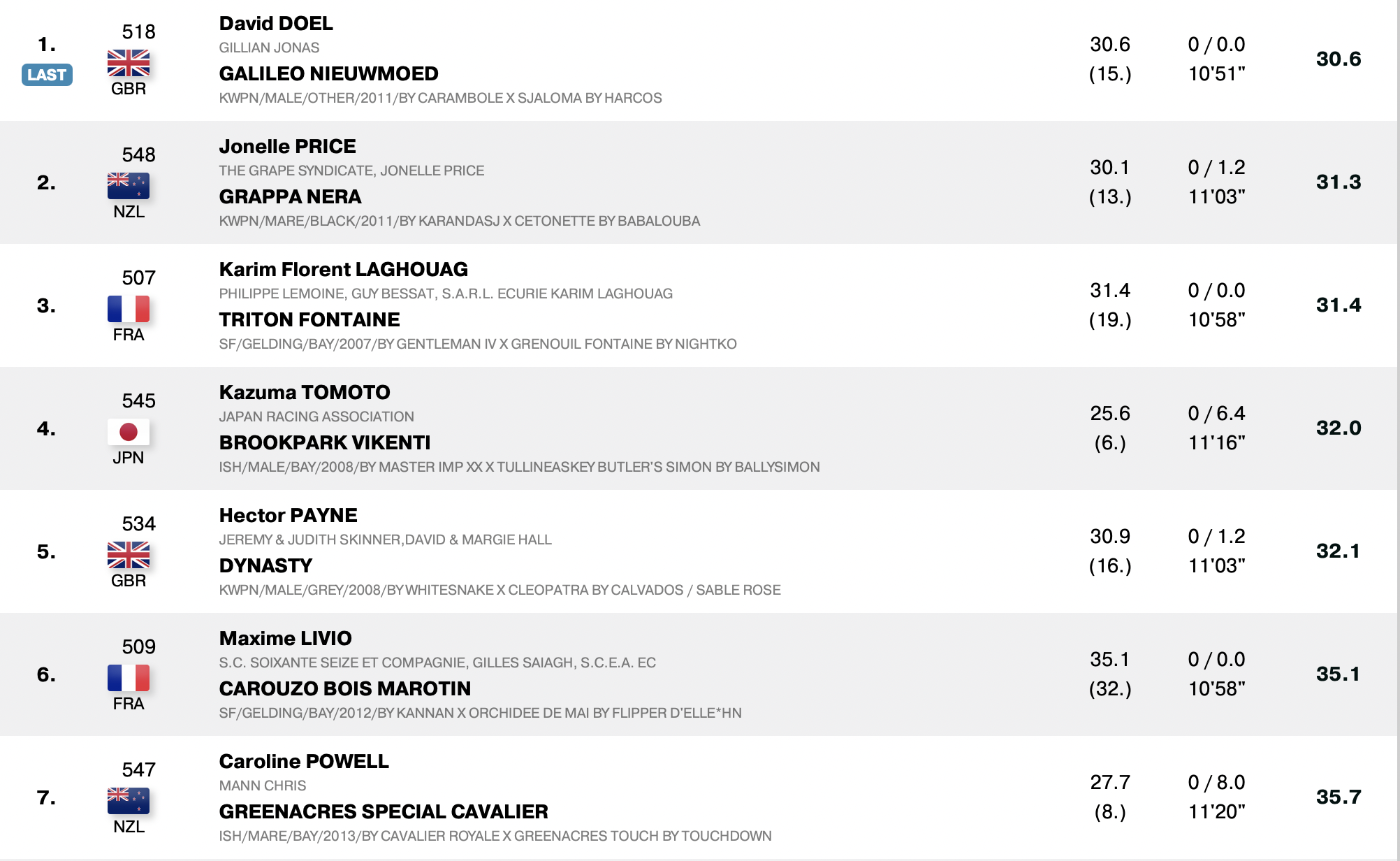 Les 5 Etoiles de Pau: [Website] [Entries] [Schedule] [Timing & Scoring] [H&C+ Live Stream *Use code PAU2022 for 15% of H&C+ Annual!*] [EN's Coverage] [EN's Ultimate Guide to Pau] [EN's Instagram]