Advanced dressage took the stage on Thursday afternoon at The Fork at Tryon International Equestrian Center.
Lynn Symansky holds the top two spots in the Advanced Test A division with Under Suspection and Donner, respectively, with 2.5 points separating the horses.
Lynn's relatively new partnership with Under Suspection, a 14-year-old Holsteiner mare (Contender x Naomagic I, by Exorbitant xx) owned by Mary Ann Ghadban, is definitively clicking. Lynn first catch-rode "Pippy," who finished in the top five at Kentucky in her first four-star last spring with Hannah Sue Burnett, in the dressage phase at Great Meadow CICO3* last July. They warmed up with one Prelim and two Intermediate horse trials this winter before finishing sixth in the CIC3* at Carolina International two weeks ago. The pair turned in their personal best dressage score to date, a 25.70, to top today's 11-horse Advanced Test A division.
"The mare is still a newer ride for me, so I'm trying to figure her out a bit more each time I go in the ring," Lynn says. "I thought her trot was really good. The trot and walk were great, I made a mistake in one of the changes, but I'm starting to go in and know what I'm going to have. She comes out the same horse every time."
Lynn sits second with her old partner Donner, a 15-year-old Thoroughbred gelding (Gorky Park x Smart Jane, by Smarten) owned by the Donner Syndicate. "He's not blessed with the movement that Pippy has so he has got to go in and do a very accurate, workmanlike test, and he did, and he's so reliable at this point in terms of knowing how I have to prepare him for the day," Lynn says.
CIC3* dressage ran earlier today (see Jenni's report here) in the main George H. Morris International Arena, with Advanced tests staged in one of the smaller arenas off to the side. Even without a crowd of spectators, the rings have a "busy" feel, flanked on three sides by barns, shops or pavilions.
"This kind of atmosphere is hard for Donner because there's enough of it, but there's not a lot of people," Lynn says. "It's almost better if there are a ton of people to drown out the noise."
There were plenty of little things for an ADD horse to get hung up on, including but not limited to the Mexican cantina replete with about a dozen twirling hammocks that horses were pointed straight at in the free walk. And the hammocks were the place to be when Lynn headed into the arena on Pippy.
"There were about 15 screaming children on those things," Lynn says. "When I was doing Pippy, she was the first one in, it sounded like a gang of monkeys were attacking each other. And thank God I was on her first because I think Donner would have bolted out of the ring."
Lynn was heading out to have a look at cross country when we talked to her; it's her first time at TIEC since competing here in the 2016 American Eventing Championships, and a first glimpse at the track that we'll see come WEG in September.
Lynn and Donner contested the 2016 WEG in Normandy and have represented the U.S. on multiple teams, and it's fun to see them in the hunt for a WEG 2.0.
"Especially with Donner being a possibility to go to the WEG, he's been a part of team stuff for quite a while, since 2011 at the Pam Ams, and he's still out and feeling good so it's cool to be a part of it here," says Lynn.
Rounding out the top three is Boyd Martin with Kyra, an 11-year-old Canadian Warmblood mare (VDL Ulando H x Wellesley, by Welstern) owned by Christine Turner. This is an exciting partnership and one to watch: At Red Hills, where Boyd and Kyra placed 2nd at Advanced in their second time out at the level, Boyd said of the mare, "She's by far the most spectacular jumper I have in my barn." (See our EN profile of the mare here.)
Will Coleman and Obos O'Reilly lead the Advanced Test B division on a score of 24.5, although not for long! Will's plan for The Fork has been dressage-only from the get-go — he just stopped in to get his horses out in the atmosphere, soak it in and check out the cross country track before heading back north to contest Fair Hill next weekend. The end game: Badminton.
Obos O'Reilly, a 15-year-old Irish Sport Horse gelding (Obos Quality 004 x Omard Clover Queen, by Clover Hill) owned by Four Star Eventing Group, topped the 10-horse division. "We've been working really hard at his dressage for forever," Will says. "He gets quite nervous and finding ways to keep him confident but still on the job is always the trick. He's getting better — he keeps improving with age."
"I have a soft place in my heart for him," Will says. "He tries really hard, he's not really built to do dressage but he's improved so much. He did a clean test today, it wasn't perfect but it was a clean test, and I think that's probably good enough for the time being."
Will contested The Fork on several horses last year, and says this year's track is almost identical with the exception of a few changed-up combinations.
"I wanted to come down and see the place, see if Mark [Phillips] was going to give us any clues to what he's thinking but he's playing it close to his chest right now. He's a poker player. There are some good questions but I don't think he's showing us what he's building for September."
Will is galloping his horses here tomorrow, but then the lead is wide open for a take-over. Will it be 2nd placed Lauren Kieffer and Veronica (24.5) or 3rd placed Leslie Law with The Apprentice (27.0), or …?
Keep it locked here. Go Eventing!
Advanced Test A Top 10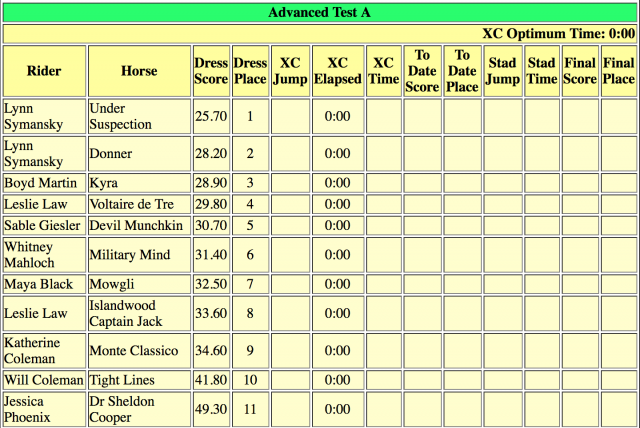 Advanced Test B Top 10
CIC2* Top 10

The Fork: Website, Schedule, Ride Times, Live Scores, Live Stream, EN's Coverage, EN's Instagram, EN's Twitter
WEG Test Event: Website, Schedule, Thursday Dressage Order, Friday Dressage Order, Live Stream, Live Scores, EN's Coverage
Comments