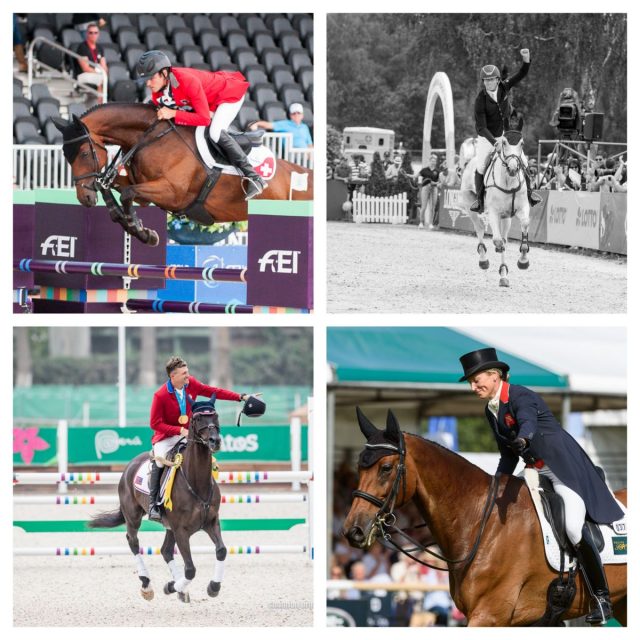 From 32 down to four seriously star-powered options – and now it gets difficult. With one horse to represent each region, will you follow your heart or your flag? It's the Final Four – and it's well and truly business time.
HOW IT WORKS
32 of the world's best event horses will come together in an NCAA-style bracket, with the winners of each bracket advancing to the next round and facing a formidable new opponent. In order to avoid a year-long argument amongst team EN — and because we'd really, really love to bypass any aggressive comments chastising us for missing anyone — we pull our contenders from the Olympic rankings, which are updated to the end of 2019. Then, we use those rankings to fill four categories, as follows:
Seven horses from North America
Seven horses from the UK and Ireland
Seven horses from continental Europe
Seven horses from New Zealand/Australia
"But that doesn't equal 32," we hear you protest. And you are not wrong, you little math whizzes. The next step is to find the four best-ranked horses from the rest of the world. Each of them will then be added to one of the above groups in chronological order, and seeded based on their position in the rankings.
These horses represent the top ranked six of each of their global regions. If a horse has since been sold to another region, they're skipped over. (Before you come for us, know that this only happens in one case — and its previous rider is still represented by another horse in the bracket.)
Once pulled from the rankings, each horse is given a seed number within its group. The higher their position within the Olympic rankings, the higher their seed number. Winners of five-stars or major championships in 2019 will automatically be given top seed.
HOW THE WINNER IS CHOSEN
It's all popular vote, baby, so the fate of your favourite is entirely in your hands. We wholeheartedly encourage as much devious social media campaigning as you fancy undertaking. This is, after all, Very Serious Bizzness: the winner will get full bragging rights as the EN readers' favourite horse in the whole WORLD.
Each round will open up for voting as follows:
Round of 32, Part 1: Wednesday, March 18
Round of 32, Part 2: Friday, March 20
Sweet 16: Thursday, March 26
Elite 8: Thursday, April 2
Final 4: Thursday, April 9
Championship: Saturday, April 11
TODAY'S LINE-UP
Good luck, folks, that's all we're going to say. Today, we see US National Champion Tsetserleg go head to head with Swiss superstar Colero, while quirky boi pin-up Reve du Rouet takes on the 'occasionally outrageous' Ascona M. There's no easy way forward – but we believe in you. Persevere and stay strong.