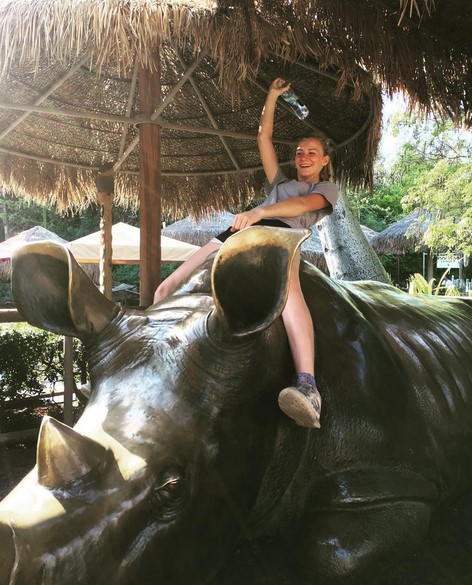 We've all been there. Walking around a park, driving down the road, everywhere we go, there are potential obstacles just screaming to be jumped on horseback. We get it. It's a whole, deluded thought process that perhaps gives more legitimacy to the concept of "insanity."
So when my fellow working students and I took a trip to the San Diego Zoo Safari Park this weekend, what else would happen than an all-out quest to find the hidden cross country gems just hiding in plain sight?
It started innocently enough. A few comments made along the lines of, "Guys, this is basically just a big cross country course," or "That would totally be a one-stride." But one thing led to another, and before we knew it we were dodging zoo employees who surely would have questioned our rights as zoo patrons.
But the possibilities were just endless! It was too much to resist. Practice makes perfect, right?
You can never practice your downhill position enough, as Megan Beyer demonstrates:
And don't forget about uphill positioning too. Some questions really test your straightness and forward motion:
And once you're feeling confident, you can string a few fences together to try to put all of the pieces together in working order:
We even found our very own version of the Burghley Leaf Pit — though we feel this particular horse wasn't exactly ready for the challenge.
And finally, no cross country course is complete without a bench-like jump that makes you question why you don't take up normal hobbies, such as sitting on benches and making fun of idiots who like horses:
Many thanks to the San Diego Zoo for providing such a vast environment for us to practice our cross country skills. Trust us, we need as much practice as we can get! #EventerProblems, indeed.
Go Eventing!