Jacky Green of Jacky Green Equestrian Media and Maizey Manor, did a bit of research on the newest CCI4* winner, Tim Price. We loved the opportunity to get to know this talented young man further. Many thanks to Jacky for writing, and thank you for reading.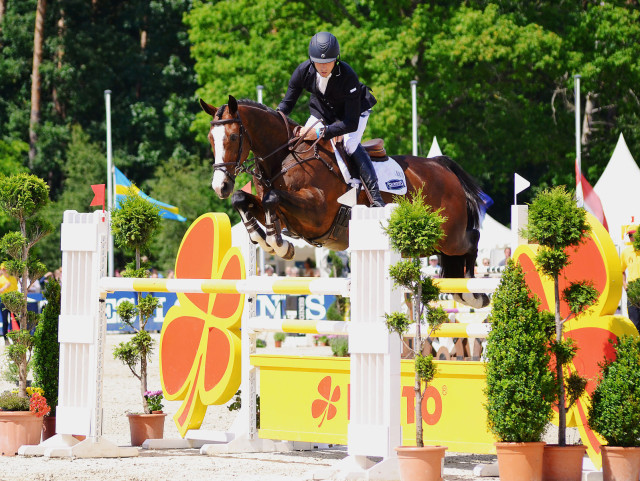 Tim Price's win at Luhmuhlen may have come as a surprise to many, but not to those that know the story of his and Wesko's journey to get there. The acceptance speech that Tim gave in front of the crowd was typical of Tim: eloquent and to the point. He dedicated his win to Benjamin Winter with grace and a sense of timing that few would have after a weekend of shocking dramas that had everyone reeling on Sunday at Luhmühlen.
It was made known at the riders meeting on Saturday night that Ben's mother had said that she felt that the competition should go on, as that was what Ben would have wanted. The changes to the schedule were handled efficiently, and it was a ceremony that ended with dignity and respect without the normal victory laps and a new German National Champion.
Wesko's Rise
Wesko was found at the end of a long and cold day of viewing horses as a bit of an afterthought. He was a jumper at the time and was on the British Equine Pathway but had fallen out of favour with his rider as he was horse shy and in the busy collecting rings of the show jumping warm up had possibly dropped her once too often.
At 8 years old in 2011 he commenced his eventing career and Tim was laughed at a few times for his "fat warmblood" that was running Pre-Novice. That year, he never finished out of the top three, including a win at CIC* at Brand Hall and a third in the CIC2* at Gatcombe International.
In 2012, Wesko continued his amazing form with a runner up finish in the CCI2* at Tattersalls before inexplicably falling on landing into the water at Boekelo at his first three star. He still just had two rails on his whole card at this point.
2013 saw Tim have a couple of run outs cross country on Wesko in both the CCI3* at Saumur and the CIC3* at Barbury International. He regrouped and took second at Hartpury International in the CIC3*. At 11 years old, Wesko has just five rails on his record in his whole career.
This season, Tim and Wesko have won the CIC3* at Tattersalls and now becomes the only pair to finish on their dressage score at Luhmühlen in the CCI4*.
Tim Price Always a Horseman
Tim is a horseman first and last. His current four-star horse, Ringwood Sky Boy, was purchased for £2000 as a bolter. He and Tim formed a partnership and the rest is history; Tim calmed him when he bolted by letting go of the reins and patting him until he stopped. Try that at home if you are brave enough!
Tim is a horse breaker extraordinaire. His methods include always riding bareback first and getting them out of the indoor and into hacking on day three at the latest. He has broken for the Billy Stud and Donal Barnwell for years, but only gets the tricky ones!
Tim saved Boondoggle from a fate with the slaughterhouse and brought him to the UK where he went to the Advanced and three-star level before Kitty King took over the ride in 2007. Twice Retraining of Racehorses champion at Barbury, Vortex, a New Zealand Thoroughbred, also took Tim to the four-star level. Tim won in New Zealand on him, sold him to Sweden to Paula Tonquist to fund his trip to the UK and eventually got the ride back on him. Tim went on to take Vortex to Badminton, Burghley and Pau in 2009.
And for Tim it all started with a little New Zealand Thoroughbred named Desamoray, who won the Advanced at Belton with Tim in 2004. Tim was not planning on running, but Jonelle and I made him, he won the big pre-Badminton event and suddenly made Horse & Hound. Vortex went on to complete Badminton that year before changing riders. Desamoray was found to be a bit lacking at Badminton but that Kiwi boy has made strides ever since.
And lastly, it appears (rumour only) that Tim was never picked for Trans Tasmans, a travel arrangement between Australia and New Zealand that allows citizens of both countries to live and work in either country, back home as he was so fond of his barefoot lifestyle that they wondered whether he was actually capable of donning tall boots. Well, that boy made good this weekend!