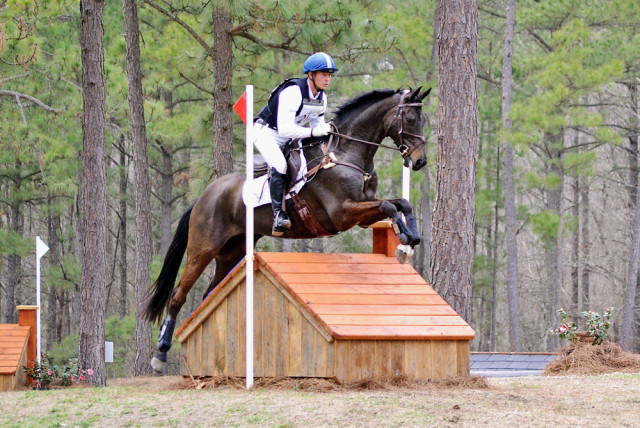 Maggie Deatrick predicted Jon Holling and Downtown Harrison to win the Advanced division at Chattahoochee Hills this weekend, and while she isn't often wrong, the details of her prediction are eerily accurate following the first two phases of competition.
Jon and the 11-year-old Trakehner gelding owned by Jon's mother Constance are returning to the Advanced level for the first time since the 2014 Carolina International CIC3*. They average a 26.9 on the 2014 USEF Advanced-B test, and they haven't lost an ounce of mojo considering they scored a 25.6 today to take an early lead.
"Jon will probably take his time cross country, averaging 14 time penalties across Hugh Lochore's course," Maggie predicted. "Even cruising, he should comfortably take home the win with a score just over 40."
They indeed jumped clear and cruised home with 13.2 time penalties to remain the overnight leaders of the Advanced on a 38.8 with three rails in hand for tomorrow's show jumping. "Having a great time here at Chattahoochee Hills. Happy to be out grazing this amazing horse at an event again. He was a champ today," Jon wrote on Facebook.
It's fairly humid in Fairburn, Georgia this weekend so it's no surprise to see riders taking their time on course. All of the riders in the Advanced, Intermediate and CIC2* divisions had time penalties which ultimately had a heavy impact on the leaderboards.
Daisy Trayford and Normandy Soldier moved up from seventh after dressage to second in the Advanced division with the second fastest round next to Jon and Downtown Harrison. Libby Head and Sir Rockstar are back in action at the Advanced level for the first time since Libby's unscheduled dismount off of a skimboard earlier this summer. They are currently in third place after the first two phases with a personal best dressage score at the level.
In their first FEI appearance as a pair, Lexi Scovil and Charleston VI lead the CIC2* after cross country. They were third with a dressage score of 52.7 and moved up with 11.6 time penalties added to their score. The 8-year-old Dutch Warmblood previously campaigned at the one-star level with British rider Victoria Vaughan-Thomas. Charleston VI was imported from the UK just this April.
U.S. based Dutch rider Werner Geven is second with Vilas County having stormed around the course for only 5.2 time penalties to add. Werner has spent the summer slowly building the OTTB gelding owned by Carden Burdette back up the levels after a rider fall on cross country dashed their hopes of a completion at Rolex this year.
Camenicci is a 10-year-old Oldenburg gelding that Christa Gandolfo has brought up from Novice to the three-star level over the last five years. They are currently in third place in the two-star after two good phases.
Jeanie Clarke and her 8-year-old Holsteiner gelding Head for More have taken command of the CIC1* division in their first FEI event. They scored a 43.8 in dressage and were double-clear on cross country to maintain their initial placing. She has a bit of breathing room over Claire Gordon and Ole Boy, who are second on a 49.6. Zachary Brandt and Vasiliev are third on a 50.6.
There's plenty more going on at Chattahoochee Hills this weekend, with Beginner Novice through Intermediate competitors riding alongside those we've already mentioned. This evening Chatt Hills will be hosting another fan-favorite bareback puissance during the competitor party. With the option to remove your shirt to continue in the competition after a rail or refusal, the jump offs are bound to get interesting!
We have to give a massive shoutout to Shelby Brost for rescuing a momma dog and her three puppies after watching someone dump them on the side of the road. Shelby picked up all four of them and is at Chatt Hills this weekend trying to find them homes with horse people. Several people have already expressed interest in taking one home. Thanks for being awesome, Shelby!
[UPDATE: 8:00 p.m.] The puppies and momma dog were evidently lost and they are back home with their family now. There were many generous people willing to take them and we still think Shelby is awesome for saving the animals from potential harm.
Chattahoochee Hills CIC & H.T.  [Website] [Entry Status] [Ride Times] [Live Scores]