Michael Jung and fischerRocana FST are one step closer to clinching back-to-back victories at the Rolex Kentucky Three-Day Event after crossing the finish with the fastest round of the day. The 11-year-old German Sport Horse mare owned by Brigitte and Joachim Jung came home just 2 seconds over the optimum time to hold her lead on 35.2, the only score still in the 30s.
That will give Michael and "Roxie" three rails in hand heading into show jumping tomorrow. While that is historically the mare's most challenging phase, it seems nearly inevitable they this dynamic duo will take the win once again, which would position Michael to take a shot at winning the Rolex Grand Slam at Badminton next week.
But let's talk about the U.S. contingent, which is holding every other spot in the top 10 after a wet and wild day on Derek di Grazia's cross country course. Heavy rains fell throughout the day, and Phillip Dutton solidified his position as the Mr. Miyagi of U.S. eventing, persevering through less-than-ideal conditions to deliver fast and clear rounds on all three of his horses.
Tom Tierney and Annie Jones' Fernhill Fugitive moved from fifth to second place with 4.4 time penalties (47.5). HND Group's Mighty Nice moved from 11th to third place with 4.8 time penalties (49.8.). Fernhill Cubalawn, owned by Tom Tierney, Simon Roosevelt and Caroline Moran, moved from 19th to ninth place with 7.2 time penalties (55.4).
As the reigning U.S. National CCI4* Champion, Phillip is poised to take that title once again this year, but first he'll have to contend with a tightly packed leaderboard of top U.S. combinations. Just two rails separate second through 10th places, and it's sure to be a nail-biting show jumping finale.
Maya Black and Dawn Dofelmier's Doesn't Play Fair are continuing to live up to the high expectations the EN team set for them this weekend, jumping clear with 4.4 time penalties in a cracking, gutsy performance to move from 12th to fourth place (49.9). "Cody" was pulling her along the whole way — what a little monster!
That gives us four riders with sub-50 scores as we look ahead to show jumping. No horses and riders ultimately made the optimum time of 11 minutes, 15 seconds, with time penalties making for some drastic shuffling on the leaderboard. Twenty-five of the 56 pairs that completed came home with more than 20 time penalties; that's 45 percent of the field.
In addition to Phillip Dutton, Boyd Martin and Lauren Kieffer also finished the day with two horses in the top 10 — a very impressive showing at the first selection trials of the year for the U.S. as we look ahead to the 2016 Olympic Games in Rio de Janeiro.
The Shamwari 4 Syndicate's Shamwari 4 returned to the CCI4* level for the first time with Boyd Martin since finishing eighth as the highest placed U.S. horse at the 2014 World Equestrian Games, jumping clear with 5.6 time penalties to move from ninth to fifth (50.9.)
Kentucky-bred Blackfoot Mystery is the highest-placed off-track Thoroughbred after cross country, moving from 34th up to 10th place with just 3.6 time penalties. His performance with Boyd is especially impressive considering "Big Red," owned by the Blackfoot Mystery Syndicate, was one of the last horses on course and battled churned-up, saturated footing.
Lauren Kieffer also had a smashing day and finished both her horses in back-to-back spots in the top 10 on the leaderboard. Team Rebecca's Veronica, the 2014 USEF National CCI4* champion, moved from eighth to sixth place with 7.6 time penalties (51.5), showing Rolex who's boss after retiring on course last year.
Jacqueline Mars' Landmark's Monte Carlo made one of the biggest jumps up the leaderboard, tying for the fastest round aside from Michael Jung. "Patrick" came home with just 2.8 time penalties in his CCI4* debut, and since his dressage score was lower than Donner and Never OutFoxed, Lauren won a two-year lease on a Land Rover Discover Sport as the closest U.S. rider to the optimum time.
With Derek's track proving to be a mammoth challenge and the rain not making the task at hand any easier, it was a good day to be sitting on a Thoroughbred. While she never raced, Caroline and Sherrie Martin's Petite Flower is the highest-placed Thoroughbred after cross country thanks to a clear round with 7.2 time penalties to move from 14th to eighth place (53.9).
In all, 20 Thoroughbreds left the start box, with 19 completing the course and six siting inside the top 20. Speedy OTTB Never OutFoxed moved all the way up from 67th to 19th place with 2.8 time penalties, giving Holly Payne Caravella EN's Biggest Mover Award.
Matt Brown and Super Socks BCF finished the day as the top Rolex Rookies, looking polished and confident the entire way around the course to finish with 10 time penalties to remain in 13th place (56.5.) Fellow rookie Daniela Mougel also had a super round with Cecelia for Mexico, moving from 55th to 24th with a clear round and 14.4 time penalties.
Allie Knowles deserves a big shout out for finally conquering the Rolex cross country course; the Sound Prospect Syndicate's Sound Prospect, another OTTB, looked foot perfect the whole way around and finished with 16 time penalties to move inside the top 20 (66.4).
Looking to pairs who didn't have the day they wanted, Allison Springer and Arthur started cross country in second place but ultimately came to grief at the coffin at the Park Question, picking up 20 jumping penalties at fence 24c. Marilyn Little and RF Demeter were third after dressage but fell at fence 22, the big Tobacco Stripping Barn table, when the mare tired on course.
Colleen Rutledge and Escot 6 also fell at the Tobacco Stripping Barn. Tim Price and Bango had a heartbreaking end to their trip to Rolex when the horse got caught up on fence 28b, the Hillside Corner, just one fence from home, which sent Tim out the side door. Nilson Moreira da Silva fell from Muggle at the big jump into the Frog Pond at fence 7, and Ryan Wood also parted ways with Frankie there. All horses and riders are OK.
Hannah Sue Burnett and Harbour Pilot, who were sixth after dressage, had a super round that was unfortunately marred by an early problem at an open oxer at fence 3. "William" tapped the back rail with his hind legs on landing, giving them 11 frangible penalties to go along with their 13.2 time penalties; that dropped them down to 20th.
Three more pairs had frangible penalties: Barb Crabo and Eveready at fence 24, the Hollow; Sydney Conley Elliot and Cisko A at the open corner at fence 23, the Fox Den; and Panda Christie and Little Leo at fence 8, the Cedar Oxer.
Three pairs retired on course. Ringwood Master stopped at fence 6a, the Creekside Cabin at the first water, and Tiana Coudray called it a day. Kim Severson and Fernhill Fearless were having a fantastic trip until the coffin at fence 24 when "Sparky" said no at 24c at the Park Question, and Kim retired. Mikki also retired Rubens D'YSieux at the coffin after picking up their second runout on course.
Liz Halliday-Sharp withdrew Fernhill By Night, who was fourth after dressage, before cross country but went on to complete her with HHS Cooley, jumping clear with 26 time penalties (37th). Jessica Phoenix, who was 10th with Pavarotti after dressage, withdrew all three of her rides.
Selena O'Hanlon also withdrew Foxwood High as planned and will re-route to Bromont to make their bid for the Canadian Olympic team. Two more pairs withdrew before cross country: Emily Beshear and Shame on the Moon and Lillian Heard and FYI.
Here are more facts and figures from the day:
Just eight of 64 starting pairs failed to complete Derek di Grazia's Rolex course. Forty pairs finished on clear rides; 16 pairs finished with jumping penalties. Seven pairs withdrew before the cross country.
Michael Jung delivered the fastest ride of the day with just two seconds of time penalties. Lauren Kieffer, Lynn Symansky and Holly Payne Caravella were the next three fastest, each seven seconds over.
Of the six riders who started the day with three horses, only Phillip Dutton finished on three clear rides. Phillip moved up a collective 21 places and sits in second, third and ninth going into the show jumping. Another Saturday at Rolex and another strong performance from PDutty.
Phillip Dutton, Lauren Kieffer and Boyd Martin account for seven of the Rolex top 10 rides going into Sunday.
Nine of 16 (56%) starting international pairs finished on clear rides. Thirty-one of 48 (64 percent) U.S. starting pairs finished clear on home turf.
Of six Canadian pairs who started Rolex, just two elected to run today. Kyle Carter and Madison Park moved up 23 spots with a clear round, and Lisa Marie Fergusson dropped just five spots with 20 jumping faults.
Holly Payne Caravella and Never OutFoxed skyrocketed up the leaderboard, moving up 48 spots to 19th by adding just 2.8 time penalties. Lynn Symansky and Donner had a 30-place improvement to 16th by adding the same number of penalties. Daniela Moguel moved up 31 spots aboard Cecelia. Leah Lang-Gluscic moved up 30 places.
Michael Jung has a commanding three-rail lead going into the show jumping. Things get a lot more competitive from there, with five pairs within a rail of second and eight pairs within two rails of second.
Since 2012, the largest lead going into Rolex show jumping was 2.8 points (2013 champions Andrew Nicholson and Quimbo). Since 2012, the cross country leader has won Rolex three out of four times. The only upset came from Michael Jung and fischerRocana FST last year, moving up from third to win on a double clear show jumping round.
The USA isn't dominating the top of the leaderboard. But we are dominating the top 10 with 9 U.S. pairs stacked behind Michael Jung.
Here are more links you need to click on:
Rolex Leaders Break Down Cross Country in Day Three Press Conference
Part 1 of 2 Rolex Cross Country Open Thread, Presented by SmartPak
Part 2 of 2 Rolex Cross Country Open Thread, Presented by SmartPak
Ride Around Rolex with Elisa Wallace and Simply Priceless
Watch Michael Jung and fischerRocana FST's Leading Rolex Ride
And here is the cross country recap from the USEF Network:
Click here for a full photo gallery of every pair that completed the course jumping through the Head of the Lake! We also have to send a HUGE thank you to everyone who came out to EN's 4th Annual Insanity in the Middle Tailgate presented by Amerigo. We'll be posting a full report and photos from that soon. Go Eventing.
#RK3DE: Website, Schedule, Live Scores, XC Ride Times, Live Stream, EN's Coverage, EN's Rolex Guide, EN Tailgate Info, Twitter, Instagram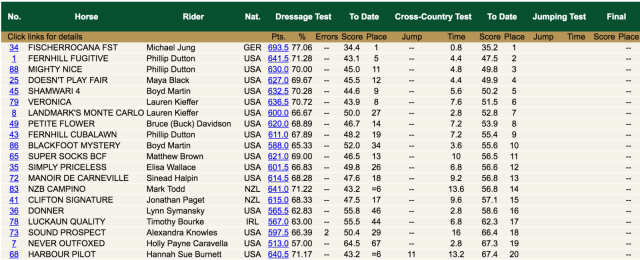 Comments