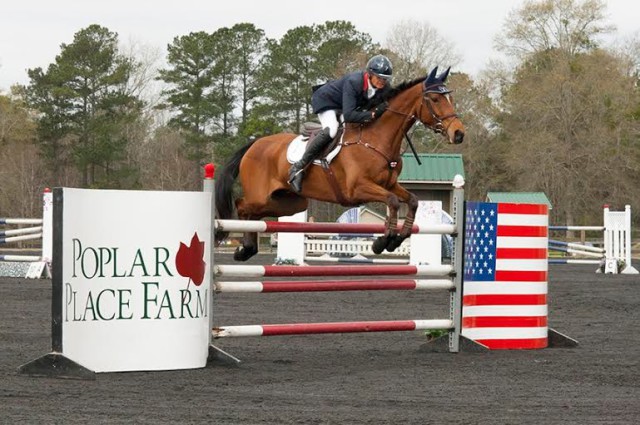 The top three on the board in the CIC3* at Poplar Place remained unchanged after the pairs contested Jan Brodkin's course today. Leslie Law and Tout de Suite jumped with no jumping penalties and one time penalty to remain in the lead going into cross country tomorrow on a score of 40.1.
The CIC3* course was definitely tricky, judging by the scores, as five out of 15 pairs jumped double clear. Second placed Ellie MacPhail and RF Eloquence accumulated four jumping and three time penalties to take a score of 55.0 into tomorrow.
Remaining in third are Julie Richards and Urlanmore Beauty, who added eight jumping faults to their score for a two-day total of 58.6.
Julie's double clear effort aboard Beaulieu's Cayenne was rewarded with a move up the board, from sixth to fourth on a score of 59.3. She'll be racing against herself tomorrow!
Rounding out the CIC3* top five are Werner Given and Vandiver, who were also bumped up the standings after a double clear round today.
15 pairs will move into tomorrow's cross country course designed by Tremaine Cooper.
Poplar Place Farm March H.T. & CIC  [Website] [Omnibus] [Live Scores]
In the Advanced, Jordan Linstedt and RevitaVet Capato moved up from second to first with four jumping penalties for a two-day total of 35.7. Overnight leaders Brittany Kart and Llewellyn picked up eight jumping faults to move them down into fourth place.
Sarah Kozumplik Murphy and Catchascatchcan jumped from sixth to second after a double clear round today, one of just two in the division. This is the German Warmblood gelding's second start at Advanced, and the weekend appears to be going swimmingly for this pair.
Nora Battig and Steppin' Out also moved up, from fifth to third, with just four jumping penalties. The second double clear of the day belonged to Libby Head and Sir Rockstar, who are aiming for Luhmühlen this year, who round out the top five on a score of 39.5.
Cross country should be exciting tomorrow, as less than five penalties separate the top five currently.
Please enjoy this photo gallery from the show jumping today, courtesy of Jessica Lively and WNC Photography, the official Poplar Place photographer this weekend. We haven't been able to positively identify all of the riders, so if you see yourself please email [email protected]. We didn't want to mis-identify anyone!