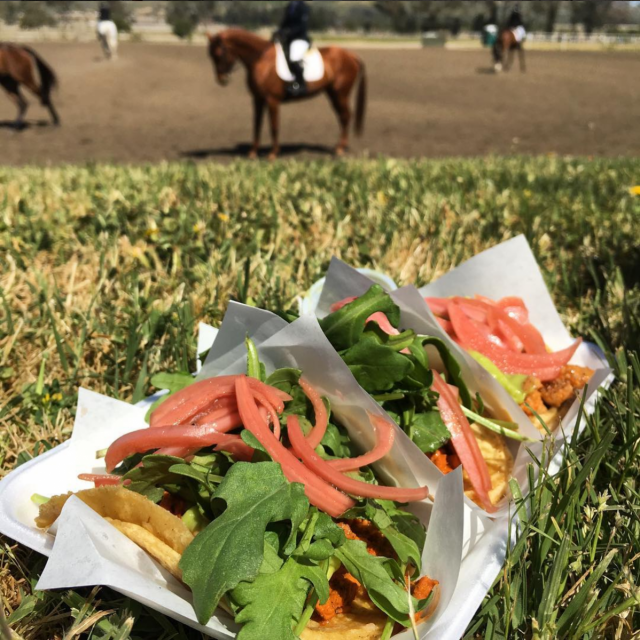 Twenty years ago today an April Fool's Day blizzard dumped snow up the East Coast from Maryland to Maine. My region, Eastern Massachusetts, got the worst of it with a whopping 34 inches. I remember it well because my school district declared a very rare triple snow day! That storm was no joke (pun absolutely intended).
Today on April 1 it isn't really looking very spring-like out my window, but I guess I should at least be grateful that there isn't a full blown blizzard right now. The whole snow day thing is really great as a kid, but now I'm just itching for show season to start. I'm super jealous of everyone in areas whose season has already started — and I'm particularly envious of those at Galway Downs right now with that gorgeous California scenery, lovely California weather, and, oh, FOOD TRUCKS.
U.S. Weekend Action:
Morven Park H.T. [Website] [Entry Status] [Live Scores]
Rocking Horse Spring H.T. [Website] [Entry Status] [Ride Times] [Live Scores]
Full Gallop Farm H.T. [Website] [Entry Status]  [Live Scores]
Texas Rose Horse Park H.T. [Website] [Entry Status] [Ride Times] [Live Scores]
Galway Downs CIC & H.T. [Website] [Entry Status/Ride Times/Live Scores] [Live Stream]
Saturday Links:
Fun, focus and footwork: must-have cross-country riding advice from Lucinda Green

U.S. Athletes Share Their Superstitions Ahead of FEI World Cup™ Finals
'I hope it makes him proud': four-star rider takes on fundraiser in memory of fiancé
Springtime: Equestrian Expectation vs. Reality
Special Shirt, Girth Help Evaluate Horse, Human Interaction
Saturday Video:
Here's a hearty dose of 'Insanity in the Middle' for you.  This drop known as the "Bridge" was an element on course at the CNC 1* in Mafra, Portugal last weekend.
Comments