Karen Teague of Brookby Heights International in New Zealand has already been crowned Sale Ad Queen. She's not afraid to go over the top to prove her sale horses are as advertised. First she showed that Pumba was "good with children" and plastic bags + chickens. Now, she's had a buyer ask if sale horse Kevin is "unflappable." After watching this, we'd say yes.
From Karen: "A prospective buyer asked me if my dear girl Kevin was unflappable and if I had any video graphic evidence of this…. I didn't so we did this. I would say she's quite tolerant….. Love ya Kevin xxx"
Specifically for eventers, the StretchTec Shoulder Relief Girth now comes in two shades of brown to match monoflap jump saddles! Let your horse move more freely and breathe easier by using the same girth as Tamra Smith. See them all here: totalsaddlefit.com.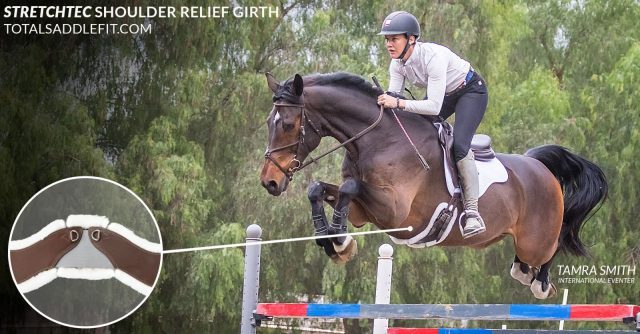 Comments