I am a total trade fair junkie. I love to wander around and buy/lust over/eat/drink all the things. Here are a few of our favorite 2014 Games Village discoveries:
#1. This swanky gear you can't afford.
But it never hurts to dream! I'm kind of in love with these Sergio Grasso custom boots, especially the ones with the national flags done up in Swarovski crystal. WANT.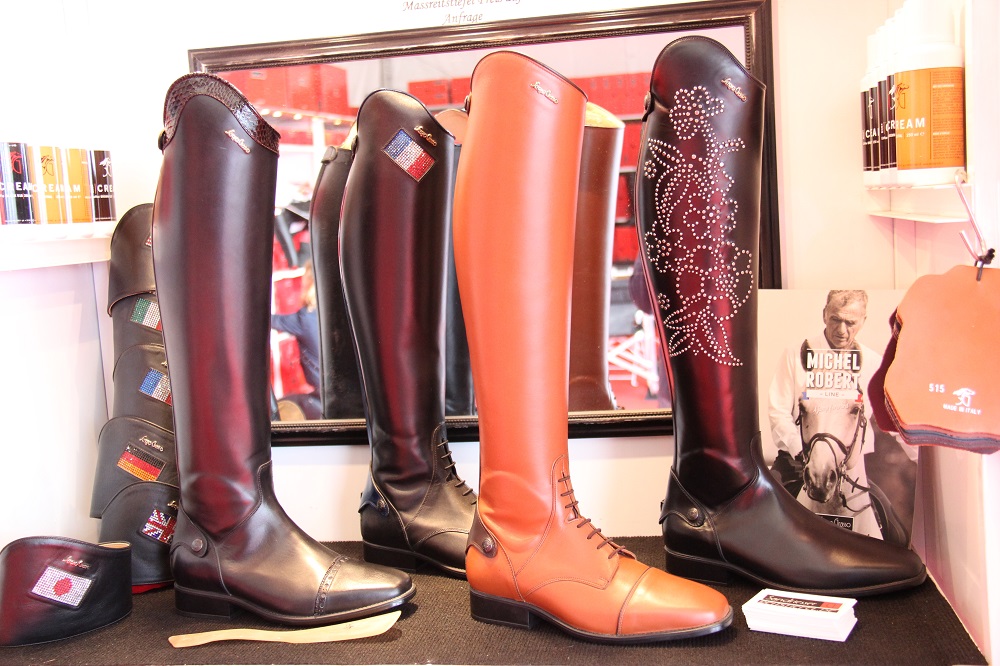 This super-flash shadbelly by Alessandro Albanese also caught my eye, literally. Made of a glistening wool fabric with oversize sparkly crystal buttons and pink accents, it's DQ to the max. Whether you aim to impress judges or just blind them, this will get the job done in spades.
#2. This ridiculous French interpretation of an American diner.
It was kind of adorable, actually. The menu was in French but the decor paid homage to nearly every American cliché in existence from personal firearms to "Happy Days" reruns. The equivalent inverse, an American interpretation of a French cafe, would probably involve mustachioed waiters in berets who delivered baguettes to your table on a bicycle.
We should have known better than to order the "Tacos and Guacamole," which should have been called "Stale Cool Ranch Doritos and Guacamole." The French fries, however, were an ironic win.
#3. This FEI selfie booth.
In a belated attempt to be technologically hip, the FEI has been really big on selfies lately. A couple weeks prior to WEG they released an app called "Horsify Me" that takes your own face and, in an unexpected nightmare twist, blends it with the face of a horse. Because that's not disturbing at all! (I tried it out myself here.)
Anyway, in addition to a iPad station where you could "Horsify" yourself, the FEI's Games Village tent included a "Selfie Stable" where people could dress up like horses. Haven't you always wanted to post a selfie of yourself wearing a creepy horse head mask on Instagram?
#4. This horse-riding simulator.
Sure, a Racewood Simulator costs over $65,000, but unlike your real horse this one will never go lame, refuse a jump (although you can program it to do so if that's your jam) or require costly upkeep.
This girl is test-driving the jumping model over a virtual cross-country course; dressage, polo and racing simulators are also available. According to the website, "The body, neck and head move independently and the different jumping actions are as close as you can get to the real thing." It also includes leg sensors that respond to pressure like a horse and sensors on the bit, saddle and stirrups that will give you feedback on your weight and balance. Um, OK, that's pretty cool. Does anyone have 65 grand I can borrow?
Elsewhere in the Village, there was this life-sized version of that carnival horse race game where you throw balls into a hole and it makes "your" horse jump forward. Except in this case the kids do it themselves, rocking back and forth to get ahead while their parents place bets outside the gate: "If my kid beats your kid, you owe me 20 bucks." Or something like that.
#5. This boozy tribute to Normandy.

Forget milk and honey — this is the land of cider and cheese. (Fun fact: Unlike many parts of the country, Normandy actually doesn't produce much wine.) These photos were taken inside a great big Normandy-themed tent that showcased the region's exports, notably including an apple brandy known as calvados. It's a common custom during meals to take a pause between courses called a trou normand, or "Norman hole," in which diners partake of a glass calvados in order "to improve the appetite and make room for the next course." Hey, whatever you French alkies have to tell yourselves.
The Normandy tent had other stuff too, I guess.
Keep it locked here for much, much more live from WEG throughout the week! Go Eventing.
Comments