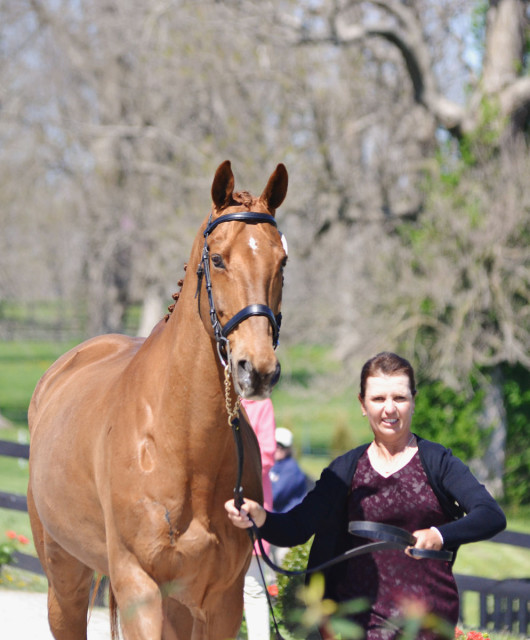 After the Nutrena American Eventing Championships last fall, Debbie Rosen bid farewell to her longtime partner, The Alchemyst, as he headed back East in Laine Ashker's trailer. Debbie had decided to retire her Canadian Sport Horse gelding from upper level competition, and she was entrusting longtime friend Jennie Brannigan to find him a new partner in crime.
Debbie and "Al", who is 15 this year, enjoyed a long partnership at the Advanced and above levels, and Debbie looked forward to handing the reins to someone for Al to assume the role of teacher.
After testing several possibilities for a sale, a new prospective opportunity surfaced when Jennie and Laine sat down to dinner one evening. "Both Jennie and Laine have previous experience with the horse," Debbie said. "Together, they hatched an idea for Laine's working student, Lauren Sherrill, to lease Al."
The situation couldn't have worked out any better if the ladies had tried. Lauren was looking for a horse on which she could gain more experience at the Prelim level.
"When we brought Al home with us from AECs, I got to hack him and watched Laine jump him around," Lauren recalled. "He was just so much fun. I had been looking for something to gain some mileage on, and we'd tried a few others but hadn't really found anything yet. I wanted something that I could make the 'green' mistakes on without killing their confidence."
While Debbie had had several offers for lease homes or sales, she couldn't quite fill the niche she sought. "I didn't necessarily want him to go and be a Pan American Games horse for someone, and he was good for some of the lower level people but I just didn't feel he was ready for that yet."
Debbie had added the option to lease the horse should the right situation present itself. "I never really knew leasing was such a big thing for eventers," Debbie said. "It's a great way for juniors and amateurs to get experience, it just hadn't been something I'd thought of at first."
As luck would have it, The Alchemyst soon found himself on his way to join Lauren in Virginia with the signing of a year's lease agreement. "We just thought it was perfect," Lauren said. "I really wanted something to give me confidence, especially in the jumping phases — a cross country machine. And that's really what (Al) is."
Lauren and Laine picked Al up from Jennie last week, and they've already set out to begin their partnership. While Lauren doesn't have any immediate plans to compete him, she's hoping to eventually step out to the one-star level in the coming months.
"I want to get really confident at Prelim and maybe do a one-star," Lauren said. "I want to do as much as I can and learn everything he has to teach me."
As Al settles into his home for at least the next year, Debbie couldn't be more thrilled with how everything worked out. "He really loves it on the East Coast," she said. "He settled in right away; I couldn't offer him the big pastures and the hacking space here in Los Angeles, so it's the best thing for him."
Debbie is fully supportive of whatever the future may hold for Lauren and Al. "I think longer term (for the lease) is a definite possibility," she said. "The horse goes around Prelim like it's Novice. It just depends on what (Lauren) wants to do. If she wants to step up to Intermediate, I think he could absolutely do it."
Both Lauren and Debbie are thankful for Jennie and Laine's involvement in finding the perfect match for the big gelding. "(Jennie) always only wants what is best for the horse," Debbie said. "Al is going to someone who I trust immensely, and with Jennie's obvious stamp of approval. I couldn't have dreamt of a better way for this to work out."