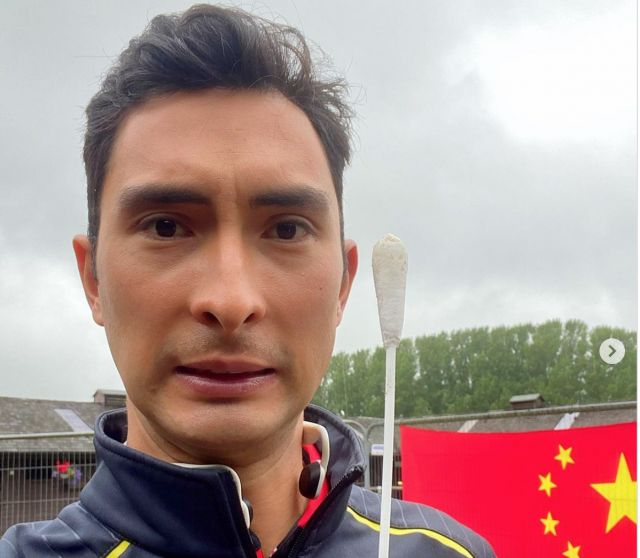 Speaking as someone who's recently had to do like, a lot of COVID tests to travel to Luhmühlen and back to the UK, I fully shuddered when I saw China's Alex Hua Tian post this monstrosity on his Instagram. My horror wasn't particularly assuaged by discovering that it's a swab for the horse, mind you.
Today's News and Notes hones in on a few aspects of Tokyo logistics – from travelling horses across the world to qualifying and getting selected if you're not based in an eventing hub. Plus, we're taking a closer look at the dressage test our eventing competitors will need to tackle, and you'll get the chance to meet some superstar grooms who'll be keeping the show on the road in Japan. Settle in and buckle up, readers.
Holiday: It's Cow Appreciation Day.
Events Opening Today: Town Hill Farm H.T., Five Points H.T., Seneca Valley P.C. H.T., Shepherd Ranch P.C. H.T. II
Events Closing Today: Hunt Club Farms H.T., Olney Farm H.T., Catalpa Corner Charity H.T., Coconino Summer H.T.
News & Notes from Around the World:
Join us in saying goodbye to On The Brash, five-star mount of Kiwi superstar Caroline Powell, who passed away unexpectedly after a bout of laminitis. [Tributes paid to five-star event horse with the 'heart of a lion']
We know you'd love to be a fly on the wall in the British team's quarantine digs. We know, because we feel exactly the same. Fortunately, Alan Davies – head groom to dressage supremo Charlotte Dujardin – has been blogging about the experience ahead of today's departure to Tokyo. [Blog: We Are Travelling to Tokyo]
We're used to seeing a bevy of British-based Kiwis heading to major championships. But travelling reserve Bundy Philpott is one of the rare ones who's still based at home – and she's worked impressively hard to earn her spot. [Team Effort Sees Bundy Tokyo Bound]
Best of Horse Nation: It's that time of year again – no matter what you do, your horse's water trough is probably looking pretty manky. Blitz it for good with these top tips. [8 Ways To Keep Your Horse's Water Tank Clean]
Hot on EN: Get to grips with the Tokyo eventing dressage test – all three-and-a-bit minutes of it – with the help of five-star rider and FEI judge Valerie Vizcarrondo Pride. [Walk Through the New Olympic Eventing Dressage Test with Valerie Vizcarrondo Pride]
Want to get all of the latest Olympic eventing news in your inbox? Sign up for our free Olympic Digest newsletter, sent each Monday and then daily beginning July 28. Upon sign-up, you'll receive a welcome message containing links to any editions that were already released. Sign up here.
Listen: The Eventing Podcast's Hold Box Special dives into Tokyo trip logistics with vets Spike Milligan and Chris Elliott.
Watch: What's it like to travel around the world with Team Price? Pretty cool, as it turns out.
Comments