Venturing to Florida in the winter season carries many benefits, but chief among them is the ample opportunity for learning while you're in the area. An undeniable hotbed of eventing action, particularly in the winter, the Ocala area plays host to a whole array of recognized and unrecognized competitions, clinics, lessons with top pros, and educational seminars. And these aren't just riding opportunities — the US Eventing Grooms Association is also aiming to educate as many riders as they can reach about the ins and outs of immaculate horse care.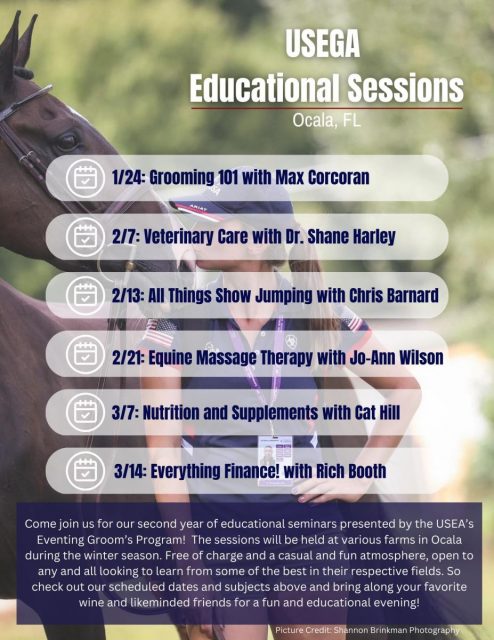 In 2022, the USEGA began offering educational seminars in cooperation with the Event Riders' Association, and this winter those sessions will continue with a full slate of six seminars on the docket. Each seminar will be held at a farm in the Ocala area — best to follow the USEGA/ERA Facebook Group for more updates on where to attend and if there will be any live streaming available. This year's educational seminars include:
January 24: Grooming 101 with Max Corcoran
February 7: Veterinary Care with Dr. Shane Harley
February 13: All Things Show Jumping with Chris Barnard
February 21: Equine Massage Therapy with Jo-Ann Wilson
March 7: Nutrition and Supplements with Cat Hill
March 14: Everything Finance! with Rich Booth
Continuing education is always something we're up for, and EN will be bringing you reports from a few of these sessions — stay tuned for more! Go Eventing.