The team here at EN was deeply saddened to learn of beloved eventer Kim Meier's passing earlier this month. We were honored to make Kim's acquaintance and were lucky that she shared some of her countless stories with us. We'll be sharing some of these stories this week in tribute. Do you have a memory or story about Kim to share? Please send it to us at [email protected].
This story first appeared on Eventing Nation on November 25, 2018.
Today, he is unassuming in his muddy brown coat, yet still the boss of his three horse herd. He lives out like he has for most of his life, a tough son of a brumby. He could have more weight on, but for his human equivalent of 88 ½ years he looks pretty good. He is the reason I wheel down the ramp of my house and up the driveway most every day, to feed him jam on bread. I don't know if I would care to come outside, if not for him. I would be sitting in my chair not moving very much at all. Put simply, he keeps me alive.
On May 2, 1989 (29 ½ years ago), a bright chestnut colt was born to Charisma by Lord Baltimore. I found him just after 11 p.m., all wet, in the makeshift broodmare stall in the garage. For once Charisma hadn't tried to clone herself with a little brown filly like his three older sisters. He had a big fat star and a cheeky look on his face so I called him Bart after the Tracey Ullman show short cartoon The Simpsons, because I like the way the father barked out his name. His real name became Chobalt. All Charisma babies had names starting in CH pronounced like a hard K, and I added BALT from his dad. Cobalt was a shade of blue, and I have never won so much blue than on that little brown horse. Yet, he was most beautiful in the spring when his winter coat shed to reveal a bright liver chestnut like his daddy.
His cheekiness did not do him well during his breaking in, and he did receive his fair share of correction out behind the barn. In the long run, he learned it was easier to listen and do it right the first time, and as a mature horse he was incredibly easy to work with. He started his 4-year old year at training level and took to it like a duck to water.
Midsummer, he had a run in with a burr bush, which manifested itself in the form of an eye ulcer. A week later we were checking him into New Bolton Veterinary Hospital for a fungal infection. At megabucks per day that we didn't have, we scrambled to sell another horse to save his eyesight.
The time had come to sell him, and we found the perfect person with high ambitions and a small stature. His vetting brought to light low ringbone of textbook proportions that the doctor said was a "time bomb." So that blew up the sale and I kept riding him until he won his first Intermediate and then again, his first Advanced. All along the way I had tried to sell or lease him with full disclosure, to no avail. But that was over now, I was getting more good PR every time I won something else with him. Tough luck, rest of the world, you had your chance and he's mine now.
He placed 8th at the three-star at Kentucky and had gotten me noticed by the USET, landing us on the winter training list. I should have gotten the guidance to do the four-star the following year when it began, but I did the three-star again, placing 11th. Everywhere we went, he jumped around easily cross country with a good stadium record. So far, the "time bomb" had not gone off. His dressage was easy as well, when they introduced the flying change he laughed at the horses that couldn't do them. Once we won the dressage by scoring straight sevens, beating a new USET member horse rumored to cost over a half million dollars. Bart's mother, my first Advanced horse, cost $350, add his dad's stud fee of $500. So, he may have been bargain basement, but he could hold his own.
I was conflicted about running a four-star. I knew he was a great three-star horse, but I wasn't sure he could move up. What did I know? I had never run four-star. But in 1999 I filled out the entry for Kentucky and we went to work. My final run was at North Georgia. For the first time ever, he lost his mind in dressage and barely stayed in the ring. His stadium was a combination of rodeo and bowling. He was living up to his cheeky nickname of Nubby, short for Nubby Headed Son of a Bitch.
The first five or so fences couldn't have been better.  Fence six was a bank; on which I had chosen the hard option.  We had to jump up the bank, couple of strides, drop-down on a downhill, then two big strides to a large table which was also set on a big slope. The table also canted slightly right to left. Just as he had forgotten how to do the other two phases, he forgot how to read a fence.
He stalled out on top of the bank and I really dug in with everything I had to motivate those two strides. He jumped down in slow motion, and despite my overuse of natural and artificial aids for a moment I thought he might put in three and bank the table. But he took off in two underpowered steps, slipped on take off and three legs jumped cleanly over the top. The right hind stepped down on the slippery wood and did not grab hold, but scraped from right to left, twisting him into horizontal flight. I, however, remained vertical and the first thing to hit the ground, was my right foot. A split second later, Bart broadsided the turf, pinning my foot underneath him and causing me to rotate right. He hit so hard he bounced, I landed with my right pinky toe and the front of my left shoulder on the ground at the same time. I do not recommend this.
Bart was fine, but my leg x-ray looked like a candy cane. They splinted, and drugged me up and sent me home saying I should prefer having surgery with a local surgeon for follow-up. The 13-hour drive with my head somewhere near the stratosphere landed me back in Maryland. Pins in my dislocated foot and a rod down my spiraled tibia kept me flat on my back in bed instead of riding at Kentucky.
Three months later, Bart and I were going Intermediate for the first time back. If left the box and took an uncharacteristic tug at the first fence. I couldn't stop myself from doing the same thing at the second, an open oxer, which we jumped half of, landing in the middle. Trying to save the day, Bart reared up and backed away from the fence extraditing us. Out of the goodness of his heart, he turned around and jumped the whole thing despite me. The fourth fence was the first combination, and he sensed that I wasn't with him and quit out. I retired, devastated that my own incompetence had possibly ruined him. I stopped competing the remainder of the season, and went into a dark emotional hole.
That winter I had the metal taken out of my leg and was talking to a friend about the lost confidence in myself. I had suffered a trauma, defined by unavoidable, painful, out of my control circumstances. Instead of any normal incident, which dwelled in the front of my brain a short period of time before relocating to the recesses of it, traumatic injury refused to go to the back of my mind, it was always there yelling at me to not jump again because bad things happen when I do. I learned from several event colleagues that it had happened to them as well, and I started making plans to work through it.
I was determined to start the spring season where I left off with Bart. First event back at Intermediate in Florida we started well a solid dressage and stadium. The cross country fourth fence was his least favorite, a ditch and wall. I barreled down to it like my old self and on take off he peeked down and must have dropped a knee, because I hit the dirt on the other side. Again, like my old self, I got right up and chased him down. Without thinking twice. I got on and rode the rest of the course, always hitting the forward distance and not even thinking about taking a tug. We were back!
Next event we were going Advanced again,  then before I knew it I was jogging him up at Foxhall 2000. I admit I was not up to my usual fitness after the last year off, and I got tired toward the last few fences. Luckily my old friend Bart bailed me out and when all I could do was steer, he took over and jumped a huge trakehner. It was if he was saying, "It's OK, I forgive you, it was my mistake too."
Quick look back a year earlier. My 9-year-old daughter Kelly had woken up in the car at 6 a.m. — "Where are we going this weekend?" she asked, while pulling the blanket out from under the dog she had been sharing it with. "Morvan Park," came the answer she didn't like. "Oh man, it's my birthday and I hate Morvan! It's always cold and wet …" she persisted. I agreed about the latter, and no matter how many posters, banners, streamers, etc. I put up on the trailer proclaiming her birthday it just wasn't the same as a party with your friends. "I'll make you a deal, if you stop whining right now, I will give you Bart for your 12th birthday present."It worked, and I had facilitated a very helpful groom that weekend.
In 2001, Bart told me he was done playing the eventing game. He was a little fried from going real fast over really big fences. He preferred going to show jump rallies with Kelly, and he even took her Training level once or twice. He made the mistake of semi retiring sound, and so I decided to finish what I had started long ago with another horse; my USDF bronze medal. Before my first show at 3rd level, my dressage coach Donnan Sharp shook her finger at me and said, "Don't pay attention to those big dumb-bloods, remember, you can out ride everyone there; including some of the judges."
Bart got my 3rd level scores that first time out, and 4th level before the end of the year. Then we were into the cool stuff at Prix St.Georges. Kelly was doing double duty on him in pony club, showing off at 3rd level, and jumping 3'9″ at nationals. She groomed for me when Bart did "ballet," including chasing down a copy of the new PSG test when the tests had changed that year and I realized this while watching the 1st test of my class. I learned the new pattern while warming up and catching glances at the next few horses in the ring. Little nubby did a clean test even though I was trying to remember where to go more than riding well. We placed sixth out of six that first try.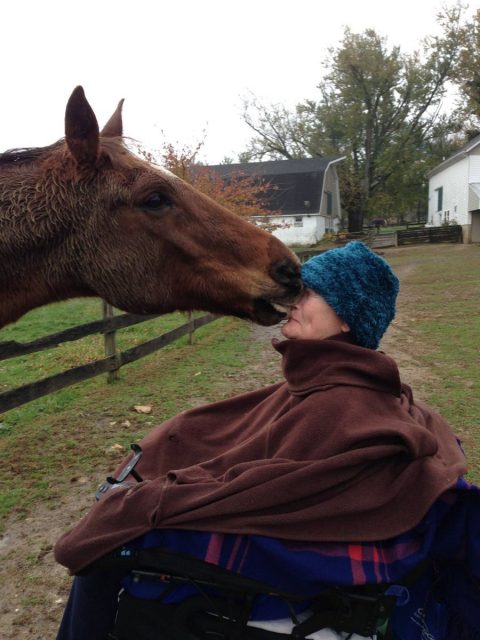 Going to an average of two shows a year made it so we didn't rush to finishing our silver medal, but it happened eventually. My unassuming 15.3-hand, half-Thoroughbred had risen to the challenge against all the warmbloods and made himself into a real dressage horse. He had now done well in two FEI disciplines, when most horses just make it at one. Secretly, I'm delighted he didn't pass his pre-purchase exam at 5 years old.
His only job now is to give beginner lessons to some kids who adore him, and to try to keep weight on, despite the fact he has very few teeth left. He makes me happy when he takes the peppermint from my lips each day and gives me a big sloppy kiss with his tongue. He is the reason I wheel outside with soft cooked apples and carrots to appease him every day. I am thankful I have such a cool horse in my life. I am thankful I still have Bart.