Sometimes dressage days feel relaxed and leisurely; just one seven-minute test after another, the faint strains of Dua Lipa less pumping, more weakly trickling out of the smattering of speakers. When dressage consists of two days, two three-stars, and just shy of 180 tests, it can feel more like a marathon sprint. The sensory overload is replete with an autumnal chill, a draping of fallen leaves, and the inexorable thrill of watching some of the world's best horses at work. Somewhere in the distance, the ghost of Churchill prowls, looking stern and ending wars, maybe. Maybe not. Either way, there's no better place in the United Kingdom to usher in a new chapter. Today, that's exactly what we saw for one major four-star contender and an Olympian on the comeback trail.
King Moves in on the Kingdom of Ker
Though the top two spots on the leaderboard remained unchanged after yesterday's dressage, with Bella Innes Ker and Carolyn heading the class, Kitty King produced the goods with her Rio Olympics mount Ceylor L A N. The 11-year-old Dutch Warmblood, known at home as Sprout, has had a quiet couple of years since his trip to Brazil, but has since re-established himself at the very top of the sport, taking fourth place at Luhmühlen CCI4* in June and ninth at Hartpury CIC3* last month. There, he posted an incredible 22.3 in this phase. Today, he earned a 27 in a class that Kitty remarked was quite harshly marked.
"I'm really pleased with him," said Kitty. "He's obviously quite established at this level, but we just made a silly mistake in the second change — he just got a bit ahead of me, because sometimes he thinks he knows what he's doing better than I do! He did some really nice, positive work, but I was pleased with my horse yesterday and ended up disappointed with his score, so you never quite know."
Kitty and her first ride, Vendredi Biats, currently sit in 9th place on yesterday's mark of 29.6. The talented grey incurred 20 penalties on course last year at the highly influential coffin, and Kitty hopes to put those demons to bed this time around. But, she acknowledges, she'll have a big task ahead of her: "There are plenty of places to have run-outs. It's not that different to last year's course, but it asks plenty of questions. The corner at 4 will come up fast if horses are running a bit keen, and then there's another corner not too far along. The coffin caused carnage last year, and it's not been changed much this year, so that could be interesting. I thought he might have changed it a bit more — that'll definitely be a test!"
World number one Oliver Townend and up-and-comer Ulises produced a consistent and precise test to score 28, leaving them in fourth place overnight. The Spanish-bred horse might not be in Oliver's first string, but he's no new face at the level: he was previously campaigned by Andrew Nicholson, who debuted him at three-star in 2015, and who sent the horse to Oliver as part of a mass exodus following the major accident at Gatcombe that left him fighting to sustain his career. Though he didn't have any international runs last year, he's produced the goods on three occasions this season, with top ten placings at all of his three-star runs, including a win at Chatsworth CIC3* in May.
Former Junior team bronze medallist Richard Coney made a surprise entry onto the leaderboard with Kananaskis, who delivered a 28.7 to sit in equal fifth position with William Fox-Pitt and Oratorio. Richard and Kananaskis have amassed an impressive string of international results this season, never placing below 6th and adding just 9.2 time penalties across all four competitions. The pair finished seventh at last year's Junior European Championships and thirteenth the year before. This is a CCI3* debut for both horse and rider, so we'll be watching them closely across tomorrow's cross country phase to see what they're made of. We quietly suspect it might be rather a lot.
Despite an error of course, Will Rawlin and VIP Vinnie sit in 7th place overnight on a score of 29.3, while Alex Bragg and Zagreb round out the top ten after rerouting from an early tumble at Burghley.
"He felt great, although he always seems to get electric in that arena," says Alex. "I think it's because the arena itself is so far from the stands, and so sometimes they go in and seem to lose themselves in all that space, like they're still working in the training area. Then, suddenly they realise where they are and they light up, which can be tricky to manage. There was a microphone at H, and he spotted it and spooked just as we were going into our walk transition, so that was a bit tricky too, as I then had to release the reins and trust that he would walk on nicely. We got away with that, but then some of the tension crept in when I picked him back up for the collected walk, so we dropped a few marks there. Without the mistakes, I think we'd have been around the 26 mark, but in a way, the dressage isn't that different from the showjumping — you're either clear, or you have errors. We didn't manage a clear round today, but we're still there or thereabouts."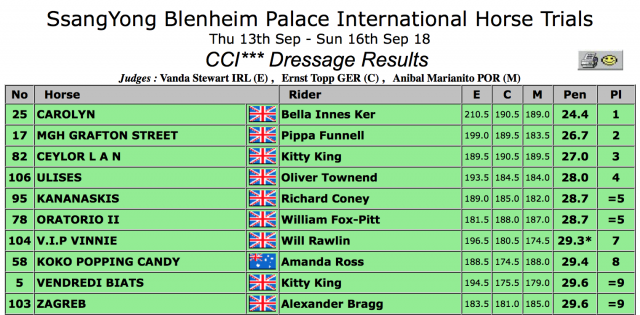 CIC3* Gives Alex a Reason to Brag
Nobody could usurp James Avery and Vitali's claim to the throne in the eight- and nine-year-old class, but Alex Bragg came closest, posting a 26.4 for second place with Shannondale Percy, with whom he's been quietly developing a new partnership.
"It's been a really interesting season with this horse, because we've still been trying to progress him through the grades while I try to develop a partnership with him at the same time," he explains. "We ran him gently at some early three-stars, where he jumped super, and it gave him an idea of the expectations of him coming into the autumn. We reaped the benefits of that approach today. We were hoping for a sub-30 score, but if things go your way and all the pieces fall into place, you can really get the marks that reflect the level you're working at at home. He remained rideable today, which meant that we didn't throw any marks out; if you make sure you're not throwing anything away and you remain consistent, you suddenly find yourself in a very competitive position, and that's what happened today. It's brilliant to be here at this point in the competition."
Laura Schroter and Willem Van Wup slipped into third place on 27.1, while Laura Collett's Blair ERM mount London 52 tailed yesterday's mount Dacapo to take fifth place.
"London 52 is still green, but he tries so hard all the time," says Laura. "Both of them are exciting horses, but this class wasn't a definite plan for their autumn — we had it penciled in, but neither of them had done an Advanced this spring, so it was a big step up to look ahead to. It's just so nice for Karen [Bartlett, London 52's owner] as she's been working at Blenheim for about 15 years, but she's never had a horse here — so to finally have one, and for it to be one that's so special, is very cool."
"Just Wow": a Sneak Peek at the Cross Country
We'd hate to be accused of being shallow, but David Evans really does build and dress a beautiful course. Blenheim is as much a feast for the eyes as it is a serious test of boldness and accuracy, and creatively nestled as it is within the grounds of Winston Churchill's former estate, it's a season highlight for riders, owners and spectators alike. Australia's Amanda Ross has put together a preview of the course with some of her own notes about how to ride the combinations — click here to take a look around the tough CCI3* track. This weekend's competition will be live-streamed; you can follow along with both days of cross country action here.
Blenheim Palace: Website, Start Times & Scoring, EN's Coverage, EN's Twitter, EN's Instagram
Comments