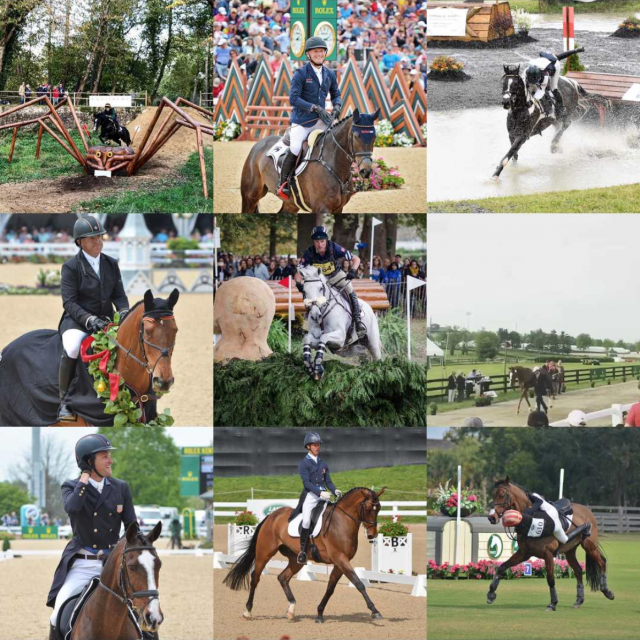 #2017BestNine collages have become a fun way for Instagram users to celebrate and look back on a year that was. Following along on Instagram is just one of the many ways that we here at EN get you up close and personal with eventing action around the world. We love sharing the moments we have captured and bringing you as much insanity in the middle as possible!
You can easily create your own collage on 2017bestnine.com just by entering your Instagram username. If you aren't already, make sure you follow along with EN as we head into the 2018 season!
Let's take a trip down memory lane and revisit your most-liked 'grams of 2017:
#9: Woodge Fulton's save of the day at the Wellington Eventing Showcase
Captain Jack's hind legs just clipped the top of one of the fences on course at the Wellington Eventing Showcase back in February and popped Woodge Fulton right out of the tack — but she was not about to give up! Woodge channeled a spider monkey as she dangled from her horse, but managed to scramble back on board and power around the rest of the course. EN's Kate Samuels captured the moment which garnered 2,003 "likes."
#8: Clark Montgomery and Loughan Glen strut to the lead of the Kentucky Three-Day Event
EN fans freaked out and liked this picture 2,011 times after Clark and Glen threw down a 33.6 to top the leaderboard after Friday's lunch break. Oh, and in doing so they bested Ze Terminator's score of 37.1. Now that's some good fancy prancing! Clark and Glen hung on to the lead through the remainder of dressage and led going into cross country, which sadly didn't quite go their way, but this photo is a great reminder that this pair is capable of hanging tough with the best in the world.
#7: Boyd Martin plays to the crowd
"I can't hear you!" mimed Boyd Martin as the crowd cheered after his test with Steady Eddie at Kentucky Three-Day Event. Jenni Autry captured this shot of Boyd hamming it up and, ever the fan-favorite, it was liked 2,059 times.
#6: Phillip Dutton's celebratory heel-click
This video, captured by the good folks at Horseware, was viewed 8,317 times and got 2,242 likes making it the top viewed and liked video on EN's Instagram. Phillip Dutton celebrated Mr. Medicott's acceptance by the ground jury after the second horse inspection at Kentucky with a joyous (and agile) heel-click.
#5: Rest in peace, Crackerjack
2,258 of you helped us send our condolences to Crackerjack's team and connections after his tragic accident at Pau.
#4:  Reggie's retirement ceremony
Cassie and Carl Segal's Ballynoe Castle RM, better known as "Reggie," was retired in a heartfelt ceremony on show jumping day at the Kentucky Three-Day Event. Ridden by Buck Davidson, Reggie had achieved the honor of highest scoring US event horse of all time! 2,426 of you congratulated Reggie along with us by liking this photo.
#3: Cornelia Dorr avoids a dunking Jersey Fresh International
It was a very rainy cross country day at Jersey Fresh International this year and Cornelia Dorr made it all the more exciting by nearly taking a swim. Her long-time partner Sir Patico MH took an awkward stride after landing and jolted her out of position, but she hung on tight and bounced back into the saddle and the pair finished the track double-clear. This impressive save garnered 2,443 likes!
#2: That feeling you get when you win the Kentucky Three-Day event three times in a row
What, you don't know that feeling? Michael Jung sure does and he flashed that adorable smile of his after his show jumping round with fischerRocana FST clinched them the three-peat victory. Michael and Rocana proved to us once again this year that they are king and queen of Kentucky. Your 2,453 likes on this picture gave us a good feeling.
#1: A fence straight out of your nightmares
Tilly Berendt was EN's boots on the ground at Le Lion d'Angers in France and captured this shot during the six- and seven-year-old championships. This giant spider was just one of many exceptionally decorated fences on Pierre Michelet's whimsical course. EN readers are either bunch of arachnophobes or really appreciate the creativity of this fence (or both) because this photo was liked 2,675 times!
Thanks for following along through 2017. You better believe we'll be bringing you more insanity in the middle in 2018!
Comments