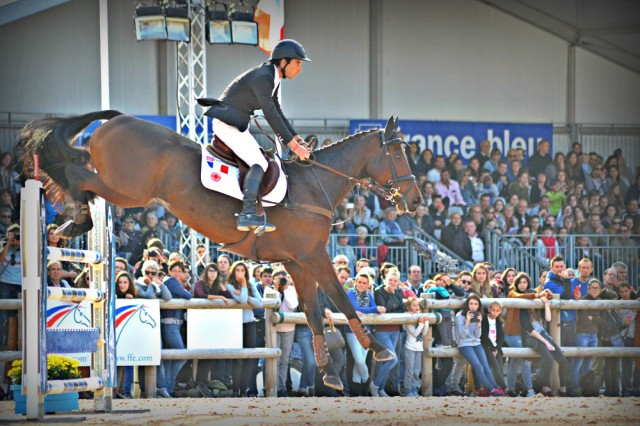 It's always fun when the home team wins, especially when the home team is as wild about eventing as France. Astier Nicolas and Piaf de B'Neville were in third position heading into show jumping but when first- and second-placed Michael Jung and Emily King had one c'est la vie rail down apiece, it was Astier for the win.
Astier has had the ride on the 12-year-old Selle Francais gelding for five or six years, he says. This is the pair's second outing at the four-star level — they placed 9th at Badminton in 2013 — and their first win since the under-25 CCI3* at Bramham in 2012.
"I've been waiting for this moment for a long time," he said afterward. "Even when I was young I dreamed about this victory."
Michael says he was happy with fischerRocana's performance, despite the unlucky rail.
Tim Price and Wesko of New Zealand snuck past Emily with their double-clear round for third.
Emily came fourth, and it's been a pleasure to witness her poise and positivity throughout the week. If she can pull off a fourth-place finish in her first four-star at age 19… watch out.
And Karim Florent Laghouag and Entebbe de Hus, also French, rounded out the top five. Check out the kick on this one!
It's great to see the French having such a confidence-building week, not only because they're on home turf but because the team has had such a battering ram of a year.
The United States, on the other hand, has had a battering ram sort of a week here at Pau. When I talked to Chef d'Equipe David O'Connor, however, he sounded positive. There were mistakes, he said, but there's only one way to gain mileage and experience on the overseas playing field.
Canada's Rebecca Howard with Riddle Master and U.S. torchbearer Katie Ruppel with Houdini had one rail apiece to finish in 22nd and 33rd respectively.
They kindly spoke with us after their rounds, recapping both today's show jumping and their weekend at large.
Well-done to both riders, and safe travels to all on their journeys home. We've got a few more Pau odds-and-ends left to wrap up (including but not limited to a recap of the zany awards ceremony) before we head out, so check back soon!
Pau CCI4* final top 15:
Go Eventing!
Pau Links: Website, Entry List, Schedule, Live Scores, Live Stream, FEI TV, Facebook, @eventingnation, EN's Instagram
Comments