Welcome to the second session of dressage at the 2019 Land Rover Kentucky Three-Day Event! Our last rider before the lunch break was Switzerland's Felix Vogg, who stormed into the lead with our only sub-30 score of the morning. His score of 28 with Colero sets the benchmark for this afternoon's riders, who include two-time Adelaide winners Hazel Shannon and Willungapark Clifford and fan favourites Lillian Heard and LCC Barnaby. First in will be Kiwi Joe Meyer and Johnny Royale. They head down the centreline at 1:00 p.m.
Need a refresher on our leaderboard so far? Here's where this morning's horses and riders are sitting: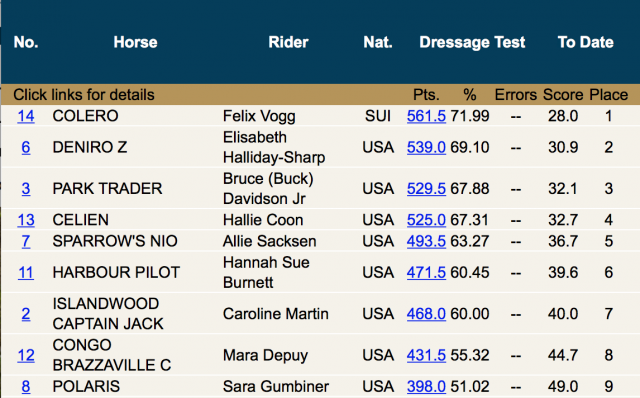 Check out the rundown of this morning's action from the live thread, and look through today's dressage powerhouses with stats from Maggie Deatrick. Onwards!
#LRK3DE: Website, Schedule, Entries & Drawn Order, Live Scores, How to Watch Live, USEF Network, Horse & Country TV, EN's Coverage, EN's Instagram, EN's Twitter
3.25 p.m.

3.14 p.m.
3.12 p.m.
3.11 p.m.
3.10 p.m.
3.09 p.m.
3.04 p.m.
Here's your top ten after the first day of dressage! We'll be back tomorrow morning at 10.00 a.m. for a stonking day of dressage action. Stay tuned for the full report!
3.02 p.m.
Learn about the heart of a horse at #LRK3DE with @hylofit ❤https://t.co/f0yzo35kUz pic.twitter.com/eWursq7ZKc

— U.S. Eventing (@USEventing) April 25, 2019
3.00 p.m.
He won't – it's a 34 for Jak My Style and Buck Davidson, which is good enough for fifth overnight. That's our last rider for today – at the end of the first day of competition, Felix Vogg and Colero remain in the lead on 28, our only sub-30 score of the day.
2.57 p.m.
A nice, if conservative, stretchy circle and two good changes from Jak. Buck scored a 32.1 earlier on Park Trader – can he beat himself?
2.56 p.m.
Jak has a tendency to bend through his neck in the extension – though this might be a defensive technique on Buck's part to avoid any shows of over-exuberance!
2.54 p.m.
This is the second of Buck's three rides this week – he's the only rider to have three entries. Idle hands, devil's work, and all that!
2.52 p.m.
36.2 for Caroline and Danger Mouse – a shame to see some slightly interpretive flying changes knock their score down. Buck Davidson is heading into the ring now with Jak My Style, who had a very short-lived career as a racehorse before turning to eventing. So short-lived, in fact, that he never actually made it to the track – he was too busy putting exercise riders on the floor! Read more about him here.
2.48 p.m.
Danger Mouse is a big, rangy mover, but this can be his downfall a bit, too – he can drift slightly with his quarters, and at this level, straightness is paramount.
2.45 p.m.
Caroline and Danger Mouse spent a couple of months in the UK last season as recipients of the Karen Stives Grant. This big-moving horse impressed in the ring over there, too.
2.44 p.m.
Just two riders left, and they're busy bees – both of them have already come down the centreline today. First up is Caroline Martin, who was our trailblazer this morning – this time, she rides Danger Mouse.
2.42 p.m.
A big cheer for – and huge celebration from – debutante Chris Talley as he finishes his test with Unmarked Bills! They score 42.
2.41 p.m.
2.39 p.m.
The walk work started well for Unmarked Bills, who has a lovely, lofty overstep. Unfortunately he broke to canter early, though looks to have resettled well now.
2.36 p.m. 
Next up is Chris Talley, who rides Unmarked Bills. Yesterday, Chris honoured his late grandmother with his trot-up outfit, which was embroidered with daisies – her favourite flower – and featured the word 'love' in her handwriting along the lapel.
2.35 p.m.
40.9 for Lisa Marie Fergusson and Honor Me – just outside the top ten at this near-halfway stage.
2.33 p.m.
There'll be a few marks lost in the stretchy circle – Lisa Marie and Honor Me showed some nice steps but not quite enough to really grab those good marks.
2.31 p.m.
Honor Me is looking a bit stilted in the walk – but he makes up for it by moving forward nicely into the extended canter.
2.30 p.m.
Max Corcoran wears many hats in the eventing community and is soon to step into a new role as @USEventing President. @jenniautry caught up with her today to talk about her transition into this role! #USAEventing pic.twitter.com/A7gf3MyGii

— USEF Network (@USEFNetwork) April 25, 2019
2.29 p.m.
Our first Canadian is in the ring! Lisa Marie Fergusson rides Honor Me, a Thoroughbred x Welsh Cob.
2.28 p.m.
Wow, 10 years ago today Lucinda won @KyThreeDayEvent! Here's a great film to mark the occasion. What wonderful memories of such good times with dear Brit / Headley Britannia! #LRK3DE #HeadleyBritannia #Eventing pic.twitter.com/KKBiva3qFc

— Lucinda Fredericks (@LucindaFred) April 25, 2019
2.27 p.m.
Ellen is our second rider of the day to sport her Pony Club alumnus pin. Go USPC!
2.26 p.m.
The final centreline in this test is pretty tricky – our riders have to perform a down transition from canter to trot on the centreline, and we've seen plenty anticipate the halt and then produce a stilted, slightly hollow trot. Obie is one of them – but he recovers quickly and relaxes well into the final halt. They've scored a 36.4 and move into 7th!
2.25 p.m. 
Some really pleasant canter work from Ellen and Obie – we're seeing lots of stretch in the stretchy circle.
2.24 p.m.
"The test rewards forward riding," says guest commentator Doug Payne, whose mother Marilyn was in charge of writing it. This is great to see, as John Kyle notes – we reward forward riding on the cross-country, so to do the same in dressage allows us to work with the horses, rather than against their ingrained instincts.
2.23 p.m.
2.21 p.m.
And we're back! We've got five horses in the final session of today's dressage at Kentucky. First up is Ellen Doughty-Hume's Sir Oberon, who holds the unique accolade of having been part of a wedding – Ellen got married at the Head of the Lake here a few years ago.
2.20 p.m.
2.16 p.m.
Deniro Z and Liz Halliday scored 30.9 at @KyThreeDayEvent
Only one winner has ever started above a score of 30 in the first phase. Mary King & Kings Temptress in 2011 with a 31.8 dressage. #AskLRK3DE

— EquiRatings (@EquiRatings) April 25, 2019
2.15 p.m.
2.06 p.m.
1.40 p.m. 
One more session to go for day 1 of #LRK3DE dressage. Here's your leaderboad so far: pic.twitter.com/zLdkom3Vyw

— Eventing Nation (@eventingnation) April 25, 2019
Here's your current top ten at the judging break – we'll be back at 2.20 p.m. as Ellen Doughty-Hume and Sir Oberon kick off the final session of the first day of dressage here at Kentucky!
1.38 p.m.
Huge hugs for Cecilia after a PB of 35.2!
1.36 p.m.
Hazel Shannon from AUS on Willingapark Clifford a chestnut TB gelding. #LRK3DE pic.twitter.com/GTyaWVeifA

— Equine Info Exchange (@EquineInfoEx) April 25, 2019
1.34 p.m.
Wow! This mare has some seriously flicky toes. She looks like the sort of clever mare who really enjoys what she does. A nice pair!
1.32 p.m.
Our last rider before the coffee break will be our sole Mexican competitor, Daniela Moguel, who rides her New Zealand-bred mare Cecelia. It's great to see Mexico represented on the main stage here!
1.30 p.m.
35.3 and into fifth for Will Faudree and Pfun!
1.28 p.m.
Slightly flamboyant behind in the changes for Pfun! But Will is a consummate professional and, despite a slight lack of harmony, he's not leaving any points behind for accuracy.
1.24 p.m. 
Next up is a man whose initials have surely been scrawled inside hearts in many fans' diaries (do people still have diaries?). It's Will Faudree and Pfun. This is the first horse we've seen in a double bridle today.
1.23 p.m.
39 for Hazel Shannon and Willingapark Clifford – not quite what they, or we, were expecting! But it's good enough for sixth at the moment, and there's always room to climb.
1.22 p.m.
1.21 p.m. 
Some slight hollowing going into the changes, but Willingapark Clifford still produces the goods – they're clean and accurate and should deliver safe scores.
1.20 p.m. 
Willingapark Clifford can be quite a tense horse, but he's not shown any of that so far – his canter half-passes are among the most cadenced we've seen today. Hazel is cool as a cucumber and super accurate.
1.17 p.m.
Nice start to their test for Hazel and Willingapark Clifford, who average a low-30s mark. Hazel is very keen to get on the radar of the Australian selectors – this is her first time competing this horse outside of the southern hemisphere. She added a formidable string to her bow over the winter in the form of Cooley SRS; we'll be looking forward to seeing her results with Oliver Townend's Badminton runner-up.
1.16 p.m. 
1.15 p.m.
39.7 for Lillian Heard and LCC Barnaby! Two-time Adelaide winner Hazel Shannon is next in the ring. "The grass is a lot greener here," she laughs.
1.14 p.m.
Anyone in the market for a Thoroughbred? Here you go:
Come meet Alltheleavesrbrown while you're in town for the Land Rover KY 3-Day Event! The MMSC is open all weekend, and we're located INSIDE the @kyhorsepark!

More about Brown: https://t.co/t8swq17A55#LRK3DE #OTTB #AdoptDontShop #RideARacehorse pic.twitter.com/M3O8meYeqN

— Secretariat Center (@mmsc04) April 25, 2019
1.11 p.m.
Lillian is based with fellow competitor Boyd Martin in the Pennsylvania eventing mecca. We're seeing some positive work in the ring at the moment.
1.08 p.m. 
"We need an American to win it," says Phillip Dutton. Phillip, of course, was our last home winner here – he took the title in 2008.
Next in the ring is Lillian Heard and LCC Barnaby, who made their debut here in 2016, jumping clear. They also completed Burghley last year, so this is certainly a pair to keep an eye on.
1.07 p.m. 
It'll be a 44.4 for Johnny Royale and Joe Meyer – we saw the horse really start to relax and work well in the stretchy canter circle, which can be a fiendishly tricky movement on a horse affected by atmosphere.
1.06 p.m.
Great shot of our leaders!
1.05 p.m.
"It's a real accuracy test, which tests your training and your accuracy. There's a lot on the centreline which really shows any inaccuracies to the judges," says Phillip of this test, which asks a lot of big questions.
1.03 p.m.
"It's hard to prepare a horse that's never been at this level before," says Phillip Dutton from the commentary box. "You really have to trust in the training."
Joe is working hard to get Johnny Royale to feel a bit bolder – they're looking a bit stuck in some movements but we're seeing some good, tactful, nurturing riding.
1.00 p.m.
And they're off! Joe Meyer and Johnny Royale have a little wiggle in their entrance and halt, but this is a debut at this level for this horse – so a little bit of buzzing is to be expected. We're seeing some nice trot work from the gorgeous grey now.
12.57 p.m.
Colero's 28.0 is a new personal best for the horse at the 5* level. It also happens to be spot on the number @EquiRatings has thrown out for the winning final score. @VoggEventing @KyThreeDayEvent #dressagedayone

— Eventing Nation (@eventingnation) April 25, 2019
It will also very likley be the overnight leader and probably still in the top three going into Saturday – with only Z, Quarrycrest Echo and (maybe) Testerleg able to get near him. #FabFelix

— EquiRatings (@EquiRatings) April 25, 2019
12.45 p.m.
We're running our Kentucky Top Dog contest again this year, in conjunction with World Equestrian Brands. Submit your pooch pics to win a set of Equilibrium Tri-Zone Impact XC Boots! Check it out here.
12.43 p.m.
No judgment from us.
I called in sick. And, I shall remain sick until the completion of #LRK3DE.

— Dee D., PhD (@Square_Halt) April 25, 2019
12.42 p.m.
Our very own Jenni Autry is expertly wielding a mic by the collecting ring to chat to riders as they finish their tests. Here's what current leader Felix Vogg had to say…
At the lunch break @VoggEventing 🇨🇭 leads dressage at #LRK3DE after breaking into the 20's. @jenniautry caught up with him after his ride to get his thoughts on his test and cross-country! pic.twitter.com/Ksp5WR7gbK

— USEF Network (@USEFNetwork) April 25, 2019

Comments