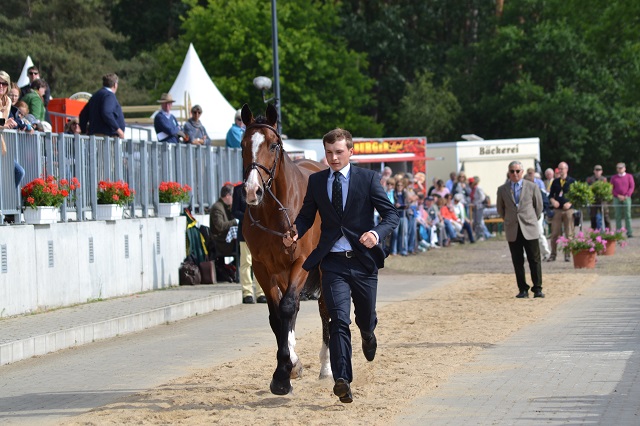 Niklas Bschorer ran away with the reader voting for our 2015 Stickability Awards, and we caught up with this up-and-coming German rider to learn more about his heart-stopping save at Badminton aboard Tom Tom Go 3.
Nik and Tom Tom Go 3, a 13-year-old Holsteiner gelding owned by Tristan Bschorer, were contesting their first CCI4* at Badminton this year, and their dressage score of 42.1 put them into eighth place heading into cross country. Unfortunately, they ran into trouble early on at the main water complex.
"Jumping into the big lake, I drifted a bit to the left and the distance from the drop to the step up was too far," Nik recalled. "He tried his heart out; he got one leg up and stumbled and there was just no way he could have jumped the fence."
Nik hung on with everything he had as he nearly toppled off the side, all while struggling with an inflated air vest. (If you've ever tried to ride with a vest that's inflated, you know how exceedingly difficult it is!) "It took until I was going back to the stables for it to deflate; it took a bloody long time!"
Nik doesn't remember exactly what was going through his head in the moment, but he knows he did everything he could to stay on his horse. "To be honest, it was so quick," he said. "It's a reflex — you just try to stay on and not fall off."
Badminton was definitely the biggest challenge Nik and Tom Tom Go 3 had faced in their career so far, and while they ultimately retired later on course, Nik is proud of his accomplishments and can't wait to get back out there and take another crack at the event.
"We bought (Tom Tom Go) as a 5-year-old stallion from a show jumping yard in Germany. I was young when we bought him and so I couldn't ride him at the time, so we gave him away to a friend who did some work with him," Nik said. "I got him back when he was 8 and produced him myself through the one-, two-, three- and now four-star levels."
After Badminton, the pair bounced back to get a four-star completion under their belt, finishing ninth in a competitive field at Luhmühlen. "He's 13 now so it's taken us perhaps a bit longer than some others to get where we are, but our hard work is paying off," he said.
Nik primarily worked with his father, Wolfgang, for training in the past and also spent some time with Chris Bartle before moving on to his current position with Mark Todd. The biggest lesson he says he's learned from Mark is the importance of staying quiet and relaxed.
"At home, it's mostly about staying quiet," Nik explained. "Mark has so many years of experience, so walking a course with him, he knows every approach and how to jump every fence, but at home it's focusing on keeping relaxed."
Nik hopes to make a return to Badminton in 2016 — and hopefully keep his airvest deflated this time! "Hopefully we will go to Badminton again, only not make the same mistake again," Nik laughed.
Let's once again relive the best save of 2015:
Comments