EN's coverage of the Maryland 5 Star is brought to you by Kentucky Performance Products. KPP is our go-to for all things nutritional when it comes to supporting our horses and their healthier selves. Managing horses is a challenge, but KPP makes it simple — and they treat you like a horse owner, not just a customer. You can learn more about KPP by clicking here.

If you put Oliver Townend and Cooley Master Class down as your pick to win this weekend, you'd be on the right track out of the gate after the British Olympian waltzed in to earn a 21.1 — a personal FEI best by a decent margin for the 16-year-old Irish Sport Gelding owned by Angela Hislop — and easily slot into the day one lead here at the Inaugural Maryland 5 Star.
"It would've been much easier to nip across to France," Oliver joked after his ride when asked why he'd chosen to come here to Maryland for the first time. "We're just hugely grateful to Maryland, Fair Hill and the organizing committee. It's a very brave move to put a five-star on in these times that we're in and I just wanted to show my huge support for them. To put a five-star on, you need the good competitors to come and support you and that's why we're here. We want to support Maryland and we want to make it a great event."
"He's 16 years old now, and it's very rare that a 16 year old gets better but he's definitely improving as the years go on," he continued about Cooley Master Class (Ramiro B – The Swallow, by Master Imp). "He's obviously had a quiet couple of seasons with (coronavirus) and what not, but I couldn't be happier with him."
Cooley Master Class seems to relish these long trips away from home, Oliver says, and through their decade-long partnership "Coolio" has become a close friend of his. "He's a real character," he said. "I know that everybody says that about their horse, but he's a real character in the nicest sense, really. He's very, very special and he's very, very cheeky but he's a professional as well. He's a very good friend. I think he's got some similar characteristics to me — not that you'll see them in front of these cameras! — but at the end of the day he's a high-class athlete and a very good friend."
Second with the very experienced Harbour Pilot (Cruising – Shannon), owned by Ms. Jacqueline Mars, is Hannah Sue Burnett, who tied with Lynn Symansky and debutante horse, the Donner Syndicate's RF Cool Play (Condors Champion – Roxana, by Radscha), on a score of 28.0.
Hannah Sue said sometimes knowing a horse so well and having the prep go well can almost lead to more pressure when it comes time to actually go and compete. "Today he was so quiet and reliable, so I was like 'alright I better not screw this up — it's all here for me to lose!' But I felt pretty good about it. There's always improvements that could be made but he was perfect."
The newly-constructed grandstands here, despite the fact they weren't overflowing with spectators today, created quite a fishbowl type of atmosphere, leading many riders to compare it to a Badminton or Burghley (and yes, they're drawing the same comparisons about the cross country!). Generally speaking, though, most horses kept a lid on — as Hannah Sue put it, "he was like, 'Oh, you brought me somewhere worthy of me!'", some even using any reaction to the atmosphere to their advantage to coax bigger movement from horses who were feeding off the energy in a positive way. "(Harbour Pilot) felt relaxed but also impressed and excited, so it was good," Hannah Sue said.
Lynn Symansky echoed the sentiments about the atmosphere but admitted RF Cool Play was a bit more nervous in there. "We both left some marks on the table but he was pretty nervous here — it's a lot of atmosphere for them," Lynn said. "It's not maybe the biggest crowds I've ever seen, but it has that feel almost like Burghley where the crowds are very close. You get more people at Kentucky, but this actually feels a lot more electric for a lot of the horses. So all things considered, in his first five-star test he's done, I was pretty proud of him."
One interesting element to contend with today has been the incessant nature of the lantern flies that love to land on you at inopportune times — such as your dressage test. Fourth-placed Jennie Brannigan, fresh off a successful trip to Boekelo with FE Lifestyle, earned a 28.5 with the 13-year-old Stella Artois, owned by the Stella Artois Syndicate — but not without a battle with the lantern flies in the ring after one landed on Stella's ear during her walk work. "I was like, 'I don't know whether to get this giant bug or let it be'," she laughed. "But she was a good girl. Overall, the quality of the work is just so much better and to be up with RF Cool Play and Carlevo is definitely a step in the right direction."
Jennie says her trip to Boekelo, where she finished 15th with FE Lifestyle, gave her a fresh boost of confidence. "I know this isn't going to be a dressage show, from what it looks like, but I'm really pleased." Jennie also has a strong personal connection to Fair Hill, having galloped racehorses for Michael Matz through the years at the Fair Hill Training Center. "I've galloped here for years, I've ridden a flat race on this track, I've ridden a timber race on this track, I've breezed horses on this track," she reminisced. "Fair Hill is really close to my heart, and (longtime owners Tim and Nina Gardner) are on the board here and I really think it's awesome what they're doing here to bring everything together."
The first to go in front of the dressage judges is never an easy time, and while Buck Davidson felt a couple of marks were left on the table with Katherine O'Brien's Carlevo (Eurocommerce Caresino – Ramatuelle, by Levernois), they still find themselves in the top five after the first day with a score of 28.7. "He was good," Buck said. "There's a little bit more atmosphere in there than you would think, and I'm glad he was first because (announcer Brian O'Connor) got everyone revved up, which is cool and that probably helps Carlevo. I'm very proud of my horse. There are always little things you could do better, but at the end of the day he was a good boy."
Buck is another with a longtime connection to Fair Hill, having competed in timber races here when he was younger, and he's looking forward to having a crack at it come Saturday with his three rides. "It's probably not an advantage to go first when nobody's ever been out there," Buck said of being the trailblazer with Carlevo. "He's not the fastest horse in the world, but he's a good cross country course and he's honest. I had to do the same thing at Morven Park last weekend, I was the first one there so I'm going to do a bit like I did at that way, just sort of pick my way along. You don't know how fast to start out because first and foremost you have to get home, so that's going to be my first goal, and then do it as quickly as I can after that."
Looking to the judging, I tapped our resident analyst Maggie Deatrick for her notes, which reveal some friendlier-than-expected trends: "Overall, the scoring was about 2.03 penalty points below expected for the day," she writes. "Martin Plewa is using his scoring range the most and Angela Tucker being a bit more conservative with both her high and low scores. Average variance between judges is at 3.04, with the largest disagreements thus far being for Master Frisky with a 5.18% variance."
We also had two rider debuts this afternoon, with both Emma Lomangino (Master Frisky) and Ashlynn Meuchel (Emporium) cantering down centerline for their very first CCI5* tests. Emma earned a 35.1 with Master Frisky to sit 19th after dressage, and Ashlynn scored a 32.8 to sit 14th overnight.
"I am so excited!" Emma said after her test. "It's such an honor to actually be here, let alone go in and feel like we put a good test together. I'm really excited for this whole week and really proud of my horse — he went out there and gave me everything." She's partnered up with the very experienced 17-year-old Master Frisky (Master Imp – Frisky Legs, by Coopers Hill), who she's painstakingly helped rehab from a soft tissue injury sustained in 2015. This will be Master Frisky's return to the CCI5* level — his last start was a seventh place finish at Kentucky with Boyd Martin in 2015.
Ashlynn was another who was very proud of her debut effort with the quirky Emporium, with whom she's been partnered with since his lower level days. "It's very exciting, and I was super happy with the horse. He was fantastic in here," Ashlynn commented. "A lot of his big competitions were run without spectators, so I wasn't sure how he would react to a little bit of atmosphere, but he was absolutely great." Getting some pointers from Clayton Fredericks in the warm-up, Ashlynn explained how she works a lot on suppleness and just moving around in the time before a test, keeping the 12-year-old Dutch gelding from getting too "bracey" and tense. A 32.8 trends toward the lower end of their average international range, so Ashlynn has much to be proud of herself as she puts the first phase behind her. "The last he's just kind of really come into his own," she continued. "He was kind of a late bloomer and took awhile to believe in himself, too and so the last year he's just blossomed."
The CCI3*-L and CCI5* conclude dressage tomorrow with roughly half of each division yet to see. We'll have a full rider reaction summary about Ian Stark's track — which has every buzzing — coming tomorrow, but suffice it to say the general consensus, especially with rain forecasted for Saturday, is: it won't be a dressage show.
The riders have also all been highly complimentary of the venue, and both Abby and I echo those sentiments. This is a true five-star feeling five-star (yes, I just wrote that horrible sentence and no, I'm not deleting it) in every sense of the word, and while maybe there isn't quite as much five-star history here it's nonetheless an area rich with eventing history. For reference, I'll drop in the history page from the program for you to take a deep dive:
Jennie Brannigan put it best as she looked around her at the beautifully manicured turf track and, beyond it, the cross country course. "Look at this!" she said. "How could you not be impressed with this? It's absolutely amazing, and so I think if this is the beginning, who knows what the end can be."
We will be back with much more tomorrow — we're so grateful to be here, and to you for following along with us. I hope you'll join us on our course walk tomorrow at 4:30 p.m. with Ema Klugman, put on in partnership with RideIQ and FLAIR Equine Nasal Strips. We'll see you there! In the meantime, enjoy a full gallery of Abby Powell's photos of today's five-star pairs:
Go Eventing.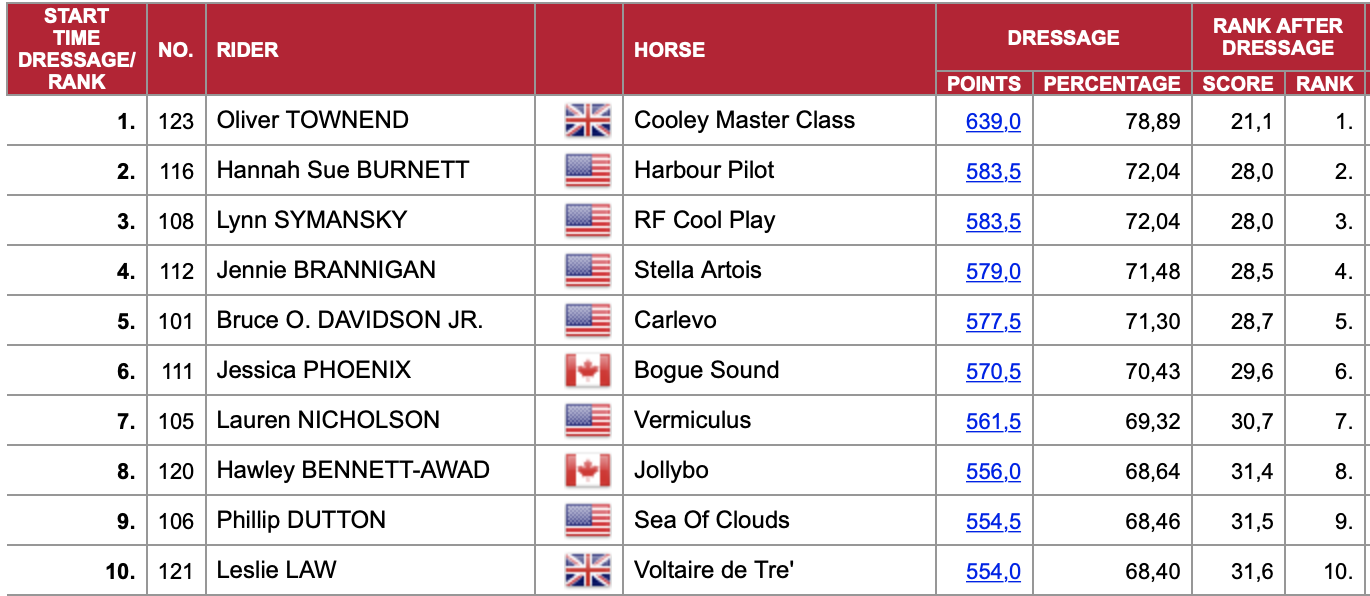 Comments