Editor's note: We announced the 6 Finalists in the 6th annual EN Blogger Contest on Friday, and now it's time for round 2! For this phase, we asked the ambitious crew to answer the following question: "As eventing faces the very real possibility of making further changes to the sport's format to align with the Olympic 2020 Agenda, many have questioned whether the sport should remain in the Olympics at all. In your opinion, what is the value of the Olympic stage in eventing?" Thanks as always for reading, and please leave feedback in the comments section.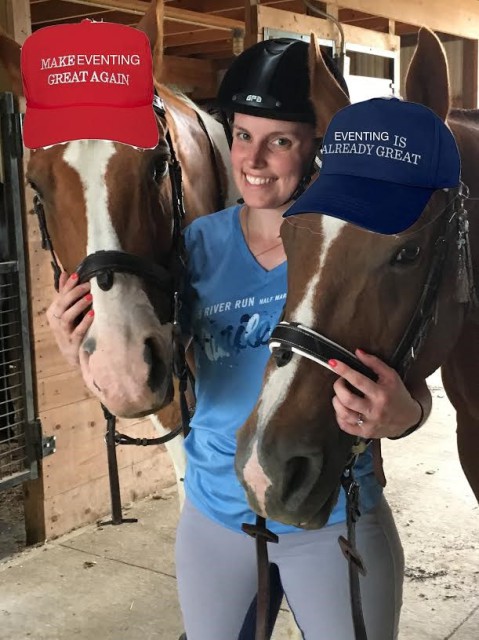 Much like our current political dialogue, a debate is heating up within the equestrian community surrounding the current state of our sport.  Many wonder if eventing should adopt the FEI Eventing Committee's proposals to reform the event in the Olympic and World Equestrian Games.  Some believe these sweeping reforms are needed to remain in the Olympics while others feel we should forgo Olympic participation to uphold the integrity of the sport.
At the FEI Sports Forum in Switzerland this past April, Olympic Press Committee member Alan Abrahamson made a bold statement to delegates debating the future of equestrian sports:
"What you're facing is nothing less than a reality check for the sport. A lot of the public doesn't know anything about equestrian sport. There are tons of new sports trying to knock on the Olympic door. Skateboarding, surfing and rock climbing are almost guaranteed to be on the Olympic program for Tokyo because they are perceived as cool and sexy sports."
I agree with Abrahamson that eventing might be lacking in the "sexy" department.  We can't exactly trade our coattails for bikinis (although entertaining, that would be incredibly uncomfortable).  However, I do believe we have the "cool" factor he is referencing – we just need to find the best way to showcase it on the world stage.
It is increasingly rare in politics to see a candidate willing to seek the middle ground.  I'll attempt to do so regarding two of the most contentious issues: the event format (CIC v. CCI) and the name change.
Olympics: "Equestrian Triathlon" – CIC Format
Abrahamson's words certainly generated a lot of criticism, but most eventers can agree with other words of his: "You know you've got a great sport. You have that core audience; what you need are more and younger fans. This is not a crisis point. It's not a moment of desperation for you; it's a moment rich with opportunity."
One of the biggest problems in developing a larger audience for eventing is the lack of understanding of the sport among non-riders.  Most eventers have had the following conversation at least once, probably many times:
Another Person: "You ride horses – that's awesome!  What do you do?"
You: "Eventing."
AP: "Uh – what's that?"
Y: "It's basically a triathlon of horse sports."
AP: "Oh, ok – cool!"
As difficult as a name change may be to swallow for eventers, we should consider changing our sport's name to "Equestrian Triathlon" for the Olympics only to develop a more universal recognition of what the event entails.
The next step is to showcase the "coolest" part of our sport. Bruce Haskell of the Eventing Riders Association International put it well: "Our unique selling point is cross country. What makes us special is cross country. What makes us interesting is cross country."  Under the CIC format cross country will run last – making it the grand finale of the Olympic event.
These two changes – as painful as they may be – could allow eventing to remain in the Olympics without completely altering our sport.  Additionally, the changes would provide non-riders around the world with a better idea of what the event entails, encourage them to tune in to see what it's all about, and (hopefully) inspire them to give it a try.
WEG: Eventing – CCI Format
I believe we can reach a middle ground by implementing the CIC format and name change at the Olympics but not at the World Equestrian Games.  While having consistency in the format of international championships is preferable, WEG presents a different audience than an Olympic stage.  Unlike the Olympics, WEG is an equestrian-only event and there is less of a need to make eventing more appealing (or "sexy" to borrow Abrahamson's words) to non-riders.  Instead, the traditional CCI format will satisfy those who want to preserve the integrity of the sport on the international level.  If it creates more prestige around WEG then so be it.  Eventing – or "Equestrian Triathlon" – will still have the international exposure it deserves every two years.
While much of America will be fixated on the Presidential election this fall, I'm much more interested in the FEI vote in Tokyo in November.
Go Team USA and Go Eventing!
---
Lauren's Biography:
Lauren Grindall, 30, is an Area VIII adult amateur who enjoys finding new (and unique) ways to boost her riding fitness to offset her love for cookies and ice cream. During a brief hiatus when she couldn't own or event horses, she took on eventing of a different sort: triathlon. When she's not riding her 6-year-old OTTB, she enjoys running, weightlifting and writing. In addition to wanting to enter the Blogger Contest, she would love to help Team EN triumph at next year's match race at the Rolex Kentucky 5K Run.
Comments