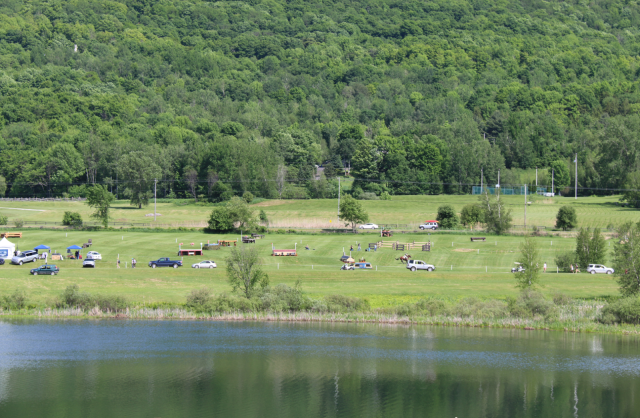 I know I'm not the only one who, upon leaving this past weekend's (fantastic as usual) Bromont CCI Three-Day Event, took a good look around. Change is coming, and soon.
I've spent a number of scattered hours over the past few months digging into the IOC's 1976 Olympic official reports, trying to piece together what the 2018 World Equestrian Games in Montreal/Bromont might look like. Having been to the 2010 and 2014 World Equestrian Games, both of which were giant, sprawling affairs, I was having a tough time visualizing the sleepy Canadian ski village of Bromont shouldering even a percentage of the load.
I compiled my research in last week's post, How Did Bromont Pull Off the 1976 Olympics?, and took it a step further by comparing the scale of the Olympic equestrian events versus WEG. The bottom line: Bromont handled the Olympics with aplomb, but with about seven times the number of competing horses and at least twice as many spectators, WEG will be a significantly larger beast.
Like the '76 Olympics, the 2018 WEG will be split between Bromont and Montreal, and while the FEI has cited Bromont as "the hub,"  no word has yet been made public about which events will be held where. But whether Bromont ends up hosting two disciplines or eight, one thing is certain: It's going to undergo some major shape-shifting over the next couple years.
Rather than speculating about the end game — a fun but not entirely productive thought experiment — I think it's worth taking a moment to discuss the process. How will the WEG organizing committee take the Bromont Olympic Equestrian Park from point A to point B?
It must be difficult to hand your horse park, which you've put so much work into, over to a third-party organizing committee. It's an honor to host WEG, certainly, but outside-looking-in is a vulnerable place to be.
There are a number of question marks still dangling. Preliminary plans include turning the front of the cross-country course into a parking lot and erecting two large buildings in what is now the large cross-country warm-up area. WEG has contracts with property owners surrounding the park to allow the cross-country course to be expanded outward, but what happens after the Games are over?
There is no guarantee that the property owners will continue allowing an event to bleed into their land. A CCI3* track requires a vast amount of land, and that's one reason why there are only five CCI3* events in North America (Jersey Fresh, Bromont, Rebecca Farm, Fair Hill, Galway Downs). Will there be enough land left after WEG for the Bromont CCI3* to continue? With the venue likely being under construction next year, will the CCI event even be held next year?
To be fair, the WEG organizing committee has no easy task before them. Pulling off an event on the scale of WEG is a logistical high-wire act, and the perils of falling short — as was the focus of a great deal of criticism toward the 2014 WEG in Normandy — only exacerbate the pressure. It's a system that encourages short-sightedness: The organizers are graded on their ability to stage one event with little concern to what may manifest in its wake.
An open letter of encouragement to the WEG organizing committee:
Keep both the short-term and the long-term in mind. Your job is to facilitate two shining weeks of world-class equestrian sport in 2018, but consider also the end-game impact the event will have on its host venue and surrounding community.

Honor the land by developing it in a sustainable way. Build out in a way that is healthy, both for the immediate future and for the years and decades to follow. Find creative ways to utilize existing infrastructure.

Be respectful of the individuals who have invited the international equestrian community into their backyards. Consider their input, which is as valuable as that of any expert you have on the payroll. Do what has to be done, but not at the venue's expense.
Doing the above is a win-win for everyone. The benefits are clear for the venue, but WEG has much to gain as well. Cities are not exactly jumping up and down to host a WEG — the selection process for 2018, as you may recall, was quite the kerfuffle.
With the eight-disciplines/one-host model already up in the air, the FEI should be doing everything it can to make hosting the Games seem like an enticing proposition. Working with host venues and communities toward a mutually beneficial result, starting with Bromont, would surely pave the way for more cities stepping up as candidates in the future.
Committing to leaving everything a little better than you found it is a good guideline to live by in general and one the WEG organizing committee would do well to take to heart. Bromont is one of the most naturally beautiful equestrian venues on earth, and it would be a shame to see it cratered out or cluttered up with superfluous infrastructure after the Games have come and gone.
The 1976 IOC Games Report analysis of its equestrian events concluded: "Following the Games, Bromont, in addition to its other fine facilities, was left with an equestrian centre capable of accommodating major international competitions."
Bromont will soon have the ultimate opportunity to make good on that prophesy. Let's make sure that the last sentence written about the 2018 WEG is equally positive.