Welcome back the Kentucky Horse Park, where we're well and truly ensconced in all the excitement of the 2022 renewal of the Land Rover Kentucky Three-Day Event CCI5*. We've got 24 horses and riders coming forward across three sections this afternoon, beginning at 12.30p.m. EST and ending at roughly 4.15 p.m. Among today's competitors are German hot favourites Michael Jung and fischerChipmunk FRH, 2019 runners-up Boyd Martin and Tsetserleg TSF, some serious British bombshells in the form of Sarah Bullimore and her European bronze medallist Corouet, Yasmin Ingham and her Blenheim winner Banzai du Loir, and Pippa Funnell and her exciting debutant Maybach, as well as potentially game-changing tests from Jonelle Price and McClaren, Aachen winners Will Coleman and Off The Record, Boekelo fifth-place finishers Sydney Elliott and QC Diamantaire, and much, much more!
First of all, though, let's recap where we left off yesterday. At the close of play, we saw Tamie Smith and Fleeceworks Royal head the leaderboard on their score of 32.9, and our ground jury of Nick Burton (C), Gretchen Butts (H), and Christian Steiner (B), were a united front in giving away absolutely no freebies. Demand for 8s outstripped supply, and our pals at EquiRatings tell us that on average, competitors were scoring around five marks higher than projected. Consistency is key in judging, and so we'll expect them to be similarly harsh today, with just a small handful of horses cracking that all-important 30 barrier. (On average, Kentucky is won on a finishing score under 27, so that really is a crucial barrier to try to slip underneath!)
Here's the leaderboard so far: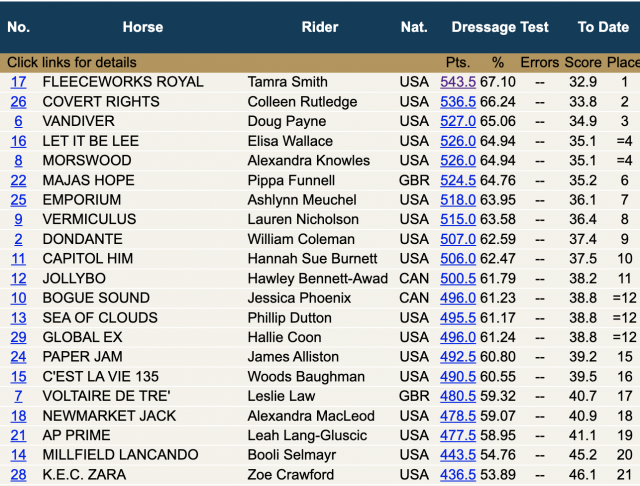 We'll be coming at you live in just a few moments — in the meantime, check out our jam-packed form guide, which is set up in running order so you can get to know each horse and rider, including their backstory, fun facts, and previous performances insights, as they enter the Rolex Stadium. Got your snacks and beverages? Let's do this thang.
Error, group does not exist! Check your syntax! (ID: 59)
#LRK3DE: Website, CCI5* Ride Times, CC4*-S Ride Times, Live Scoring, Live Stream (North America), Live Stream (Outside of North America) Tickets, EN's Coverage, EN's Ultimate Guide, EN's Twitter, EN's Instagram
4.15: Stand by for a full dressage report and lots of photographs from the team on site! I'll be back tomorrow with more live updates from both classes as they head out into the park for cross-country. Here's how the the top twenty looks after dressage:
4.10: The unwarranted flying change on the final centre line is annoying, but what a nice test overall. Pippa looks thrilled with that, and her score of 29 will put her into fifth place going into tomorrow's cross-country!
4.09: Pippa's not giving a thing away in the canter work. Still lots and lots of 7.5s.
4.07: Lots of 7.5s and 8s in the trot work, which is balanced and correct to make up for the horse's reasonably conservative natural movement.
4.05: The final rider of the day will be Pippa Funnell, who brings forward her second horse, the debutant Maybach. This sweet horse has been delivering sub-30s in all his FEI events since 2018.
Error, group does not exist! Check your syntax! (ID: 60)
4.04: Shame about the final halt, which is a bit of a diagonal splat. Will corrects it but they earn a 5. The final score will be a 36.1, putting them equal 17th at the moment with Ashlynn Meuchel and Emporium.
4.03: The left-to-right change is the weaker of the two, and they receive a 5.5 and 6s in the first of those, but the next is much better.
4.02: Pfun's at his best in the canter work. There's a lot of bounce and power, and it comes into play in the changes particularly. Some lovely moments here.
4.01: The trot shoulder-in looks a bit wobbly — Will's outside rein looks to get a bit long, and we see quite a lot of wiggling. The 5s they earn there will be pricey.
3.59: This is Pfun's first time at Kentucky since 2019, where they finished top twenty, though we did also see them at Maryland last year, finishing just outside the top 25 after a steady run.
3.57: The penultimate rider in the ring will be Will Faudree and his stalwart partner Pfun.
3.55: The final change is brilliant, too. What a super test for them! They sneak ahead of Boyd and Tsetserleg on their 27.4, which also puts them ahead of Yaz and Banzai and gets the US back onto the podium.
3.53: Nice changes! We haven't seen many 8s given out for those, but they're getting them. This looks like it'll go sub-30.
3.52: The judges are really liking Carlevo today. Lots of 7.5s and 8s being scattered about for this workmanlike, pleasant test.
3.50: Next in is Buck Davidson and dear Carlevo. Right off the bat, they earn a 9 for their entrance.
3.49: 25.7 and second place for Sarah and Elfie! They'll really be out to give Michi a run for his money this weekend.
3.48: And a couple of 9s for the final centreline! Brilliant. Beautiful. I unabashedly adore this little horse and think Sarah is the most underrated rider in the sport. She could win this and boy, would she deserve to do so.
3.47: I'd love to have seen a tiny bit more attack in the extended canter, and Elfie's short, uphill frame makes it hard for him to really drop his nose extravagantly in the stretch — but the work is really excellent here.
3.45: 6s for the reinback, which isn't quite diagonal pairs in the steps. The canter work is looking very nice so far and the first three changes are slick and tidy.
3.44: Lots of 8s peppered through the marks so far as we go into the walk work. We see a little bit more of a hurried step, here, which gives them a 6.5 and 7.
3.43: This is an exceptionally good-moving horse who believes he's much bigger than a petite 15.2hh. We've seen him go sub-20 at four-star before, and Sarah is riding every movement here.
3.42: We have some more score updates: Sydney Elliott puts a 35.2 up, and Marc Grandia earns a 37.5. Now for another big pair: it's Sarah Bullimore with her tiny homebred Corouet, with whom she won individual European bronze last year.
3.41: It's a 40.6 for Mike and Steady Eddie. Onwards!
3.39: Some mistakes in the canter work, including a big spook and bolt in the second half-pass, will be costly — but it's all about looking ahead to the weekend now.
3.36: The goal this week for this pair is to give Mike more mileage at this level: they had a late, unlucky fall here last year and then completed Maryland with a 20. This week they'll be fighting for a clear they can climb on. En route to that task, though, they're delivering some nice, useful work to trend in the mid-30s so far.
3.34: Next in is the next of our nineteen-year-old horses — it's the former Boyd Martin ride Steady Eddie, who returns to Kentucky with Mike Pendleton in the irons.
3.32: There was so much in that test to like, and we could see this pair deliver a really competitive test as they get a bit more mileage at this level.
3.30: Ah, spoke too soon. The walk and canter work pushes the scores back down a bit, and we're seeing a lot more 5s now, particularly in the changes.
3.29: The sevens are coming up thick and fast!
3.27: Next up is West Coaster Marc Grandia with Campari FFF — the last of our rookie pairs. He refers to this horse as a bit of a ninja, because the spooks can come up fast and hot. So far, though, we're seeing a really nice bit of work.
3.25: "He's still relatively new to the level and this test, so to go out there and be so calm in such a huge atmosphere and produce some beautiful work has made me very proud — I'm so happy. It's incredible — once you come down the chute you go into, like, a glass bowl and you can feel all eyes on you. We don't have anything quite like that in the UK," says a delighted Yaz Ingham.
3.24: Some super consistent marks through this test — lots of 6.5s and 7s, with just those 4s in the reinback hurting them a bit. Sydney looks thrilled with how her gorgeous horse has performed. Q dances his way out of the arena and looks ready to go cross-country now!
3.22: The canter work is look more relaxed. He has a lovely natural pace and the changes come up pretty easily for him.
3.21: The tension really creeps into the halt and reinback as Q puts his head up and runs backwards.
3.19: Q has delivered some good sub-30 scores, but he's looking a bit hot and awestruck today — Sydney might have to swap some flash for tactful manoeuvring here. Great medium and extended trot, though.
3.17: Now it's the turn of Sydney Elliott and QC Diamantaire, who were top twenty on their debut here last year before setting off on a European tour that culminated with fifth at Boekelo in October.
Error, group does not exist! Check your syntax! (ID: 60)
3.16: It's a 28 for Yaz and Banzai, which puts her into second place at this stage! That's pretty much bang on what we'd projected for the pair, so it goes to show that the judges are willing to reward real correctness and presence.
3.15: Really great stretchy circle. Yaz puts a lot of trust in her horse there and it pays off. Their final change is also spot on, though the judges are giving out 7s — it's hard to imagine how they could have improved those.
3.14: This is a relatively inexperienced horse and we've occasionally seen a slightly less established change out of him — but the first couple here have looked impeccable.
3.12: Several 8s being thrown in the mix here so far. Here's the jaguar walk I've been waiting for. What a stunning horse this is — we're all very fond of him here in the UK.
3.11: Yaz is one hell of a competitor — she's won every age title there is to win in Britain. She's also won the eight- and nine-year-old CCI4*-S title with this horse, back in 2020.
3.09: And we're back with the final session of the first phase here at the Land Rover Kentucky five-star. First up is 25-year-old British rider Yasmin Ingham, who brings forward her Blenheim winner Banzai du Loir. This is a very strong pair that could well win the whole thing on this horse's five-star debut.
2.54: There's another break now — we'll be back with our exciting final bunch at 3.10, starting with Great Britain's Yasmin Ingham and Banzai du Loir. Here's how the final section will look:
2.50: Lexi nailed all four of those changes, which is something a lot of much more established five-star riders can't even say — she should be really thrilled with that, and she certainly looks it as she finishes up her test. Huge hugs and pats for Sprout and a beaming grin for Lexi!
2.49: Lexi's riding some great changes in there. Lots of 6.5s and 7s, which is all the judges seem to want to award for changes in this class (unless you're German).
2.47: Seeing a little bit of tension in the ring here, which shows through in Lexi's position a little bit. The nerves of performing in this ring for the first time must be enormous, particularly as it's been a long time coming for Lexi — she had two five-star entries fall through last year after bouts of bad luck marred her prep.
2.46: A tidy halt gets Lexi and Sprout's test off to a good start here. Lexi brings to the ring a lot of wisdom picked up from William Fox-Pitt, with whom she was based a couple of seasons ago.
2.45: It's a 37.3 for Doug and Quantum Leap. Our final pair in the ring before the judging break will be rookies Lexi Scovil and Chico's Man VDF Z.
2.42: The canter half-pass, though, is disappointing — there's no crossover, so not really a half-pass at all, more of a slightly angled canter. That's where the tension becomes apparent, and it sees them dip down a mark or two. The final change, too, gives them some 5s, but overall, there's been a lot to get excited about for the future in this test.
2.41: Some nice canter work so far, and a 7 for the first change — this horse really does have a lovely, unruffled flying change that'll stand him in good stead in his career.
2.39: Quinn looks a little fragile in the contact, and that stops him from really powering on in the extended trot. He earns marks from 6 to 7 there but you can't help but feel that could have been a 9 if he was truly utilising the contact.
2.36: It's a 41.5 for Jessie Phoenix and Wabbit. We've got two more combinations in before the final judging break: next is Doug Payne with Quantum Leap, who debuted here last year as a ten-year-old.
2.33: The changes aren't super established for this horse, yet, and we're seeing quite a few 4s.
2.32: We see a dip down into the 5s in the walk work. There's an awful lot of it in this test, and it probably feels like it takes hours if your having to work for it.
2.30: Canada's Jessica Phoenix is back with her second ride, the lovely ex-racehorse Wabbit. They're putting some nice marks up so far — it's not a big earner, but they're consistently around 6.5.
2.27: The third change goes back to threes and the fourth and final one goes back up to 6s. Those right-to-left changes are expensive, and they earn a 36.8 to go equal with Jennie Brannigan and FE Lifestyle.
2.26: A bobble in the first change earns them a couple of 3s and a 4, but the second is much improved for 6.5s and 7.
2.25: A nice prowling walk in the extension is the highlight of this test so far. It's 7s across the board there.
2.23: Next up is the ultimate bargain hunter, Fylicia Barr. She bought Galloway Sunrise from a Craigslist ad for just $500.
2.20: Interestingly, Meghan rides without spurs in this phase. You don't often see this at this level. It's a 40.7 for them — they'd have hoped for low 30s, as they earned here last year, but in the circumstances it's a respectable enough score.
2.19: The changes are neat enough, and the last is particularly nice. A sweet stretchy circle and some better work shown in the latter half of this canter tour, which will claw them back a few of the marks lost while Palmer had his tongue over the bit.
2.17: It looks as though Palmer has managed to get his tongue over the bit in the walk, and the canter work is looking like a balancing act as a result.
2.15: Our next pair in the ring is Wednesday's Best Dressed winner Meghan O'Donoghue and her ex-racehorse Palm Crescent. They made their debut here last year for 23rd place and will be delighted to return to the Horse Park with an audience in situ.
2.13: Bobby has a smile on his face even despite a tricky test with his inexperienced mare, who he rides in a racing saddle. He knows this week is about education and climbing, not about beating Michi on the flat. They start their weekend with a 44.3.
2.11: The canter work here will be costly for this pair — her changes aren't particularly established yet, and the tension in the half-pass makes her front and hind end operate almost separately. We're seeing some 2s, 3s, and 4s popping up.
2.10: That tension comes to a head in the canter transition, and we see Fortuna invert and put her nose in the air for the first few strides.
2.08: This wouldn't be this little mare's easiest phase — she's a real jumping machine, and the walk looks like it could bubble over here.
2.06: Next in is Bobby Meyerhoff and his debutant mare Fortuna, who's the first Balou du Rouet offspring we'll see today — the second is Sarah Bullimore's Corouet.
2.04: A sweet test from Will and 'Timmy' but not quite the score they'd have hoped for after some little mistakes in those changes. It'll be a 33.3 — still enough for top five at this stage.
2.02: The second change looks okay from our frontward angle but gets a 4 from the judge at B, so must have been slightly late behind. Final change is slightly early behind.
2.00: That halt looked super — until a little shuffle forward marred it. Super first change, though.
1.58: Here's a serious pair of contenders for the US fight for the title here — Will Coleman and Off the Record won Aachen last year. Will describes this horse as 'like riding a kitchen table with a couple of Ferrari engines attached'. The 8m circles in trot are lovely and flowing, with a sweet spring to their step.
1.56: One of the Pony Clubbers volunteering in the ring gets the chance of a lifetime when Lauren stops on the way out to let her pat Landmark's Monte Carlo. Love seeing these riders giving something back to these kids. It's a 35.7 for Lauren.
1.53: A little inversion and wobble in the reinback sees them get a 5.5 there and a 5 in that halt. Some good changes so far, though!
1.50: And we're back! Lauren Nicholson and Landmark's Monte Carlo get us started again after the break.
1.36: That takes us into our first judging break: we'll be back at 1.50 with Lauren Nicholson and Landmarks Monte Carlo. Here's the line-up and times for the next section:
1.35: "I had a great feeling the whole week — he's very relaxed and very nice to ride. He's such a great horse with a lot of quality, and he's amazing to ride. I have to say a thank you to my team, who prepared the horse to be in the best shape at the right moment," says Michi, who looks hard to eclipse at this stage. "I feel very well at Kentucky — this is a great place; it's horse country and I think the horses feel very welcome and relaxed."
1.32: They pick up some 8s in the extended canter and final centreline to redeem the changes, and Jonelle will take a score of 33.4 into tomorrow's cross-country. That's fourth place at this stage — and interestingly, we see a six mark discrepancy in the judges' scores. This is likely partly due to the angle on those changes.
1.31: Good stretchy circle here. Not as much downward reach as Chip, but Jonelle is on a hotter horse right now and has gauged what she can do sensibly.
1.30: The canter work is going to be a little expensive here, as McClaren is a little reactive and gets his rage face on in the changes, earning them a few 5.5s.
1.27: Lots of 6.5s and 7s so far as we work through the trot section of the test. There's a lot of movement to play with in a small package with this horse.
1.25: Our final pair before the first judges' break will be Kiwi superstar Jonelle Price and the former Sir Mark Todd ride, McClaren. This horse was third at Pau last year and he's got a big job this week: a good result here could see Jonelle eclipse Oliver Townend, currently World Number One, in the rankings.
1.23: Lots of 6.5s and 7s through the canter work, but the extended canter transition into collected canter dips down to 4s after throwing in some bonus changes. They couldn't afford that to go below 35, and sure enough, they put a 37 on the board.
1.22: A neat transition out of the reinback into canter. This is on track to be yet another score in the mid-30s, where much of our field currently sits. William's good changes might help them out a bit, though.
1.21: Ahh! Frustratingly, 'William' breaks into canter in the extended trot.
1.19: Hannah Sue Burnett is probably slightly ruing the fact that she has to go in right after Herr Jung, but what joy for her to be back on the nineteen-year-old Harbour Pilot. The shortage of runs over the pandemic is definitely pushing the average age of horses up — we've got two nineteen year olds this week and an average age of 14.
1.18: Just going to throw this out there, but they got a 10 for that final centreline and halt. So that's a thing.
1.16: Michi drops his reins for the double-handed wave to his cheering fans. It's an incredible 20.3. Remember how we said everyone's averaging around five penalties above their projections? Shall we just start referring to this as the time he delivered a 15 at Kentucky?
1.15: The changes are excellent but even better is the very clear transition into and out of extended canter, and then the boldest, softest, loosest stretchy circle we've yet seen. This horse is extraordinarily adjustable.
1.13: Michi earns a six in the halt as Chip takes a tiny step forward. He redeems himself with two 9s for the reinback. He's trending a 23 right now.
1.11: Straight off the bat we see a 9 for the entrance. Michi is giving a masterclass here in accurate riding, which is his hallmark: he always coaxed excellent scores out of the very ordinary mover La Biosthetique Sam FBW, and that's all about doing everything by the book. They've not gone below a 7 so far.
1.09: That's a 38.5 for Buck and Sorocaima. Whew. Now we've got a seriously, seriously big test: it's Michael Jung and fischerChipmunk FRH. This is technically the gelding's first five-star, though he did compete at the 2018 WEG at Tryon with former rider Julia Krajweski. He scored a sub-20 there so…prepare yourself.
1.07: This horse has a nice, pretty easy change, though he does look like he wants to anticipate them a bit — this is something we often see with green horses who find them reasonably easy. They start to want to chuck them in even when they're not quite warranted. But here, Buck is doing a good job of managing that tendency. That's a sweet test to start their week.
"He went pretty good, the little guy — he went in, stayed relaxed, and did a good test. Always could be better, but always could be worse, too," says a very laid-back class leader Boyd about Tsetserleg.
1.05: 'Cam' is another horse to lose focus in the reinback to canter transition, throwing his head in the air and picking up a 4.
1.04: It's hard to come in after a test like Boyd's when you're on a much greener horse that's a very different type. We're seeing this test score very consistently through the trot and walk, but it's consistently at 6 to 6.5. There's a couple of 7s for the medium walk, which is natural and flowing.
1.02: Next in is Buck Davidson, riding his five-star debutant Sorocaima. This is actually just the Thoroughbred's 12th international start, but he's had a pretty cool run so far, including a third-place finish in the CCI4*-L at Morven Park. Buck, who had four initial entries and three intended runners, is giving himself a relatively easy (ha! Ha!) week with just two horses actually going forward in this class.
1.00: It's hard to imagine what the judges want to see to award an 8 in the changes, because those looked seriously nice, straight, clean, and expressive enough from where we stand. But hey ho — they finish their test to a raucous cheer and go straight to the top of the leaderboard with a super 29.3. Our first sub-30 of this five star!
12.59: Thomas is super straight and accurate in his changes so far. These are being set up really sensibly and it's paying off. A lovely test so far but we're seeing the marks trend down a bit towards 6.5 and 7 in the canter work.
12.57: Oh my god, we've seen a 9! Boyd and Thomas get it in their reinback from Nick Burton at C. I'll have to double check in the judging break, but I'm nearly certain this is the first 9 we've seen.
12.56: 2019's runners up, Boyd Martin and Tsetserleg, are in the ring now. This is a test that will have helped to fill the stands — and so far, they're rewarding folks' dedication with a mark that's trending in the lead.
Error, group does not exist! Check your syntax! (ID: 60)
12.54: 36.5 for Joseph and Mario. A disappointing mark on paper but by these judging standards, it's enough for seventh at the moment. It's hard to see that staying in the top ten by the end of the day, though, because we have some serious heavy hitters to come.
12.52: Some sweet changes and lovely work in the canter. This looks like such an adjustable horse and it's so obvious that the pair have formed a really special partnership together – a fact that's further bolstered by the fact that Laura actually marketed the gelding as a Young Rider prospect to go and succeed at the three-star level. She's remained instrumental in helping the pair get to know one another, and helped him in the warm-up and at the in-gate on the final day of Pau last year.
12.50: Mario throws his head up for a second in the reinback as something catches his eye in the stands. The first few strides of the canter look a little wobbly in the contact as a result as Joseph works to put the package back together.
12.49: There's an early bobble as Mario tries to throw a step of canter into the trot move-off out of the first halt and salute, but Joseph looks well-focused and gets everything back well. It's tough when you have an early little mistake like that, because it can throw your concentration off. This is where the mental game of this sport comes into play – you have to treat every movement as a blank slate, while also always setting up and preparing for what's to come. It's a level of mental duality that takes a lifetime to hone.
12.47: Next up is our Irish competitor, Joseph Murphy, who rides his relatively new ride Calmaro in their second five-star together. This sweet grey gelding, known as Mario at home, finished in the top fifteen at Pau last year, and seventeenth at Aachen with Joseph, and was previously campaigned by Laura Collett.
12.43: We ordinarily see a high-30s score for this pair, and once again, we're seeing scores around five marks above the projections: after a couple of tense, hollow changes, Lisa Marie and Honor Me earn a 43.1. That'll put them just outside the top twenty at this stage.
12.41: Honor Me uses the halt and reinback for a poo break, which isn't always super helpful for the canter tour that follows, because it can disengage the hindend a bit. But Lisa Marie is working on nursing that hind leg back underneath him.
12.39: The trot half-passes look balanced and fluid. This horse is so tidy in his lateral work, which is a testament to this pair's long partnership and experience. It's not always easy to get a big horse to put all its parts in the right place.
12.37: Our first Canadian combo of the day will be fan favourites Lisa Marie Ferguson and her Welsh cob cross, Honor Me. This is their eighth five-star start, counting 2018's World Equestrian Games, and Honor Me definitely knows where he is: he looks impressed as he comes down the first centreline.
12.36: Jennie's characteristic broad smile falters a little at the final halt and salute. She's a serious competitor, and she'll really be kicking herself over that costly error even when she's got so much to rejoice in from this test and 'Fox's' performance. They end up with a 37 on the board.
12.35: The second and third changes make up for a bubbly first one. The extended canter isn't as bold as I'd like to have seen, but the stretchy circle is very good – Jennie has set him up well through the test and can really trust him to take his nose right down without falling onto his forehand.
12.33: I'm enjoying the progression of FE Lifestyle's walk, which looks so confident this year — it's a real strut that Jennie can push on and play with. Frustratingly, though, Jennie picks up an error of course at the start of the canter tour, and then gets a fizzy, slightly untidy first flying change. That error will add two points onto her final score.
12.31: Silva Martin has worked a lot with Jennie and this gelding over the winter; Boyd's dressage supremo wife not only trained horse and rider in tandem, but also spent a fair amount of the off-season riding the horse herself in Florida. It looks like it's helped so far: he looks physically stronger this season, and mentally cool, too.
12.29: And here come our first starters down the iconic Rolex ramp! It'll be Jennie Brannigan and the chestnut FE Lifestyle, who's owned by Jennie's longtime supporters Tim and Nina Gardner. Jennie's delighted to have had a great week at Boekelo in front of some serious crowds last year with this horse, which will no doubt have acted as a great prep for performing at the top level in this big atmosphere.
12.26: Here's how the first section is going to look timing wise, in case you need to plan your snack runs accordingly:
Error, group does not exist! Check your syntax! (ID: 59)
#LRK3DE: Website, CCI5* Ride Times, CC4*-S Ride Times, Live Scoring, Live Stream (North America), Live Stream (Outside of North America) Tickets, EN's Coverage, EN's Ultimate Guide, EN's Twitter, EN's Instagram